---
Critical News Analysis
Update: President Biden creates the governmental coercion system foretold in Revelation 13, of the Mark of the Beast.
NEWS BRIEF: " President Biden Orders Vaccine Mandates: 'This Is Not About Freedom or Personal Choice', Breitbart News, 10 September 2021
"... Biden will be signing an executive order requiring all government employees to be vaccinated against Covid-19, with no opt-outs for those who are regularly tested, or have lasting immunity due to having recovered from the virus ... Biden will also reportedly sign an executive order forcing the mandate on employees of contractors who do business with the federal government."
What has happened is that President Biden is setting up the governmental coercion system forcing people to take a prophetic "mark", which will apparently function precisely as the coercion system foretold in Revelation 13:15-18 (Mark of the Beast).
Listen to the prophecy again and compare it to the events of yesterday.
"... he causeth (requires) all, both small and great, rich and poor, free and bond, to receive a mark in their right hand, or in their foreheads: And that no man might buy or sell, save he that had the mark, or the name of the beast, or the number of his name." (Revelation 13:16-17, KJV)
President Biden has just jolted America into a type of government coercion to accept a jab which will be closely aligned with the later jab required to insert a "mark" under their skin, either in the forehead or in the right hand!
This later jab will be administered by the False Prophet, acting on behalf of Antichrist!
The issue here is NOT the vaccine itself but the government system of forcing everyone to take the jab.
This coercive policy moves us into the prophetic realm!
Remember what Jesus said: "And when these things begin to come to pass, then look up, and lift up your heads; for your redemption draweth nigh." (Luke 21:28, KJV)
Take heart, Christian, for our Redeemer Savior is about to call His Church home!
If you are not a Born Again Christian, take heed! The time in which you may be saved is clearly coming to an end. Click here to learn how to become Born Again!
REITERATING:
President Biden is NOT trying to force upon you the prophetic "Mark of the Beast"! This COVID-19 vaccination is not the Mark of the Beast. The true "Mark" will be a religious decision, whereby you will declare your loyalty to Antichrist. It will be made very clear to you that you are making a religious decision, not merely a medical one.
But, COVID-19 is setting up the government apparatus which will force people to take the Mark of the Beast, or suffer beheading!
There is no forgiveness to anyone who relents and takes this prophetic "Mark".
"And the third angel followed them, saying with a loud voice, If any man worship the beast and his image, and receive his mark in his forehead, or in his hand, The same shall drink of the wine of the wrath of God, which is poured out without mixture into the cup of his indignation; and he shall be tormented with fire and brimstone in the presence of the holy angels, and in the presence of the Lamb: And the smoke of their torment ascendeth up for ever and ever: and they have no rest day nor night, who worship the beast and his image, and whosoever receiveth the mark of his name." (Revelation 14:9-11, KJV)
The world now stands at the precipice of the appearance of Antichrist and his False Prophet. Are you Born Again?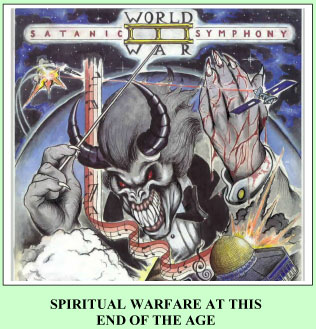 1. Have you noticed the "Mother Gaia" weather news currently being reported?
The final drive to 'Climate Change' restrictions will come through promoting the "Mother Gaia" falsehood.
NEWS BRIEF: "Biden Administration Set to Appease Goddess Gaia"," American Greatness, Dec 26, 2020
"During his first 100 days, "President" Joe Biden will be ambitiously spending every dime of taxpayers' money he can find to heal the nation. But he has not forgotten one key constituent: Goddess Gaia who, angry over the earth having a fever, is threatening humanity with a climate apocalypse."
What in heaven's name is this angry Goddess Gaia and how does she fit into this global weather?
Have you watched the extremist environmental movie entitled, "The Day After Tomorrow"?
In the very first minutes of this movie, we see Dennis Quaid in the key role as a radical, leading-edge climatologist who was warning that, if mankind did not take the actions necessary to relieve the stresses on the earth's "fragile" ecosystem, global natural disasters would occur. In the second scene, Quaid is speaking to a group of climatologists from many nations who were meeting in New Delhi, India. The Vice President of the United States severely criticized Quaid by saying the Kyoto would cause great harm to the economy of the United States. Quaid responded that not doing anything would cause even more economical damage than adherence to Kyoto, reiterating what environmentalists like Al Gore have been saying for years.
Within a few days, the global Superstorm was underway, a storm that virtually annihilated the Industrial Civilization of America and Europe. At the end of the movie, the President of the United States singled out Third World countries which had come to the aid of America during her disaster, thanking them profusely; I could not help but remember that Third World countries have largely supported the Kyoto Accords while the United States has refused to consider the pact.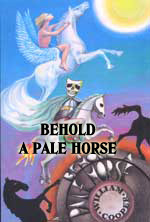 What is the Elite Plan?
"It is patently impossible to discuss social engineering ... without implying extensive objectives of social control and destruction of human life, i.e., slavery and benevolent genocide ... . ["Behold A Pale Horse", Cooper, p. 36, 40; Emphasis Added]
According to this pagan thinking, Earth is really a living, breathing goddess, named Gaia.
Gaia is overburdened by our Industrial Civilization. She has too many heavy man-made objects sitting on her land and in her sea; she has too much industrial pollution being thrust into the sky; and most grievously of all, Gaia is over-burdened by people! She is currently over 8 billion, while the ultimate goal is only 500 million, a reduction of 7.5 billion people!
But, we are not to worry, since this entire de-population of the Earth is going to be "benevolent genocide"!
Mother Gaia is warning all mankind that this incredible pressure on her must be reversed quickly, or all of Earth might be rendered completely uninhabitable.
Therefore, Mother Gaia graciously sends storms, hurricanes, floods, tornadoes, earthquakes, to warn mankind to get rid of his industrial civilization. When man refuses to heed the warning, Gaia sends more storms, and more intense storms.
After years of ratcheting up violent, deadly storms, the finale just might be the greatest "Perfect Storm" in history. In its aftermath, people would allow themselves to be ordered off their land, out of their cities, into their "Reserves" and "Buffer Zones" (Re-Wilding).
"Well acquainted with greed, Mr. Biden understands Goddess Gaia can't be bought. But, like Iran, she can be appeased. Ergo, Mr. Biden will summon a convocation of the Clergy of Climate Change to devise a plan to sate Goddess Gaia and save the planet. "
How important is it for mankind to solve this Climate Change issue?
" 'I'm going to tell it to you straight. Climate change is our planet's COVID-19', someone tweeted on the verified account of Joe Biden, sagely adding how time keeps on slipping, slipping, slipping into the future'."
NEWS BRIEF: "Following devastation of Hurricane Ida, American oil fields recovering", Japan Herald, Friday, 10 September 2021
"NEW ORLEANS, Louisiana: Energy firms along the Gulf Coast of the United States received good news on September 4 after ports opened again and oil refineries, earlier closed down due to Hurricane Ida, restarted."
NEWS BRIEF: "US on alert AGAIN as Hurricane Larry becomes 'very large and powerful' storm", UK Express News, 5 Sept 2021
"THE US is on storm alert once again as Hurricane Larry continues to grow into a "very large and powerful" Category 3 hurricane over the Atlantic Ocean, just days after the south and east coast were struck by Hurricane Ida."
This news snippet captured the fact that the earth was experiencing multiple huge storms at once. Hurricanes Larry and Ida are both churning like mad at the same time frame.
Speaker of the House, Nancy Pelosi (D-CA) , captured the reality that this pagan belief about an overburdened Gaia using multiple storms to warn mankind. On Thursday, September 10, 2020, radical Democrat Speaker of the House, Nancy Pelosi, told a Left-Wing MSNBC panel that Mother Earth (Gaia) is responsible for these West Coast wildfires! Pelosi is merely regurgitating radical New Age religious thought! In fact, as we examine this issue, below, we discover that the Mother Gaia (Earth) concept dates back at least 35 years, to radical, draconian plans on how to stage the New Age Christ on the world scene and what his priorities should be once he gains absolute dictatorship over the world!
In other words, Nancy Pelosi is involving Antichrist concepts to discussing the West Coast's Wildfire inferno!
Let us now consider the news:
NEWS BRIEF: "Pelosi: 'Mother Earth Is Angry — She's Telling Us with Hurricanes on the Gulf Coast, Fires in the West'," Breitbart News, 10 Set 2020
"Thursday on MSNBC's "The Reidout," House Speaker Nancy Pelosi (D-CA) attributed the wildfires plaguing her state and hurricanes that have battered the Gulf Coast to so-called climate change. According to Pelosi, the natural disasters were a sign that "Mother Earth is angry ... she's telling us with hurricanes on the Gulf Coast, fires in the West, whatever it is, that climate crisis is real and has an impact ... the loss of life, and over 34 million acres burned. That's an historic number. Again, sadness over 9/11 complicated by our concern about the fires, at the same time as we're dealing with a coronavirus and finding out that the president of the United States didn't address it in the serious way that it needed to be addressed early on'."
How could Nancy Pelosi actually believe that there is such a thing as "Mother Earth" and that she has the power to cause natural disasters? Tens of Millions of people all over the world believe in this Pagan/New Age/Luciferian nonsense. And, since they hold political power, as does Nancy Pelosi in her role as Speaker of the House.
What is the origin of this Mother Earth /Gaia nonsense?
Answer: Lucifer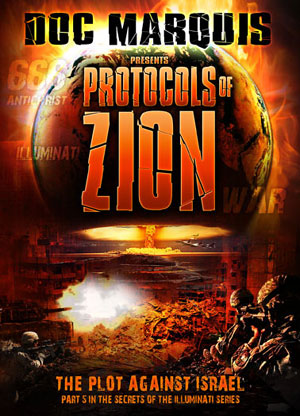 Environmental events are going to start occurring so rapidly, and with such ferocity, that people will literally be scared out of their minds. In fact, they may be so scared that they would allow their government to "temporarily" suspend their civil liberties, judicial rights, and Constitutional government in exchange for "protection" from the forces which are ravaging the globe.
This environmental lie will saturate the airways of the world at that time, sweeping hundreds of millions of people into its path. Listen:
"When we come into our kingdom, our orators will expound great problems which have turned humanity upside down in order to bring it, at the end, under our beneficent rule. Who will ever suspect, then, that all these peoples were stage-managed by us according to a political plan which no one has so much as guessed at in the course of many centuries?" ["The Protocols of the Learned Elders of Zion", end of Protocol No. 13.]
2. Teaching our children to worship Goddess Gaia is being carried out in our pagan Public Schools!
NEWS BRIEF: "Teaching The Aztec Chant: Walking School Kids All The Way Back To Pagandom", Canada Free Press, September 8, 2021
"Now that the liberal public education system has allegedly turned school children into fully indoctrinated Marxists, it is now walking them all the way back to centuries-old, uncivilized pagandom. Children are being taught right in class to memorize and chant the blood-curdling chants of the long ago human sacrificing Aztecs—not in after-hours choir practice, or in glee clubs, because the evil Aztec chant is right on the California K-12 school curriculum.
In typical covert Marxist presentation, it's not called 'Learning the Aztec Chant' but the more benign sounding— 'The Ethnic Studies Model Curriculum'."
Children are the targets! In your Public Schools!
"Ethnic Studies Model Curriculum --the most outrageous move against vulnerable school children ever! "The proposed Ethnic Studies Model Curriculum is probably the most radical, polemical, and ideologically loaded educational document ever offered up for public consideration in the free world." (National Review, March 18, 2021)
The more bombastic and likely more heeded Glenn Beck describes it as "The most TERRIFYING story I have EVER had to report."(The Blaze, March 30, 2021)
Parents with kids in public schools! you can call the Ethnic Studies Model Curriculum the most outrageous move against vulnerable school children ever!
'Parents sue California over mandated 'chants to Aztec gods' in ethnic studies classes'(Washington Times, Sept. 3, 2021)
What is the solution for school children?
"But all is not lost, we are told. "For students will learn that they have the power and the responsibility to build a social order defined by "countergenocide," which will eventually supplant the last vestiges of colonial Christianity and pave the way for the "regeneration of indigenous epistemic and cultural futurity."
""Students first clap and chant to the god Tezkatlipoka — whom the Aztecs traditionally worshipped with human sacrifice and cannibalism — asking him for the power to be "warriors" for "social justice." (The Blaze)
Prayer is sent aloft to other members of this pagan pantheon.
"Next, the students chant to the gods Quetzalcoatl, Huitzilopochtli, and Xipe Totek, seeking "healing epistemologies" and "a revolutionary spirit." Huitzilopochtli, in particular, is the Aztec deity of war and inspired hundreds of thousands of human sacrifices during Aztec rule. Finally, the chant comes to a climax with a request for "liberation, transformation, [and] decolonization," after which students shout "Panche beh! Panche beh!" in pursuit of ultimate "critical consciousness." (The Blaze)
Glenn Beck -- a Mormon -- recognizes the inherent spiritual danger here.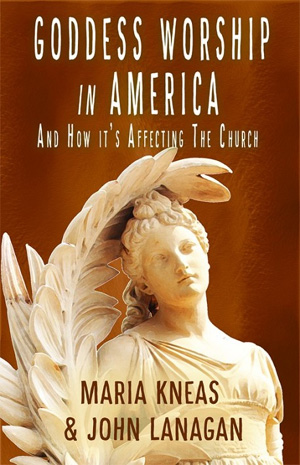 " 'We are under attack from the forces of darkness unlike anything I've ever seen before ... because the soul of our nation, and the soul of children, is at stake'."
It really happened in the 16th century Aztec Empire.
It's really happening AGAIN in the California of our present day.
And they're calling it EDUCATION. ?" And, your taxpayer dollars are paying for this kind of pagan worship!
America is worshipping pagan gods and goddesses, whom God destroyed.
And, such teaching has been used to destroy the faith of hundreds of millions of American school children!
3. American style 'Feminism' is killing Afghan women.
NEWS BRIEF: "American Feminism is Killing Afghan Women", Canada Free Press, 7 September 2021
"Truth in Feminism: There are strong feelings amongst many folks regarding the absolute truth of feminism, a conviction not held by the Taliban. In Afghanistan, women judges now hide from male defendants seeking revenge. In Kabul, a keen irony plays out. Tens of thousands of Afghan women who absorbed life lessons on women's rights from American tutors draw the devastating conclusion that to live as feminists means dying by the hand of the Taliban. So, is this another tragedy of radical Islam?"
Yes, it is. Tens of thousands of Afghan women believed that the American-style feminism would so overhaul the entire country that women could safely venture out into professions formerly closed to women: Teachers, lawyers, judges.
These women believed the lie that America would protect them.
And, now, they are seeing the wrath and the brutality of the Taliban!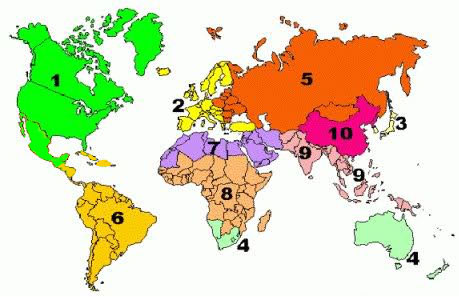 4. If Taiwan is lost, the West loses all of Indo-China.
NEWS BRIEF: "If Taiwan is lost, US loses Indo-China", Taipei Times, Sept 1, 2021
"Without Taiwan, the US could lose the Indo-Pacific region, former US ambassador to the UN Kelly Craft told an online forum yesterday, advocating Taiwan's participation in the Quadrilateral Security Dialogue (Quad) that comprises the US, Japan, India and Australia."
"In her keynote speech, Craft said that what happens in Afghanistan has implications for people everywhere and "we should be worried."
"She condemned China's Global Times for trying to cast doubt over the US' commitment to Taiwan."
" 'Our competition with China is about freedom and order in the Indo-Pacific [region]," Schriver said." (NO TE: This "Indo-China Region" is shown on the map as Supernation #9, also known as ASEAN. This plan to reorganize the world into 10 supernations is depicted above, and will fulfill Daniel 2:40-45, 7:7-8, and Revelation 17:12-17)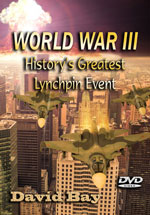 DVD
5. A Taiwanese minister "goes John Wayne" on the Chinese Communist:
NEWS BRIEF: "Taiwan Sovereign, Never Ruled by PRC: Foreign Ministry", Taipei News, 8 Sept 2021
"The Ministry of Foreign Affairs yesterday reiterated Taiwan's sovereignty, saying that it has never been ruled by the People's Republic of China (PRC).
"The ministry issued the remarks after Polish Minister of Foreign Affairs Zbigniew Rau was quoted by the Chinese-language edition of Russia's Sputnik News Agency as saying in an interview in Lithuania on Monday that Poland recognizes the "one China" policy and that Taiwan is part of China.
The ministry would continue to stress to members of the international community that the Republic of China is a sovereign nation, not a part of the PRC, and that Taiwan's future can only be decided by its 23.5 million people, ministry spokeswoman Joanne Ou (???) said yesterday."
Tells the 'super sensitive' Chinese to "just grow up", and recognize that Taiwan is going to permanently remain a sovereign country.
Them's fightin words!
These are WAR WORDS! And the Chinese are just culturally proud enough to go to a major global war to enforce!!