Title: How Israel Might Start World War III
Resources to aid your Understanding
Subtitle: Is it possible that the fake propaganda effort against Iran might lead to an all-out global conflagration?
The New World Order is coming! Are you ready? Once you understand what this New World Order really is, and how it is being gradually implemented, you will be able to see it progressing in your daily news!!
Learn how to protect yourself, your loved ones!
Stand by for insights so startling you will never look at the news the same way again.
YOU ARE NOW ON
THE CUTTING EDGE
Copyright © 2010 Cutting Edge Ministries. All rights reserved. See full copyright notice below.
Introduction
This deliberately created crisis with Iran is following a script that will result in massive amounts of "Rumors of War" without actually descending into war. This reality is the reason that President Bush and President Obama and their officials have continually breathed fiery threats time after time after time for seven long years without any resulting military action. This fact is the reason why massive American naval and air forces have built up in the waters and in the air near Iran since Summer, 2003, only to quietly disband every single time.
Do you remember when this Psyop Propaganda war began against Iran? (Read full details in NEWS2106, "OH, NO! HERE WE GO AGIAIN -- U.S. "PSYOPS" PROPAGANDA USING SAME TACTICS AGAINST IRAN THAT THEY USED AGAINST IRAQ TO JUSTIFY AN INVASION!"
In Summer, 2003, soon after American forces took control of Iraq, American politicians began to taunt Iran, saying "You're next"! All the American forces which conquered Iraq were still on station and could have been used to launch an attack on Iran; after all, we were being told that Iran was close to developing her own nuclear weapons, a situation which was intolerable to world leaders.
However, after much posturing and threatening, President Bush quietly dispersed our armed forces, firing not one shot. At that point, given my background in Army Intelligence, I knew that the West would never, ever launch an attack. All military commanders assigned a target to attack want to amass as high a disparity of forces versus the enemy forces as possible. That disparity was enormous in the Summer, 2003, and will never again be that great.
Therefore, we will not attack.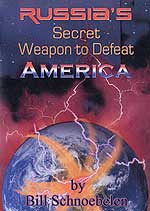 DVD
Furthermore, Russia's President Putin stated about two years ago that an attack on Iran would be considered an attack on Russia herself. At that moment, both Israel and the United States know that an attack on Iran will trigger a world war with Russia. Since Russia commands the advanced Scalar Weapons system -- as explained in the video to the left -- neither America nor Israel will ever attack Ancient Persia.
Why, then, has the West been publicly hammering Iranian leadership for the past seven years on developing a nuclear weapon? We have posted an article on this very subject and encourage you to read it carefully. This article is NEWS2200, entitled, "Western Intelligence Is Reporting That Russia Is Deliberately Stoking A Propaganda Campaign Designed To Scare Iran Into The Arms Of The Russian Bear".
The REAL purpose of this incessant seven-year campaign against Iran is to force her firmly into the Russian orbit. Now, the Gog-Magog War of Ezekiel 38-39 can be fulfilled; the stage is properly set.
Think about the ridiculous severn-year propaganda campaign against Iran. For severn long years, Western Intelligence has reported that Iran is "close" to developing her own nuclear weapon system. Time and time again during that seven years, Israeli Intelligence has warned that Iran will have her nuclear weapons capability in 12-15 months!
But, here we are, seven years down the road, with President Obama and Israeli Prime Minister Netanyahu driveling on and on just as did President Bush and Israeli Prime Minister Sharon! Truly, the thinking person wants to grab his or her head and scream, "Enough already, drop the pretense"!
As we demonstrated in an article written in June, 2002, a Russian general stated, matter-of-factly during a press conference in Moscow, that, yes it was true, Iran already possessed nuclear weapons; he just soothed everyone's concern by stating that Iran did not possess a missile delivery system capable of reaching Moscow (Read full details inNEWS1660 and NEWS2120)
But, the fact remains that a Russian general boldly and publicly stated that Iran possessed nuclear warheads in 2002. Therefore, this entire public rhetoric that Iran is close to developing nuclear weapons is simply a lie -- a bald-faced lie. Why would the Western world go to such trouble to lie continually about Iran's supposed nuclear weapons development project?
We have answered this question, to a degree, in the Headline News article quoted above, NEWS2200.
But, the Global Elite controlling Israel may have another plan in mind, one which could serve their interests in staging their Masonic Christ. Israel conceivably could conceivably start World War III by attacking Iran's nuclear facilities. At least, that is the opinion of the journalist we quote, below.
Remember that the Illuminati Plan envisioned in January, 1870, that three world wars would be necessary to stage the Masonic Christ on the world scene, with their Superman emerging through the dust and smoke and ashes of the Third World War (Read full details in NEWS1015).
It is to this question we now turn our attention.
Israeli Attack On Iran?
NEWS BRIEF: "How Israel Could Start World War III", By Sam Hamod, Al-Jazeera News, March 15, 2010
"Israel could start World War 3 by attacking Iran, it's that simple. Even Admiral Mullen, our head of the Joint Chiefs of Staff, according to insiders who traveled with him to Israel in February when he was rebuffed by Netanyahu,Barak and Lieberman; he worries about how we could be 'mousetrapped' into a world war."
"Here is the scenario:
"Israel attacks Iran. Iran responds by attacking the American fleet in the Persian Gulf and by blocking the Straits of Hormuz, thus destroying our naval fleet and cutting off the world's oil supply from Saudi Arabia, Kuwait and other Middle East oil suppliers."
"America must respond by helping Israel and by holding up its status in the world; thus, America attacks Iran."
"The Chinese and Russians have to respond by helping Iran, with whom they have major oil deals, and because they cannot allow Israel or America to gain a foothold and take over Iran because it would but them off from their much needed oil supply. Thus, they enter the war."
Reviewing This Possible World War III Scenario - Piece by Piece
Let us review each of these component parts of this proposed scenario, to see how fully plausible they are. We have already covered these possibilities, so let us review the information which Cutting Edge has already posted.
Part 1 -- Does Iran have the capability to attack the American fleet in the Persian Gulf, to destroy the American fleet, and to block the Straits of Hormuz?
NEWS2164 - "16 U.S. NAVAL SHIPS AT THE BOTTOM OF THE PERSIAN GULF! INCLUDES ONE AIRCRAFT CARRIER DESTROYED -- Recent War Games Disaster"
Is this disastrous result of the naval war games the REAL reason the Bush and Obama Administrations have threatened Iran with severe attack for 7 full years now, only to back down each time? Has America's dependence upon high technology to fight the Russian Navy doomed our forces? Please read NEWS1449, entitled, "Has Russian and Chinese Missile Technology Doomed The U.S. Navy During The Upcoming Third World War?". In this article, we reported that Russia had leapfrogged over the U.S. Navy in ship-to-ship missile technology, having developed a supersonic SS-N-22 Moskit cruise missile, NATO code named "Sunburn". The SS-N-22 is considered the most lethal anti-ship missile in the world, and flies at over 2.5 times the speed of sound only a few feet from the surface of the water." [This speed amounts to almost 1,700 miles per hour, or 28 miles per minute].
Further, we reported that the Russians had deployed this missile on a completely new boat developed just to fire this anti-ship missile!
Then, we learned that China had bought this missile, along with the complete ship firing platform; thus, both China and Russia have deployed an anti-ship missile system that approaches so fast that our anti-missile defensive measures cannot have enough time to fix on the incoming missile, plot an intercept, and fire.
The next fact we learned that this SS-N-22 "Sunburn" missile can carry a nuclear warhead! Thus, an entire carrier group could be wiped out in an instant by a single SS-N-22 missile exploding high over the carrier group with a nuclear warhead! This possibility is chilling when you consider that we have, in the past, concentrated multiple carrier groups in such a small area as the Persian Gulf; if we attack Iran, we probably are going to have to concentrate even greater naval resources in the Persian Gulf area.
We have seen many reports that Iran has deployed a smaller version of this missile, which can be fired from small patrol boats. Once again, small patrol boats are traditionally hard to hit when they are operating in an area congested with other naval traffic.
This next story shows us how very vulnerable our naval forces really are, especially in a close-in fight with a determined, skilled enemy. What makes this story so frightening is that this scenario occurred during an American war games exercise! An American commander leading the "enemy" sunk the American fleet -- using tactics the Iranians and Russians are likely to use.
NEWS BRIEF: "Myth Of US Invincibility Floats In The Persian Gulf", Rense.com, 4-16-2005
"During the summer of 2002, in the run-up to President Bush's invasion of Iraq, the US military staged the most elaborate and expensive war games ever conceived. Operation Millennium Challenge, as it was called, cost some $250 million, and required two years of planning ... it was set in the Persian Gulf, and simulated a conflict with a hypothetical rogue state. The "war" involved heavy use of computers, and was also played out in the field by 13,500 US troops, at 17 different locations and 9 live-force training sites. All of the services participated under a single joint command, known as JOINTFOR. The US forces were designated as 'Force Blue', and the enemy as OPFOR, or 'Force Red'. The 'war' lasted three weeks and ended with the overthrow of the dictatorial regime on August 15."
"At any rate, that was the official outcome. What actually happened was quite different, and ought to serve up a warning about the grave peril the world will face if the US should become embroiled in a widening conflict in the region ..."
The American officer leading the "enemy" -- the "Force Red" team -- was "the straight-talking Marine commander who had been brought out of retirement to lead Force Red. His name was Lt. Gen. Paul Van Riper, and he had played the role of the crazed but cunning leader of the hypothetical rogue state ... In the first days of the 'war', Van Riper's Force Red sent most of the US fleet to the bottom of the Persian Gulf." (Ibid.)
The tactics adopted by this Marine Corps general were astounding and they produced "The Worst US Naval Disaster Since Pearl Harbor".
"The war game was described as 'free play', meaning that both sides were unconstrained, free to pursue any tactic in the book of war in the service of victory ... Much of the action was computer-generated. But representative military units in the field also acted out the various moves and countermoves. The comparison to a chess match is not inaccurate. The vastly superior US armada consisted of the standard carrier battle group with its full supporting cast of ships and planes. Van Riper had at his disposal a much weaker flotilla of smaller vessels, many of them civilian craft, and numerous assets typical of a Third World country." (Ibid.)
"But Van Riper made the most of weakness. Instead of trying to compete directly with Force Blue, he utilized ingenious low-tech alternatives. Crucially, he prevented the stronger US force from eavesdropping on his communications by foregoing the use of radio transmissions. Van Riper relied on couriers instead to stay in touch with his field officers ... At every turn, the wily Van Riper did the unexpected. And in the process he managed to achieve an asymmetric advantage ... Astutely and very covertly, Van Riper armed his civilian marine craft and deployed them near the US fleet, which never expected an attack from small pleasure boats ... Force Red's prop-driven aircraft suddenly were swarming around the US warships, making Kamikaze dives. Some of the pleasure boats made suicide attacks. Others fired Silkworm cruise missiles from close range, and sunk a carrier, the largest ship in the US fleet, along with two helicopter-carriers loaded with marines ... the Navy was unprepared. When it was over, most of the US fleet had been destroyed. Sixteen US warships lay on the bottom, and the rest were in disarray. Thousands of American sailors were dead, dying, or wounded."

"If the games had been real, it would have been the worst US naval defeat since Pearl Harbor." (Ibid.)
Perhaps an American attack on Iran would not be the slam-dunk many people believe it would be! Furthermore, Iran's capabilities, plus American weakness, plus Russian scalar power might doom an attack by Israel.
Iranian leadership has taken notice, as this next archived Headline News article reports:
NEWS2074 - "Iran's Leadership Threatens The U.S. With Devastation, Saying They Learned Valuable Strategic Lessons From The Government's Response To Hurricane Katrina"
Part 2 -- It is entirely logical that America would come to Israel's aid and attack Iran. As a matter of fact, America would have no choice but to attack Iran if that country were able to inflict this kind of damage upon the world's oil shipping lanes.
The facts go even further and deeper. Before Israeli warplanes can get over Iranian territory, they must cross Iraqi airspace. Right now, permission for Israeli aircraft to penetrate and use Iraqi airspace resides with the American leadership; and, they have been manifestly unwilling to grant that permission. However, at some point before the current Iraqi government takes over sovereignty of her airspace -- once the Americans have pulled out -- the Shi'ite government of Prime Minister Maliki will most certainly deny Israeli aircraft permission to use her airspace. After all, Maliki is a close ally of Iran.
For this reason, if Israel attacked Iranian nuclear facilities, America will have to have already been involved. She will most certainly rush to defend the oil shipping lanes and refineries throughout the Middle East.
Part 3 - Would China and/or Russia rush to Iran's defense?
NEWS2120 -- "NUCLEAR ARMED IRAN VS. AMERICA -- WHOM SHOULD THE WORLD FEAR?"
Within this archived Headline News article, we read how much Russia's Putin has already committed to Iran's defense. Let us read some pertinent material.
"NEWS BRIEF: "RUSSIAN GENERAL CONFIRMS IRAN HAS NUCLEAR WEAPONS!", Stratfor Intelligence, Week of June 4, 2002.
"A Russian general's statement about Iran's nukes fails to register with media. Sometime a slip of the tongue is so incredible that no amount of doctoring can explain it. And sometimes a slip of the tongue is as intentional as could be. Take an appearance by Russian Deputy Chief of Staff Gen. Yuri Baluyevsky. He gave a briefing on Friday in Moscow during the Bush-Putin summit and was asked about whether Iran actually fired the Shihab-3 intermediate-range missile in a successful test earlier this month. The second question was whether Iran can threaten Israel, Russia or the United States with its nuclear and missile programs.
"Then the Russian general takes a surprise turn: 'Now, as to whether or not Iran has tested something like that. Iran does have nuclear weapons,' Baluyevsky said. 'Of course, these are non-strategic nuclear weapons. I mean these are not ICBMs with a range of more than 5,500 kilometers and more."
Now this is shocking news, indeed! This Russian general has just confirmed that Iran has nuclear warheads and theater missiles with which to deliver them! And, he seems not to be concerned because these warheads cannot yet hit Russian soil. If Iran has nuclear weapons and the missile capability with which to deliver them to Israeli targets, then the entire calculation of military balance in the Middle East may just have changed.
Furthermore, President Bush was present at this news conference and heard the translation of this revelation from this Russian General. If he did not know it beforehand, he knew it in early June, 2002, from the lips of this general, that Iran already possessed nuclear weapons! Therefore, Bush knows he is simply regurgitating sheer propaganda when he warns of the "dangers" of an Iran developing her own nuclear weapons. Iran has nuclear weapons already, and has not used them on anyone -- yet.
Russia then stepped into the diplomatic fray between the United States and Iran -- in a very big way. Quoting from NEWS1802, "Has Russia Drawn The Line In The Sand Against The US?"
"NEWS BRIEF: "No strike on other countries, Putin warns US", Sify News, April 12, 2003.
Saint Petersburg -- Russian President Vladimir Putin on Friday warned the US-led coalition not to attack other countries under the pretext of promoting capitalist and democratic values after having defeated Iraq's dictatorial regime. 'We are not going to export capitalist, democratic revolutions,' the Russian leader told reporters as rumours in Washington allege that some elements of the US administration are mulling launching military operations against other Middle Eastern states. 'If we do, we're going to end up on a slippery slope to non-ending military conflicts. We can't let that happen,' Putin said at a joint press conference with German Chancellor Gerhard Schroeder and French President Jacques Chirac after holding talks with them.
Secondly, even though the leaders of Germany and France attended this news conference, the spokesman was Russia's Putin. This fact speaks loudly to the reality that Russia may be the one superpower that is willing to actually stand up to the United States. Her military preparations speak even more loudly to this reality.
Thirdly, Putin used the descriptive language "slippery slope" to describe America's actions. This term is usually reserved for the very special circumstance in which national actions are seen creating an inevitable slide into all-out war. Thus, the assassination of the Austrian Archduke Ferdinand started the world down a "slippery slope" to war that proved to be inevitable. It took fully 30 days for the first governments to declare war on each other, but very quickly thereafter, governments lined up on each side, until World War I was launched.
Remember that -- it took 30 days for the event that caused World War I to fully play out into world war.
Thus, the battle lines seem to be drawn against the two world's military superpowers. Even though Russia has an economy dwarfed by the United States, she now fields the very modern force she began to bring on line in 1998. Further, Russia has EM interferometer scalar weapons that are so superior to anything the United States has, that Russia may really be the only true world's superpower [Read NEWS1776 and NEWS1776b, and NA670 for full details].
How powerful is Russia's scalar weaponry, compared to the many modern weapons we have just deployed? Listen:
"We have ground-based radars, endoatmospheric interceptors, exoatmospheric interceptors, airborne sensors, space-based sensors, chemically propelled interceptors, electromagnetic railguns, particle beam weapons, high energy lasers, all tied together by a massive command and control systems ... Massive systems. Electromagnetic marvels. Nuclear-pumped lasers of staggering power. Perhaps even x-ray and gamma ray lasers. Directed energy RF weapons. Stupendous railguns. Sensors everywhere. Giant webs of communications. Banks of computers and control systems.

"And its totally vulnerable to scalar EM interferometer weapons. Giant scalar EM 'radars' can simply sweep through all that like a scythe through standing hay." [Ibid., p. 331]
If you study scalar weaponry, you will see that it can deliver nuclear-sized explosions that look for all the world like a regular nuclear blast, including the distinctive mushroom cloud, but without the radiation; and, scalar weaponry travels at the speed of light. America risks dramatic military defeat if we cross the "line in the sand" that Russia has drawn. We might suddenly find ourselves in a military battle with Russia, a battle we cannot win if Russia chooses to use her scalar weaponry.

NEWS2183 - "Will Russia Allow The United States or Israel To Successfully Attack Iran?"


Since April 12, 2003, Russia has assumed the protection responsibility of Syria and Iran. She has provided the same type of anti-aircraft protection of Iranian and selected Syrian targets that protect Russian cities like Moscow. Russia has boldly provided Iran with the nuclear facilities which are now supposedly of such a concern to President Bush and other Western leaders. Iran is protected ultimately by Russian Scalar Weaponry, the most advanced Scalar Weaponry in the world.

Russia is already committed to Iran's defense! Russia's Putin announced to the world several years ago that an attack on Iran would be tantamount to an attack on Russia herself! Neither Israel nor America will ever attack Iran because no amount of damage to Iran's nuclear facilities would outweigh the disaster of finding ourselves in total war with Russia.

Conclusion

If this is the scenario by which World War III is planned to begin, then the careful 7-year build-up of false propaganda makes a lot of sense

However, we still hold to our belief that the Biblical prophecy of Ezekiel 38-39 will prevent Iran from being attacked.

Cutting Edge has long stood on the foundation of Bible prophecy that Iran will not be attacked because both she and Russia are protected by the prophecy of Ezekiel 38-39. Persia is foretold in Ezekiel 38-39 as being one of the countries which will march against Israel in the Latter Days, under the leadership of Russia. The government in control at that time has to be anti-West and anti-Israel, precisely as it is today. If President Bush successfully overthrows the present regime, he will institute a puppet government just as he has done in Iraq; this government will be pro-Israel and pro-West. Therefore, we expect that current Iranian government is protected by the prophecy of Ezekiel 38-39 from being overthrown; we may attack their facilities, but it seems to us that the government will be protected from actually being overthrown.

What has taken us by surprise is the intensity of the forces which have driven Iran into the Russian camp, as she seeks protection from America's sophisticated weaponry. Further, since the prophecy says that Gomer (European nations) is marching with Russia; therefore, American pressure on Iran is resulting in forcing together three major elements of this prophecy: Iran (Persia), Russia, Europe (Gomer).

Russia's military reputation is also protected by Ezekiel 38-39!

On April 12, 2003, Russia's Putin warned President Bush that he would not allow any more military strikes, invasions and/or "Regime Changes" in the Middle East. Were America to successfully attack Iran, Russian influence would be totally destroyed.

We posted an entire article on this subject entitled, "Russian Checkmate In The Middle East", and we encourage you to read this treatise in its entirety.

Since Ezekiel 38-39 identifies Russia as the leader and the equipper of the forces named to accompany her military in the march against Israel, if the Western military can successfully penetrate Russian defenses in an attack against Iran's nuclear facilities, the reputation of the Russian military capability would be fatally compromised. No leader of the countries identified as marching with Russia would have the confidence that the Russian military can defeat Israel.

Therefore, as we have stated so many times before, there will be NO attack against Iran, either by Israel or the United States, or in combination. You can take this prediction to the bank!

What we have witnessed during the past seven years in this public propaganda campaign against Israel is a most intense and incredible fulfillment of Jesus' prophecy that one of the signs that the End of the Age is approaching is that the world will be subjected to unprecedented levels of "Rumors of War". Truly, the End of the Age is upon us! Are you spiritually ready? Is your family? Are you adequately protecting your loved ones? This is the reason for this ministry, to enable you to first understand the peril facing you, and then help you develop strategies to warn and protect your loved ones. Once you have been thoroughly trained, you can also use your knowledge as a means to open the door of discussion with an unsaved person. I have been able to use it many times, and have seen people come to Jesus Christ as a result. These perilous times are also a time when we can reach many souls for Jesus Christ, making an eternal difference.

If you have accepted Jesus Christ as your personal Savior, but have been very lukewarm in your spiritual walk with Him, you need to immediately ask Him for forgiveness and for renewal. He will instantly forgive you, and fill your heart with the joy of the Holy Spirit. Then, you need to begin a daily walk of prayer and personal Bible Study.

If you have never accepted Jesus Christ as Savior, but have come to realize His reality and the approaching End of the Age, and want to accept His FREE Gift of Eternal Life, you can also do so now, in the privacy of your home. Once you accept Him as Savior, you are spiritually Born Again, and are as assured of Heaven as if you were already there. Then, you can rest assured that the Kingdom of Antichrist will not touch you spiritually.

If you would like to become Born Again, turn to our Salvation Page now.

We hope you have been blessed by this ministry, which seeks to educate and warn people, so that they can see the coming New World Order -- Kingdom of Antichrist -- in their daily news.

Finally, we would love to hear from you.

You can contact us by mail or email.

God bless you.

Copyright © 2010 Cutting Edge Ministries. All rights reserved. This password protected article and its contents are protected under the copyright laws of the United States and other countries. This article is provided by subscription only for use by the subscriber and all other rights are expressly reserved by the copyright owner. Copying and pasting this article, in whole or in part, into e-mails or as attachments to e-mails or posting it on the Internet is strictly prohibited and may subject the offender to civil liability and severe criminal penalties (Title 17, United States Code, section 501 and 506).

Copying and distributing this article in violation of the above notice is also a violation of God's moral law.


Become a Headline news subscriber HERE.

Subscribe to our free email updates and messages from our editor by entering your email address below :

Return to: