---------- This Week's Hot News -------
I. The crippled nuclear reactor at Fukushima, Japan, continues to ooze frightening levels of radiation.
This situation is so serious that homeless citizens are being paid minimal wages to remove crippled uranium rods!
No one seems to care if homeless die!
NEWS BRIEF: "Japan: Homeless Used as Slave Labour to Clean Up Fukushima", International Business Times, 12/30/2013
"Homeless people in Japan are being paid less than minimum wage to clean up the Fukushima nuclear disaster, and often end up in debt once their accommodation is docked from wages."
I find it highly offensive to learn that the Japanese nuclear operator TEPCO is hiring homeless people to work on the cleanup crew, removing deadly radioactive materials from the Fukushima reactor. Not only are these workers toiling in a deadly environment for nearly zero pay, they probably have not been fully advised that they could rapidly die. Since TEPCO has lied repeatedly about the extent of this radioactive contamination, we can only assume they are lying to these poor, unfortunate helpless people.
This next news segment reveals that Japanese gangsters have taken a large share of Japan's daily labor market! Lawless gangsters are rounding up these homeless, not only for the cleanup at Fukushima but for regular daily work as well.
"... the clean-up of the 2011 nuclear spill has become a playing ground for profiteering gangsters who are taking advantage of the need for cheap labour. One recruiter, Seiji Sasa, explained how he is one of many who visit the Sendai Station every day to round up homeless men desperate for food and shelter as temperatures drop to near freezing."
"Sasa is paid $100 (£60) per person he recruits to work on the $35bn taxpayer-funded clean-up operation. "
Therefore, as one of the most deadly cleanup operations in world history unfolds, Japanese gangsters are profiting mightily. This is a terrible event and is undoubtedly resulting in shoddy work; but, regular workers would not go near Fukushima, even at high wages, because they know the risks and do not want to die.
II. Several earthquakes have hit Japan in the past few weeks, raising fears that the Fukushima reactor might be further damaged.
As it turns out, if a powerful earthquake were to hit Fukushima, Japan, consequences could be positively catastrophic.
NEWS BRIEF: "Big quake near Fukushima would 'decimate Japan, lead to US West Coast evacuation' ", Russia Today, 11/20/2013
"The stricken nuclear plant at Fukushima in northern Japan is in such a delicate condition that a future earthquake could trigger a disaster that would decimate Japan and affect the entire West Coast of North America, a prominent scientist has warned."
"Speaking at a symposium on water ecology at the University of Alberta in Canada, prominent Japanese-Canadian scientist David Suzuki said that the Japanese government had been "lying through its teeth" about the true extent of the 2011 Fukushima nuclear disaster ... 'Fukushima is the most terrifying situation that I can imagine', Suzuki said, adding that another earthquake could trigger a potentially catastrophic, nuclear disaster."
" 'The fourth [reactor] has been so badly damaged that the fear is if there's another earthquake of a 7 or above then that building will go and all hell breaks loose', he said, adding that the chances of an earthquake measuring 7 or above in Japan over the next three years were over 95 percent'."
"If the fourth [reactor] goes under an earthquake and those rods are exposed, then it's bye, bye, Japan and everybody on the west coast of North America should be evacuated. And if that isn't terrifying, I don't know what is', Suzuki said. "
If Fukushima irradiates Japan so thoroughly that she is destroyed, the world would lose the third largest economy. If the West Coast is evacuated, the world would lose the 12th largest economy and world wide economic collapse would be inevitable and would occur quickly.
Please notice that I used two of the cards in the Illuminati Card Game for these stories. In 1995, Steve Jackson created this role-playing game, designing each card to depict an event the Illuminati was going to carry out in order to collapse this present civilization so the New World Order could be established.
Therefore, in 1995, Steve Jackson knew that the Illuminati planned to severely damage a nuclear reactor and he knew that the scientists working for the Elite controlled weather functions, such as storms and earthquakes.
We have hot linked articles on these two subjects and invite you to study them indepth. However, since Weather Control is such a hot subject, we wish to point out to you the most powerful statement any government official has ever uttered. Listen carefully:
"Others (foreign scientists) are engaging even in an eco-type of terrorism whereby they can alter the climate, set off earthquakes, volcanoes remotely through the use of electromagnetic waves." (Defense Secretary William Cohen, speaking at a "Conference On Terrorism: Weapons of Mass Destruction, and U.S. Strategy", Sam Nunn Policy Forum, April 28, 1997 University of Georgia, Athens, Georgia)
William Cohen realized that technology to control weather functions is as powerful a weapon as any standard Weapon of Mass Destruction. He is entirely correct. This understanding will revolutionize the way in which you view world events.
If the Illuminati wants to destroy a target with a massive underwater earthquake, they can. In the case of Japan's 2011 undersea earthquake, most of the damage was done by the incredible tsunami the quake generated.
Since the Illuminati also plans to bring down the Islamic Dome of the Rock by an earthquake just as their Masonic Christ appears east of Jerusalem, they have the electromagnetic wave technology to make that destruction occur, and occur on their timetable (Read full details in NEWS1643 and NEWS1067).
Since the Illuminati does not want to trigger a worldwide economic collapse prior to their Masonic Christ (antichrist) arising, they likely will not cause another massive quake which would cause the devastation of destroying Japan and causing a most disruptive evacuation of the West Coast.
Remember, fear of disaster and war is nearly effective in allowing change to be made as actually disaster and war (Read full details in NEWS1571).
The concept that these world events are being deliberately planned and carried out is really liberating, because that means they are subject to prophetic control. Prophecy does not call for economic collapse prior to the appearance of Antichrist (Masonic Christ). In fact, some key nations are prophesied to be prosperous right up to the mid-point of the Tribulation Period (NEWS2239)!
Therefore, we Christians can relax even over the worst news, because we know what God's prophecy will, and will not, allow.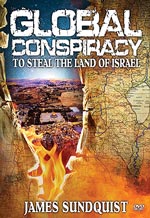 DVD
III. The Global Conspiracy to divide the holy land of Israel moves into high gear as Secretary of State Kerry arrives in Israel to broker a deal that would take effect in April.
Remember PM Sharon? He received a Kabbalist killing curse from Conservative Rabbis because he planned to unilaterally withdraw from the Gaza Strip; less than 6 months later, he fell into a coma, in 2005. Sharon is now reportedly near death.
NEWS BRIEF: "US Official: Kerry to push for permanent peace agreement by April", The Jerusalem Post, 12/31/2013
"US Secretary of State John Kerry hopes to narrow differences between Israelis and Palestinians in peace talks this week that are intended to guide the sides toward a deal in April ... Kerry departs for the region on Wednesday in his first trip after a Christmas break. Israel and Palestinians resumed peace talks in July after a three-year break aimed at producing a peace agreement within nine months to end their decades-old conflict."
Now that Israel again demonstrated her "good faith" in these negotiations by releasing a group of convicted Palestinian murderers, President Obama is assuming that now the path toward an agreement is now open. He does not realize that the Palestinians have no desire to agree to anything that leaves Israel alive as a nation. Since the days of Yassir Araft, the Palestinians have viewed these land division negotiations as nothing more than an attempt to destroy Israel through negotiations. The Palestinians intend to attempt to so cut Israel up into small, indefensible pieces that Arab armies could then defeat the IDF and annihilate all Jews.
We have written much about these negotiations to divide the land of Israel. Please take a few moments to read this background so you will better understand the second part of our Newsletter. Please read:
NEWS1928 - "Israeli PM Sharon Shamelessly Continues 'Liberal' Oslo Policies of Training And Supplying Implacable Muslim Enemies Dedicted To Israel's Destruction"
NEWS2090 - "New Israeli President Peres Wastes No Time Reaffirming His Support For the Oslo Accords"
NEWS2094 - "Proofs of A Conspiracy: President Clinton Committed U.S. To Build An Ulta-Modern Staging Facility For The IDF"
NEWS2050 - "Proofs of A Conspiracy! From 1917 to 1992 to Today, Israel Has Been Planning To Give The Palestinians A State Carved Out of Biblical Israel!"
Now that you have a background in this subject of dividing Israel's land and PM Sharon's leading role in it, you will better understand the news story below.
NEWS BRIEF: "Former PM Ariel Sharon reportedly near death", The Sydney Morning Herald, January 3, 2014
"Jerusalem: Ariel Sharon, the former prime minister of Israel who has been comatose for nearly eight years, edged closer to death on Thursday, suffering from kidney failure. The director of the hospital where Mr Sharon is being treated said he was in critical condition and his life was in danger."
Do you remember that, as Prime Minister, Ariel Sharon turned back on his lifelong Conservative credentials and ordered an Israeli unilateral withdrawal from the Gaza Strip? A Cutting Edge subscriber from South Africa wrote me to tell me of something he had discovered about the Kabbala from researching this system on his computer; in researching the Kabbala, he discovered an email link to the originator of the site. This subscriber was curious as to why the Jewish Kabbalists who had placed a 'Pulsa Dinura' curse (killing curse) on Sharon went public with their evil ceremony. Listen to what this subscriber discovered.
"I rushed into the full article about that famous kabbalist curse on Ariel Sharon, specially the interview of that rabbi that conducted the ritual ... I have been asking myself for months WHY on earth do the Illuminati always present (through occult masking) all their upcoming plans into medias, films, or music? What is the reason of their support to those hard-rock, pop musicians?"
When this subscriber asked this Kabbalist via email why the Jewish Kabbalists went public with their 'Pulsa Dinura' curse (killing curse) on Sharon, he received a chilling reply: "the cursed person needs to know, for the curse to be effective".
Did you catch the horrific meaning of this statement? According to Kabbalistic rituals, one has to tell his cursed victim that they are cursed! Therefore, when they die, even after knowing what is about to happen to them, the supreme, supernatural power of the occult is revealed and glorified to the entire world. Satanists of all stripes love to glory in their power -- they love to tell their victim what is about to happen to them, and then see that victim unable -- totally powerless -- to prevent their demise.
Sharon slipped into a coma less than six months after the Kabbalistic killing curse. And, eight years later, he is about to die. An amazing story. There is tremendous occult power behind the Kabbala!
But, there is one more part to this sordid Kabbala story. Supposedly, when Sharon dies, something terrible is going to occur to Israel. I wonder if it is just coincidental that Sharon's physical death is going to occur at the same time the Skull & Bones Secretary of State (John Kerry) is arriving in Israel for a final push to the plan to carve a Palestinian State out of the land of Israel?
God warned that leaders would plan to divide His land at the End of Time.