God's Perfect Family Plan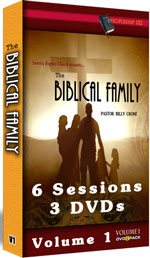 "The Biblical Family" - Volume 1 - Biblical Roles of Man, Husband, and Father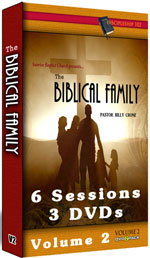 "The Biblical Family" - Volume 2 - Biblical Roles of Woman, Wife, Mother and of Children
---
NEW BOOKS
Great Devotional Book
"Questions God Asks: Understanding Omnipotent God Who Asks Questions of Us"
========
"America's Ark"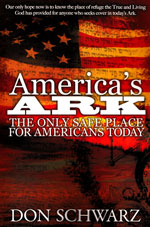 Christian, it is time to board God's Ark of Safety!
---
Blood Moon DVD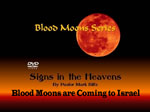 "Linking The Eclipses To The Coming Of Messiah"
---
Pastor Billy Crone
New DVD's
Aliens Will Introduce Antichrist!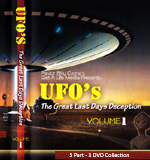 "UFO's - The Great Last Days' Deception"
Volume 1 of 2
Biblically Proves Aliens Are Demons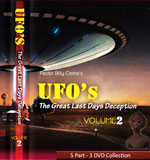 "UFO's - The Great Last Days' Deception"
Volume 2 of 2
New Age lie about the Rapture is Revealed!
==========
More UFO DVD's
"Watchers 7, Physical Evidence - Alien Implants" DVD
New DVD by L.A. Marzulli - Only $19.99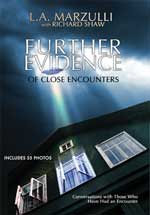 "Watchers 7 Further Evidence Book"
---
"Beast Tech Book: THE Mark of the New World Order!"
by Tom Horn and Terry Cook
---
New DVD's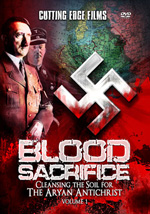 "Blood Sacrifice: Cleansing The Soil For The Aryan Antichrist"
Related DVD
Doc Marquis DVD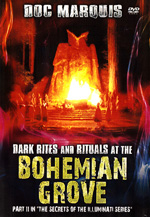 by Doc Marquis -- DVD #11 In His 'Secrets of the Illuminati' Series
---
More UFO DVD's
Rob Skiba
Deeper Insights Into Aliens / UFO's For the Knowledgeable Researcher
"2045 and the Quest for Immortality"
"Archon Invasion: The Return of the Nephilim", Part 1 DVD by Ron Skiba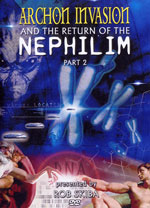 "Archon Invasion: Now And In The Future", Part 2 DVD by Ron Skiba
"Babylon Rising '322' - Tetrads and the Time of Jacob's
---
SHOPPING
Exciting Salvation News For 2013!
In just three languages of the nine in which Cutting Edge is printed on the Internet, God blessed our efforts to reach people with His Gospel Message to a powerfully unique level. As this table illustrates, 100,806 people read the Gospel Message during 2013 in these three languages!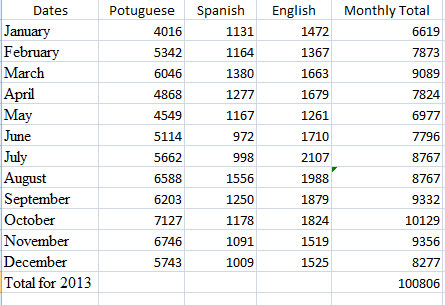 If you have not read this special message, we encourage you to read
"What Must I Do To Be Saved"?
---
HOT NEWS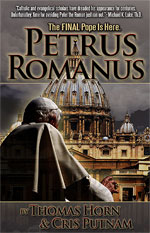 I. Suddenly, the Vatican is showing unprecedented interest in the Holy Land.
Since Pope Francis I is planning to travel to Jerusalem in May, has the time arrived to create the global religion of the New World Order?
NEWS BRIEF: "Vatican Increases Focus on the Holy Land", The Real Truth News, Jan 31, 2014
"The Catholic church has taken an increasingly active role in the Middle East—especially the Holy Land."
The Papacy has traditionally taken an aloof position regarding Israel, a position which many Christians believe traces back to the anti-Semitic mantra which blames the Jews for killing Christ. For many centuries, Catholics leveled the charge "Christ-killer" against the Jew.
Pope Francis I has already changed many things about the Catholic Church; now, he is apparently changing the attitude toward Israel.
"The pope met with Israel's Prime Minister Benjamin Netanyahu in early December at the Vatican ... the two leaders discussed the 'complex political and social situation in the Middle East, with particular reference to the reinstatement of negotiations between Israelis and Palestinians, expressing hope that a just and lasting solution respecting the rights of both parties may be reached as soon as possible'."
This next segment might prove highly important in the development of prophetic events in Israel.
"According to the Los Angeles Times, 'Diplomatic relations between Israel and the Holy See were established in 1993. Since 1999, the two sides have been negotiating a long list of outstanding issues, including the status of the Roman Catholic Church in Israel, requested sovereignty over certain sites, and taxation and expropriation of church assets in the country. Last year [2012], Israeli officials involved in talks said resolving these matters would bring a 'historic upgrade of relations.' "
Did you notice that one of the issues between Israel and the Vatican is "requested sovereignty over certain sites"! Why is this particular issue important? The Illuminati script for the establishment of the global New World Order Religion calls for the Pope to travel to a particular location in Jerusalem! Listen to the precise wording:
"... fear of war must be maintained until the desired political and religious changes have been instituted. At the proper moment in history, the Pope will visit the combined Jewish/Christian/Moslem sector of Jerusalem to announce that all religions should be combined into one. This action will then finally break the Middle East logjam." ("Complete Seminar Notes From House of Theosophy Seminar Which Reveals Plans For Last Stages of the New World Order", by Director Bill Lambert, August 18, 1991, NEWS1052)
Now that we know the Pope will be visiting a site over which they have sovereignty, known as the "combined Jewish/Christian/Moslem sector of Jerusalem", all we need is for the Pope to travel to Jerusalem. Popes rarely travel to Jerusalem. But, Pope Francis I has a trip planned!
"Pope Francis is expected to visit Israel in May 2014. His trip, much like his papacy—which has been marked with unorthodoxy, broad popularity, and intense media attention—is expected to be much different."
Therefore, it is possible that Pope Francis I may announce the formation of a global religion with himself as its top leader, or he may set the stage for a second trip once the combined Jewish/Christian/Moslem sector of Jerusalem has been established.
This Papal trip may hold great implications for the establishment of the New World Order and of the ecumenical one-world religion planned by the Elite and foretold in prophetic Scripture!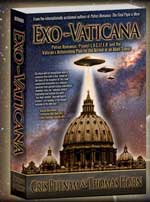 II. The Illuminati has already declared Roman Catholic Popes to be "Proper Receptors" to the Antichrist!
Therefore, Pope Francis I will be spiritually identical to Antichrist when he travels to Israel.
NEWS1052 "Complete Seminar Notes From House of Theosophy Seminar Which Reveals Plans For Last Stages of the New World Order", by Director Bill Lambert, August 18, 1991
"Energies want to flow from the Hierarchy to earth to produce the physical manifestation of the Christ; but, such flow can only occur when humanity raises its collective consciousness to be properly awakened receptors." (Page 617-618, "Externalisation of the Hierarchy", paraphrased by Mr. Lambert).
At this point, I raised my hand to ask Mr. Lambert, 'You spoke earlier about the Pope going to Jerusalem; when Lord Maitreya makes his appearance, there will be three types of people:
1. Those whose consciousness has been properly raised so they can readily accept him;

2. Those whose consciousness has been raised somewhat but not so high that they can readily

and immediately accept him, but they might be able to accept him after further enlightenment;

3. Those who will never accept him.'
I continued:
'What responsibility do the leaders of the world's religions have toward those members of their flock who are of group number two? Will they step forward to publicly urge group number two people to accept the Christ?'
Bill's answer was that the acceptance of the Christ was completely an individual affair.
I then tried again to get Bill to state that one of the leaders of the world's religion would step forward to play the role of the Biblical False Prophet. I said, 'Back to the Pope for a moment, Bill. You stated that, at the right moment, the Pope would go to Jerusalem. Surely the Pope is a proper receptor to the Christ'
At this point, Bill nodded his head affirmatively that the Pope was a proper receptor to the Christ (Antichrist) . This is the most direct acknowledgement by a influential person involved in the planning for the appearance of Christ that the current Pope is ready and waiting for the appearance of The Christ. This acknowledgement also points to the Roman Catholic Pope as the False Prophet, because Bill stated, very pointedly, that the preparation for the New World Order religion was being paved by the Ecumenical Movement, which is being spear-headed by the Pope."
Therefore, we know certainly, from a top Illuminati inside source, that the Jesuit, Pope Francis I, will be properly in sync with the Illuminati Plan as he travels to Jerusalem in May!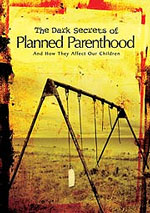 DVD
III. The State of Texas truly has abortion mills / clinics on the run!
A new state law is causing abortion clinics to close at a record pace.
NEWS BRIEF: "Texas suspends first doctor under new abortion law", America Aljazeera News, 2/14/2014
"The new law has led to the closure of nearly one-third of Texas' abortion clinics. Texas has suspended a Houston doctor's license for performing abortions without getting privileges to admit patients to a nearby hospital, the first such move under a new state abortion law that went into effect last year."
"The Texas Medical Board said on Friday that physician Theodore Herring performed 268 abortions between Nov. 6 and Feb. 7 without the right to admit patients to an authorized hospital within 30 miles of where the procedures took place ... The suspension was effective immediately," the board said, adding that Herring would pose a threat to public welfare by continuing to practice medicine."
Planned Parenthood is furious!
"A federal court heard an appeal from Planned Parenthood and other advocacy groups last month to relax restrictions that have caused a dozen clinics to suspend services."
In fact, the fight against abortion is beginning to pick up power, even in areas considered bastions of Liberalism!
NEWS BRIEF: "New York City Abortion Rate Drops Below 40% for the First Time Since 1970", LifeNews, 2/17/14
""Discernible progress is being made in New York City on the ratio of abortions to live births just released 2011 City data shows. "
"While the city remained the abortion capital of America in 2011, with abortion ratios almost twice the national average, citywide the abortion ratio (the percentage of pregnancies ending in an abortion) fell below 40% (39.55%) for the first time since 1970, when abortion was legalized in New York."
This news is terrific! When abortion upon demand burst upon the scene in America four decades ago, Satanists the world over were gleefully pleased. They knew that their lord, Satan, looked upon abortion as human sacrifice that would move the world closer to the appearance of the Man of Sin, the Biblical Antichrist.
But, he never counted on the vociferous and unrelenting opposition to Abortion from the Christian Community! Prayers and actions have started to roll back this tide of innocent blood.
Who knows, but maybe this concerted Christian effort will roll back abortion irretrievably until only the Rapture of the Church can give victory once again to the Satanists who love abortion so much.
NOTE: The Newsletter continues below the section on D.A.R.P.A.
---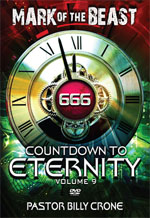 D.A.R.P.A. Is Developing Antichrist's 'Mark of the Beast'!
D.A.R.P.A. IS FUNDING AN IMPLANTABLE CHIP FAR MORE ADVANCED THAN"DIGITAL ANGEL"! M.M.E.A. - MULTIPLE MICRO ELECTRODE ARRAY IS SO ADVANCED IT CAN FULFILL REV 13:16-18! Part 1 of 5
We explain the actual science of MMEA in this article so you can see how all humans on earth can be completely controlled by this implantable chip! Emotions - fear, euphoria, depression -- plus pleasure and pain, can be controlled and even caused, by R.F. (Radio-Frequency signal)! Silent, large funding is occurring that soon will be ready for "The Christ" to use once he arises. RFID is just the "tip of the iceberg".[For full details of D.A.R.P.A., read NEWS1739]
D.A.R.P.A. IS FUNDING AN IMPLANTABLE CHIP FAR MORE ADVANCED THAN"DIGITAL ANGEL"! M.M.E.A. - MULTIPLE MICRO ELECTRODE ARRAY - Part 2 of 5
The funding source always reveals the ultimate goal the Illuminati has in mind for this human implantable chip. America is leading the way to establishing the greatest, most repressive global dictatorship imaginable, one that will fulfill Bible prophecy of the "Mark of the Beast".
M.M.E.A. - MULTIPLE MICRO ELECTRODE ARRAY IS SEEN BY OCCULTISTS AS "TRANSCENDENCE", A MEANS BY WHICH MANKIND SHALL MAKE THAT "PARADIGM JUMP" IN CONSCIOUSNESS TO BECOME GOD! - Part 3 of 5
"The Brain Machine Interfaces Program will create new technologies for augmenting human performance through the ability to noninvasively access codes in the brain in real time and integrate them into peripheral device or system operations ... This technology is just another church, a place to worship ... The kingdom of God is within us all, so these technologies are expanding the environment ... God is all powerful love. You can do no wrong when the spirit of love, the Holy Spirit is with you. " ["Technical Jesus"]
M.M.E.A. - MULTIPLE MICRO ELECTRODE ARRAY IMPLANTABLE CHIP -- IS IT JUST ANOTHER "SATANIC INSERT" WHICH HAVE BEEN USED BY COVENS FOR OVER 4,000 YEARS? - Part 4 of 5
Satanists make extensive use of special inserts in a person's body who is in witchcraft, or a person they wish to control. The Biblical Mark of the Beast would be a natural "insert" for the most powerful Satanist witch in world history to use to control the entire population of the world. Stand by for startling insights!
M.M.E.A. - MULTIPLE MICRO ELECTRODE ARRAY IMPLANTABLE CHIP: BUYING AND SELLING IS EASIER THAN YOU MIGHT THINK! - Part 5 of 5
Technology to "buy and sell" with the M.M.E.A. chip is both simple and in use right now! Too many people believe the technology to "buy and sell" with an implantable chip is complicated and that the chip must be updatable -- not true, as you shall soon see!
---
DVD
IV. Activists all over the world are suddenly realizing excellent success against Monsanto and other corporations producing or selling Genetically Modified Foods!
The Illuminati has always feared the power of the vast majority of the people.
NEWS BRIEF: "How We Are Forcing Corrupt Mega Corporations Like Monsanto Out of Business", Story Leak News, February 14, 2014
"In just the past few weeks and months, we have generated powerful traction in the fight against corrupt mega corporations like Monsanto and others — and it all comes down to consumers refusing to purchase additive-loaded food products ... Ultimately, we are all no longer 'consumers' but 'activists' in the sense that we can no longer sit by and watch as our food supply and freedoms are tarnished at the same time by a merger of corporate and government corruption..."
"And our activism is paying off."
* "... major corporations like Kraft and Subway make a 180 degree shift towards removing toxic substances from their food following major outcry from activist consumers..."
* "these corporations know that they are quickly going to lose their entire customer base if they do not start removing the synthetic garbage from their food."
* "Subway .... announced it would be removing a rubber chemical from its bread...."
'This is how real change is made, and this is how reality is broadcast around the world through the domination of media headlines. Altogether, 2014 is shaping up to be a true year of reality, and in just a few short months we have already been highly successful in enhancing the message of reality through resisting corporations like Monsanto and Bank of America. As long as we continue the proverbial charge, nothing can stop a calvary rush of truth."
I certainly hope that this viewpoint represents reality, because if the Genetically Modified Foods by corporations like Monsanto continue to develop crops whose seeds cannot reproduce the next year's crops, then the world is set for the global famine and disease foretold in Revelation 6:7-8, the Fourth Seal.
"So I looked, and behold, an ashy pale horse, black and blue as if made so by bruising, and its rider's name was Death, and Hades (the realm of the dead) followed him closely. And they were given authority and power over a fourth part of the earth to kill with the sword and with famine and with plague (pestilence, disease) and with wild beasts of the earth."
Now that nations are no longer storing foodstuffs like they used to immediately after World War II, farmers all over the world will be especially susceptible when Monsanto owns all the productive seeds in the entire world. If Monsanto withholds seed for the next year, famine will quickly set in.
If Genetically Modified Foods produce the diseases which we suspect they do, or if their genetics are set to trigger poisons at a particular time, then the foods which are eaten can readily kill by the tens of millions.
How deadly did Jesus tells us these End of the Age diseases would be>
"There will be mighty and violent earthquakes, and in various places famines and pestilences (plagues: malignant and contagious or infectious epidemic diseases which are deadly and devastating)...." (Luke 21:11;

Parallel Bible, KJV/Amplified Bible Commentary

)
Monsanto and other GM companies may have an horrific role to play as God's Judgments unfold in the Book of Revelation.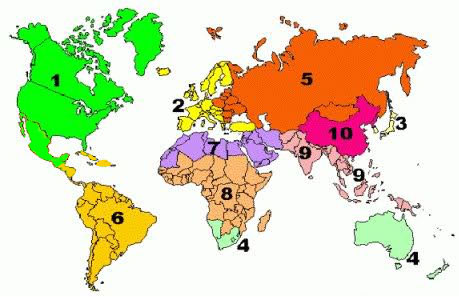 V. Supernation #5 of the Club of Rome Plan continues to unfold violently in the Ukraine.
Supernation #5 is Russia and Eastern Europe.
NEWS BRIEF: "Kiev Entering 'Civil War' ", Israel National News, 2/19/2014
"Ukrainian President Viktor Yanukovych threatened to crack down with full force on anti-government protesters after the bloodiest clashes in the country's three-month standoff killed at least 25 people ... A BBC correspondent noted that the violence was in fact the worst the country has seen in almost 70 years, since World War 2."
One observer thought this phase might quickly turn into another, more serious, confronation.
"Poland's Prime Minister Donald Tusk told lawmakers in Warsaw that 'We may be witnessing the first hour of a civil war' in Kiev."
The situation is so grim that the Ukrainian President alleged a coup attempt against him.
NEWS BRIEF: "At least 25 killed in Ukraine as president alleges coup attempt", Los Angeles Times, 2/19/2014
"Pointing to continued clashes in Kiev's Independence Square Wednesday morning, Yanukovich accused the opposition of a coup attempt. 'Without any mandate from the people, acting illegally and violating the constitution of Ukraine, these, so to say, politicians tried to seize power by resorting to pogroms, arsons and murders', Yanukovich said in a televised speech. 'They crossed the line when they called upon the people to take up arms. This is a flagrant violation of law'."
Meanwhile, Russia accused both the United States and the European Union of starting this "protest movement" in the first place and then using agents to keep the unrest going strong.
NEWS BRIEF: "US, EU are 'neck deep' in plan to see pro-Western regime change in Ukraine', Russia Today News, 2/19/2014
"Though the Ukrainian conflict is complex, with 'its own dynamic', protesters are certainly emboldened by support from Western powers ... The United States and NATO and the EU are together using their combined forces to signal to these demonstrators that 'We are with you,'" he said. The EU, NATO leadership and the Obama administration 'are neck deep now in a plan to carry out regime change in this extremely important part of Europe, trying to integrate a former Soviet republic into the EU and, of course, into NATO ultimately'."
Former Republican Congressman, Ron Paul, distributed a podcast program entitled "Ron Paul Podcast: Busted! US Officials Caught Meddling in Ukraine". We encourage you to listen to this most important message, as Ron Paul speaks the truth.
Russia counterattacked by making substantial financial support immediately available to the Ukrainian government.
NEWS BRIEF: "Russia to Release Loan Money for Ukraine, Lifting Leader", The New York Times, 2/17/2014
"KIEV, Ukraine — The protracted struggle for Ukraine between Russia and the West was on vivid display on Monday with Russia throwing an unexpected financial lifeline to the embattled Ukrainian president, Viktor F. Yanukovych, just as Germany rolled out an unusually high-level reception for two of the president's most ardent opponents."
"As the Ukrainian opposition leaders, Arseniy P. Yatsenyuk and the former boxing champion Vitali Klitschko, huddled in Berlin with German leaders, including Chancellor Angela Merkel, Russia said it would this week unblock the next payment of a promised $15 billion credit for Ukraine that it had earlier frozen because of the political disarray in the Ukrainian capital, Kiev."
I suspect that Russia will finally pull The Ukraine back into its fold, despite furious Western opposition. After all, the Club of Rome Plan -- to which all the leaders of the Illuminati pledge support -- clearly indicates that The Ukraiane is planned to be part of Supernation #5, headed by Russia.
In the meantime, men's hearts are failing them for fear over the many parts of the world now burning with the fires of war. Welcome to the specter of the New World Order, the Kingdom of Antichrist.
---
Headline News Articles
Is President Obama Going To Make An Announcement Confirming The Existence of Extra-Terrestrials? He has just appointed a "UFO adviser"!
Was Ronald Reagan A Secret Member of the Luciferian Secret Society, The Rosicrucians?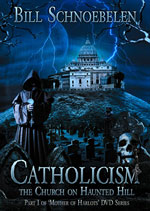 SPECIAL ANNOUNCEMENT
Pope Francis I Preparing To Be The False Prophet Revelation 13:11-18
Your hair will stand on end when you read of the doctrinal heresies and doctrinal reversals initiated by Pope Francis !
"At the proper moment in history, the Pope will visit the combined Jewish/Christian/Moslem sector of Jerusalem to announce that all religions should be combined into one." (Illuminati Plan)
This is the Plan and Pope Francis I is the Man.
BREAKING NEWS JUST IN! Pope Francis has just announced he will visit Jerusalem in May! See details in this article, above.
Abruptly, Significant Progress Occurs In Prophetically Reorganizing All Nations Into 10 Supernations
Prophetic Supernation #9 is forming, with a deadline of December, 2015
South and Southeast Asia (ASEAN) is now coalescing into a single giant nation. When this nation is formed, it will be part of the fulfillment of Daniel 7:7-8
"Gun Control / Seizure Advocates Enter Through Back Door To Achieve Control:
We will pry your gun from your dead, cold fingers" (Lt. Col. Bateman, Homeland Security)".
President Obama Is Unilaterally Disarming America!
From the Middle East to the Far East, American forces are signaling all-out retreat. Will America survive Barack Obama?
Nuclear-Armed Iran Fears Can Be Buried Once and For All!
Shocking Prophetic News: Revelation 18 Prophecy Reveals That America Will NOT Suffer Economic Collapse Until Antichrist Is Here
Subscribe To Headline News For Only $25 per year!
---
GREAT VALUES
---
Your faithful support enables us to keep Cutting Edge free for everyone else. Our readers have always loved the indepth correct news analysis found in our "Headline News Analysis".
If you want only to make a donation rather than subscribe to Headline News, simply click on the 'Donation Button' shown to the left and complete the simple form.

---