Common sense should tell everyone that the Russians would want "Crooked Hillary" to be President because she had already colluded with Putin to sell 20% of American uranium stocks to Russia, pocketing tens of millions of dollars for her treason!
Every Russian leader knew Hillary was a "monetary prostitute"!
Hopefully, the new Attorney General Barr is getting ready to come after Hillary!
"What goes around, comes around", and hopefully, Hillary and her gang of thieves will be brought to justice, so that we can all see how treasonous and how greedy Bill and Hillary have been for so long. Had Hillary been elected President, a huge sign would be hung on the White House, saying "Premises For Sale"!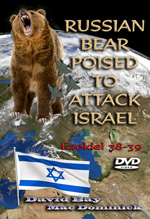 DVD
2. The stage continues to be set for the Ezekiel 38-39 Invasion!
First, Libya
NEWS BRIEF: "Chaotic situation in Libya escalates", Mexico Star, 9 April 2019
"The military escalation and ongoing fighting in and around the Libyan capital, Tripoli, including an aerial attack earlier in the day by aircraft from the self-styled Libyan National Army (LNA) force, which closed the city's only functioning civilian airport, is causing alarm at the UN."
Since the entrenched dictator, Muammar Gaddafi , was overthrown on 20 October 2011, regional strongmen have ruled the country. But, now, one of the generals is making a play to control all of that fractured country.
Remember, Libya is one of the countries which God lists as marching with Russia in her invasion of Israel at the End of the Age. Events are setting the stage so that Libyan armed forces can one day soon march to meet her prophetic destiny as her forces also approach the Israeli border.
Second, Iran (Ancient Persia)
NEWS BRIEF: "US Officially Designates Iran's Islamic Revolutionary Guard Corps a Terrorist Entity", The Jewish Press, 8 April 2019
"The Trump administration on Monday announced that the United States will officially designate Iran's Islamic Revolutionary Guard Corps as a terrorist group."
Trump's statement left no room for misunderstanding.
" 'Today, I am formally announcing my administration's plan to designate Iran's Islamic Revolutionary Guard Corps (IRGC), including its Quds Force, as a Foreign Terrorist Organization (FTO) under Section 219 of the Immigration and Nationality Act', said U.S. President Donald Trump."
"This is the first time that a part of a foreign state has been officially designated as a terrorist group."
Trump's action will only drive Iran further and deeper into the Russian orbit, thus solidifying a most crucial part of the Ezekiel 38-39 prophecy. Listen to God's lineup of nations doomed to march against God's Holy Land at the End of the Age:
"Son of man, set your face against Gog, of the land of Magog, the prince of Rosh (Russia), of Meshech, and of Tubal, and prophesy against him And say, Thus says the Lord God: Behold, I am against you, O Gog, chief prince (ruler) of Rosh, of Meshech, and of Tubal ... Persia, Cush, and Put or Libya with them, all of them with shield and helmet, Gomer (East European) and all his hordes, the house of Togarmah (Turkey) in the uttermost parts of the north and all his hordes ..." (Ezekiel 38:2-6, KJV)
Israel welcomed President Trump's recognition of the reality that Iranian military is training, supplying and reinforcing all the terror groups throughout the Middle East, including Hezbollah and Hamas, who daily threaten Israel with an estimated 200,000 missiles.
Target Israel
NEWS BRIEF: "Israel Cheers as US Designates Iranian Military Faction a Terror Group", United With Israel, April 8, 2019
"Israeli Prime Minister Benjamin Netanyahu responded on Monday to the announcement that the U.S. had designated Iran's Revolutionary Guard a "foreign terrorist organization," tweeting in Hebrew that President Donald Trump had "answer[ed] another of my important requests."
"Netanyahu added that the designation 'serves the interests of [Israel and the U.S.] and of countries in the region'."
"The move represents the first time that the U.S. has used the designation for an entire foreign government entity."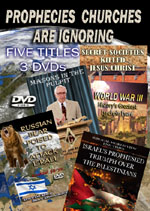 DVD
3. Trump's peace plan is radical:
* No Palestinian State - Two-State Solution is dead
NEWS BRIEF: "PM Netanyahu says 'no' to Palestinian state", Israel National News, April 7, 2019
"... Israeli Prime Minister Binyamin Netanyahu said that he has already told White House adviser Jared Kushner and US Special Envoy to the Middle East Jason Greenblatt that there can be no Palestinian state."
"... 'I will not accept any plan that uproots even a single settlement or settler'," Netanyahu said. "
Trump has an alternative plan:
* Palestinians will be forced to return to their ancient homeland -- in Jordan!
NEWS BRIEF: "Trump Peace Plan Proposes Resettling Million Palestinians in Jordan, No Two-State Solution', Breaking Israel News, April 7, 2019
"A report in Arab media stated the President Trump's long-awaited Middle-East Peace plan includes resettling up to one million Palestinians in Jordan in exchange for $45 billion in development projects."
What would King Abdullah II say to this proposal? After all, he has met recently with President Trump and his advisers.
"Jordanian King Abdullah II agreed to the condition during his last visit to Washington. In addition, Israel would reacquire land in Tzofar, a town in the Arava desert, and Naharayim, where Jordan conquered in 1948 the Island of Peace and a hydroelectric power-plant that belonged to Israel ... Jordan would receive an equivalent amount of land from Saudi Arabia. Jordan will retain a supervisory status over the Muslim holy sites in Jerusalem."
If Saudi Arabia is giving up land to Jordan, I wonder if this 2007 Pentagon Map is going to be activated?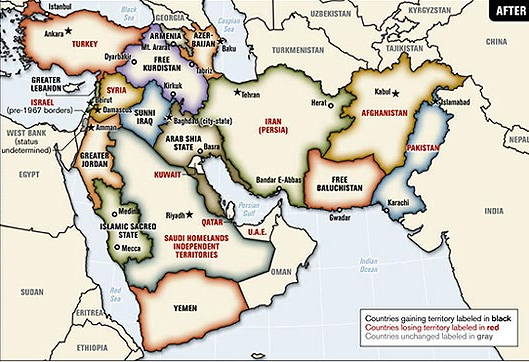 This map does show that "Jordan" becomes "Greater Jordan" and will receive land from Saudi Arabia. Jordan will be considerably enlarged.
But, will the Palestinians voluntarily agree to move to Jordan? Even though Jordan is the ancient homeland for the "House of Esau", I seriously doubt that the Palestinians will accept a move until they are destroyed in a war with Israel. (Obadiah annihilation).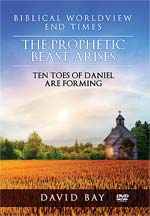 DVD
4. The new NAFTA Plan may be dead, battered by border chaos, tariffs and Mexico's recent election of a Communist as President.
NEWS BRIEF: "New NAFTA deal 'in trouble', bruised by elections, tariff battles", Reuter's News, April 7, 2019
"MEXICO CITY/OTTAWA (Reuters) - More than six months after the United States, Mexico and Canada agreed a new deal to govern more than $1 trillion in regional trade, the chances of the countries ratifying the pact this year are receding."
"The USMCA is in trouble," said Andres Rozental, a former Mexican deputy foreign minister for North America. Though he believed the deal would ultimately be approved, Rozental said opposition from U.S. Democrats and unions to labor provisions in the deal, as well as bickering over tariffs, made its passage in the next few months highly unlikely.
"Canada's Parliament must also ratify the treaty and officials say the timetable is very tight. Current legislators only have a few weeks work left before the start of the summer recess in June, and members of the new Parliament would have little chance to address ratification until 2020."
"Trump, a Republican, has shown frustration with the Democratic-led U.S. House of Representatives for failing to sign off on the USMCA. He has threatened to pull out of the old pact, the North American Free Trade Agreement (NAFTA), if Congress does not hurry up."
DVD
5. Since Bernie Sanders is currently the front-runner among Democrats, let us get inside his head!
NEWS BRIEF: "Utopia Lives Rent-Free in Bernie Sander's Head", Canada Free Press, April 8, 2019
"Where is the Utopia promised to the masses by lying progressives for the past century? Living rent-free in Bernie Sanders' head."
Sooner or later millennials, even the most gullible among them, are going to realize that overt socialists like Bernie and covert ones like Kamala Harris aren't going to cough up on all the free stuff promised—because no one's willing to pay for it."
But, Bernie has plans as to where he can find large blocs of voters:
NEWS BRIEF: "Bernie Sanders just revealed he wants murderers, rapists, and child molesters to vote from jail", BPR News, April 8, 2019
"Democrats are pulling out all the stops to defeat President Donald Trump in 2020 — even if it means pandering to convicted murderers, rapists and child molesters. Just ask Senator Bernie Sanders, who says felons should "absolutely" be allowed to vote from jail. Sanders is the Democratic front-runner for president. He's leading all the polls."
NEWS BRIEF: "Bernie Sanders — We Must Take On NRA And Ban Sale Of Assault Weapons In USA", Wayne Dupree News, March 19, 2019
"Late Wednesday night, we learned that New Zealand was banning semi-auto rifles in the wake of the Christchurch massacre ... Sen. Bernie Sanders wants our nation to do the same thing ... Sometimes, I do not understand why Bernie is a Senator in this country when he loves other countries. In the words of Bugs Bunny, "What a maroon!"
Now that Bernie is on record favoring gun confiscation, we appreciate it "... that the Dems feel confident enough, to be honest for once. They have gone full spectrum totalitarian."
But, now, Bernie still believes that Socialism in Venezuela is something the United States needs to copy.
NEWS BRIEF: "Bernie Hires Adviser Who Glorified Chavez's Venezuela "Economic Miracle", Independent Sentinel, March 19, 2019
"Sen. Bernie Sanders, I-Vt., a fan of Hugo Chavez's and Castro's leadership in Venezuela and Cuba respectively, claims that 'his [Chavez's] brand of socialism achieved real economic gains'. Given Sanders unflinching faith in communism, Sanders campaign announced today the hiring of a hard-left adviser and speechwriter — David Sirota."
Remember, the old true saying, "Socialism Steals, Capitalism Creates"!
6. Openly gay -- and gay married -- Mayor Pete Buttigieg is going to suffer major shock and despair at the White Throne Judgment!
NEWS BRIEF: "Openly Gay Pete Buttigieg Falls for Fake News, Trashes Trump's Christian Supporters", Breitbart News, 8 April 2019
"Pete Buttigieg, one of 642 far-left Democrats currently running for president, has exposed himself as a crazed, Christian theocrat who falls for fake news ... Buttigieg might be a white male, but he's also gay and gay-married to a man, which can only mean one thing: He's the next Abraham Lincoln, the next Greatest President Evah."
Now, listen to this antichristian politician throw down the challenge guantlet to Born Again, Bible Believing Christians who might dare criticize his Sodom gay lifestyle.
"My marriage to Chasten has made me a better man. And yes, Mr. Vice President, it has moved me closer to God. Speaking only for myself, I can tell you that if me being gay was a choice, it was a choice that was made far, far above my pay grade. And that's the thing I wish the Mike Pences of the world would understand: If you've got a problem with who I am, your problem is not with me. Your quarrel, sir, is with my creator."
We agree wholeheartedly! Your problem is with your Creator, Who will meet you at the White Throne Judgment. Fortunately for us all, Creator God has made it quite plain as to how He views homosexuality.
Buttigieg's arrogant statement was the kind to take your breath away if you fear God and understand that He is a "consuming fire" [Hebrews 12:29; Deuteronomy 4:24; Isaiah 30:27; Jeremiah 4:4; Lamentations 2:3]
Remember, God never changes.
"I, the Lord, do not change." [Malachi 3:6]
"Jesus Christ is the same Yesterday, Today, and Forever." [Hebrews 13:8]
""For ever, O LORD, thy word is settled in heaven." [Psalms 119:89]
What made God angry 4,000 years ago makes Him angry still and angry to the same degree!
God expressly forbids:
Homosexuality -- "You shall not lie with a man as with a woman; it is an abomination." [Leviticus 18:22; Ibid]
God assigned the Death Penalty to anyone caught committing these acts!
"Whoever commits any of these abominations shall be cut off from among his people." [Leviticus 18:29] The word, "cut off" means killed. In Ancient Israel, people caught committing one of these sins was stoned to death. Why did God want violators of His sexual code to receive the Death Penalty?
"So shalt thou put the evil away from the midst of thee." [Deut 13:5] In God's Omniscience, He knew that, if a violator of these moral codes was allowed to live within the population, their evil would spread to others; given the inherent evil of man's heart, this moral evil is likely to spread far and wide within the population. Since most of our crimes are committed by repeat offenders, we have brought much damage upon our nation by allowing criminals back out in society rather than punishing them according to God's commands.
Furthermore, God warned that these very acts violated and polluted the land upon which these sinners were living! Listen:
"And the land is defiled; therefore I visit the iniquity of it upon it, and the land itself vomits out her inhabitants ... For all these abominations have the men of the land done who were before you, and the land is defiled-- Do none of these things, lest the land spew you out when you defile it as it spewed out the nation that was before you." [Leviticus 18:25, 27-28; Parallel Bible, KJV/Amplified Bible Commentary]
Poor Pete Buttigieg, he will belatedly discover that his homosexuality will land him i n eternal Hell, and he will discover this fact only seconds before he is cast bodily into the Abyss.
We must pray for Mayor Pete Buttigieg, for his Salvation.
---
SAVE $10 ON NEW DVD COMBINATION OFFER!
"Israel's Past, Present and Future" - DVD
REG. $39.98, Now only $29.98, Saving You $10
Vol 1: Jesus Christ is going to return to earth and set up His Kingdom. He will rule the entire world from Jerusalem, and those who are His children from all ages will rule and reign with Him for 1000 years. The Word of God is very explicit that the vehicle by which Jesus will establish His Kingdom is not the Church; but rather, the Nation of Israel.
The theme behind all of Scripture is the re-establishment of the global theocracy lost in the Garden of Eden and rule of the theocratic administrator the Messiah.
Vol 2 of our study of the Israel begins with a look at the modern birth of the nation in 1948 and will discuss events that lead right up to today's headlines.
Part II will center around the biblical perspective of the modern Jewish state. We will give all sides of the arguments regarding Zionism, Christian Zionism, Christian Palestinianism, and even look into the effects of the Hebraic Roots movement on modern Evangelicalism.
The goal of this study is to equip the individual Christian with a totally biblical perception of the modern nation of Israel, God's biblical plan for the Jewish people, and what we as Christians should do to align our thoughts and actions to the Word of God.
Each DVD is about 2hours long, Salvation Plan given at the end of each DVD, making these videos a Soul-Winning Tool!
---
Popular DVDs Back Instock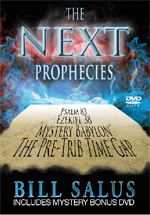 "The Next Prophecies: Volume 2 of 2
DVD by Bill Salus, Only $19.99
The NEXT PROPHECIES is A DVD that attempts to chronologically set in order the prophetic events of the end times. These PROPHECIES will happen soon after The NOW PROPHECIES and the stage is presently being set for their fulfillment!
More about this critically important video prepares the reader for powerful future world events! Dont get LEFT BEHIND to face these NEXT PROPHECIES! https://www.cuttingedge.org/detail.cfm?ID=2881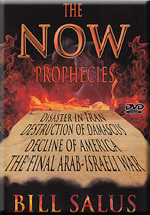 "The Now Prophecies" - DVD
The key word in these historical examples was NOW! What does Gods Word say for us to prepare for NOW? What are the tough decisions we need to make?
The NOW Prophecies identifies the biblical prophecies that were written centuries ago for THIS GENERATION! These ancient inscriptions predict powerful events that will profoundly affect everyone. This video makes it easy to understand how to get ready NOW for what to expect in the near future!
More about this important DVD here - https://www.cuttingedge.org/detail.cfm?ID=2870