I find it most interesting to realize that this unrelenting Democrat campaign is following the precepts of the Mind Control Program which we outlined in the DVD showing above, "Invisible, Invincible Mind Control: Powerful Media Manipulation".
Let us quickly review this incredibly effective way in which to invisibly change the attitudes of an entire population so effectively that people whose minds have been changed will NEVER understand that they have been manipulated by an outside force!
Let us review this Plan, called the "Six Step Attitudinal Change Plan".
Step 1. Some practice so offensive that it can scarcely be discussed in public is advocated by a RESPECTED expert in a RESPECTED forum.
Step 2. At first, the public is shocked, then outraged.
Step 3. But, the VERY FACT that such a thing could be publicly debated becomes the SUBJECT of the debate.
Step 4. In the process, sheer repetition of the shocking subject under discussion gradually dulling its effect.
Step 5. People then are no longer shocked by the subject.
Step 6. No longer outraged, people begin to argue for positions to moderate the extreme; or, they accept the premise, challenging, instead, the means to ACHIEVE it.
Let us quickly review this Democrat campaign against President Trump for the past 2 1/2 years according to the precepts of this mind control method:
Step 1. Some practice so offensive that it can scarcely be discussed in public is advocated by a RESPECTED expert in a RESPECTED forum.
Deputy Attorney General for the United States' DOJ, Rod Rosenstein, a RESPECTED expert speaking from a RESPECTED forum, raises the offensive charge that Donald J. Trump had engaged in a traitorous collusion with the Russian Government in order to win the election against Hillary Clinton.
In order to get to the truth of the matter, Rosenstein creates a Special Counsel with the authority to investigate, and to prosecute, the newly elected President of the United States.
Step 2. At first, the public is shocked, then outraged.
Step 3. But, the VERY FACT that such a thing could be publicly debated becomes the SUBJECT of the debate.
The public discourse very quickly changes from the shocking idea that a President-elect could collude with a sworn enemy, to the fundamental nature of Donald Trump and his fitness for office.
Step 4. In the process, sheer repetition of the shocking subject under discussion gradually dulling its effect.
Step #4 is the most important. Mass Media and public pronouncements from Liberal Congressmen are daily drumming home this concept that Trump engaged in traitorous conduct. Do you remember what that Master Propagandist, Adolf Hitler, stated?
"Tell a lie big enough, and often enough, and people will believe it"!
"Truth is not what 'is', but is what people believe it to be"!
Step 5. People then are no longer shocked by the subject. This is the place many voters are right now. They are no longer shocked by the subject of collusion and are ready to embrace Step #6, which is outright acceptance of the charge.
As of this moment, President Trump needs to seize control of the public narrative by releasing fully unredacted documents as we discussed above, and by indicting as many Leftist politicians as the facts support so we can hear daily news of their real acts of traitors.
This"Six Step Attitudinal Change Plan" Mind Control process was developed to change those most-deeply held attitudes, which naturally are traditional Christian values. Once you hear this process, and understand the examples of its use, you will realize it is being simultaneously utilized in many areas by the Mass Media.
Even more ominous is the reality that, once a person's attitudes and/or values are changed by this method, they will not realize they have been changed by external forces. Rather, they will believe they have arrived at this new set of values on their own and they will defend against any attempt to change back to the old values and/or attitudes. You must protect against these change-forces from the beginning or you can lose your children.
Or, we could lose a Free and Prosperous America.
3. Palestinian leaders publicly called for an escalation against Israel before their "NAKBA Day", May 15, the 71st Anniversary of Israel's Independence Day!
NEWS BRIEF: "Saudis Pressuring Abbas to Accept Trump's Mideast Plan, Israel Hayom News, 4/22/2019
"According to an Arab media report, Saudi Arabia, the UAE and Egypt are putting heavy pressure on the Palestinian Authority leadership not to resist Trump's "deal of the century."
Other Arab leaders are urging Palestinian authorities to accept Trump's peace plan!
Since Palestinian President Abbas has already declared that Trump's "Deal of the Century" is to be considered "Dead On Arrival", President Trump can then be free to exercise the "Real Politick" example of German Chancellor Otto Bismarck over a century ago.
Bismarck essentially proclaimed that military and political power could force a dramatic change if leaders were bold enough and determined enough to force the change they desired, and if the opposition were weak enough that they could not resist.
In this instance, President Trump has already stated that he will not pursue the old "Two-State Solution", because the Palestinians have debunked such a solution since the year 2000, when Palestinian President Yassir Arafat walked out of a meeting at Camp David, even though President Bill Clinton and Israeli Prime Minister Ehud Barak had given him virtually everything he said he wanted.
Not only did Arafat walk out on the very day that the Palestinian State was to be created, he immediately ordered a new internal insurrection which he dubbed "Intifada Two".
Therefore, President Trump is not going to waste anyone's time talking about "Two State Solution", but instead seems determined to force a Major Power solution by forcing Palestinians living now within Israel to move to their Ancestral Home in Jordan.
The Palestinians will move because military and diplomatic forces greater than theirs will coerce them to move. The principles of Real Politick will be on full display.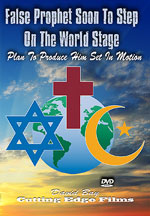 DVD
4. The Islamic war against Christianity continued:
* An Islamic terror group carried out a massive bombing against a Catholic Church in Sri Lanka during Easter service, murdering over 300 people, wounding 500 more.
NEWS BRIEF: "ISIS claims responsibility for Sri Lanka bombings", Israel National News, 4/19/2019
"ISIS has claimed responsibility for bombings that left 321 people dead and 375 hospitalized in Sri Lanka. In a statement released by its Amaq news agency, the group said it was targeting citizens of countries bombings its territories and Christians."
"Previously, authorities believed that the National Thowheeth Jama'at (NTJ), a Sri Lankan Islamist movement, was responsible for orchestrating the Easter Sunday attacks. However, a government spokesman had emphasized that NTJ was small and would have required 'international support' to carry out such a complex attack."
* Another French Catholic Church burned on Easter.
NEWS BRIEF: "Another French Church Burns on Easter Sunday, Probable Arson", Breitbart News, 23 April 2019
"Police have confirmed that a fire in the French church of Notre-Dame de Grâce on Easter Sunday appears to have been intentionally set, making it the latest in a string of desecrations of Christian churches in the country."
"An area of some 20 square meters in the church was destroyed but observers have noted that the damage would have been far worse had it not been it not for the bold intervention of a local inhabitant ... (who) "used fire extinguishers from the village movie theater and courageously entered the church while waiting for firefighters to arrive."
" 'If this brave citizen, a former top sportsman, had not intervened, the church would probably have burned to the ground', the mayor reported. 'It was Easter Sunday and there was almost nobody in the village'."
Make no mistake -- Islam is a global force which is carrying out a global war against Christianity!
5. The ultra-Leftist Ninth Circuit Court of Appeals ruled on Trump's behalf on an Immigration case!
NEWS BRIEF: "Liberal Ninth Circuit Backs Down From Trump on Immigration Policy", Conservative Zone News, April 2019
"California's extremely liberal Ninth Circuit Court of Appeals delivered the Trump Administration a seemingly unexpected and rare win on immigration policy. It appears the so-called "Nutty Ninth" has gotten the message loud and clear that President Donald Trump is fully prepared to turn their liberal activism on its head."
What was their unexpected decision?
"The recent curt, two-paragraph decision agrees that President Trump's policy of making asylum-seekers wait in Mexico while their claims are processed is constitutional. The appeals ruling overturned a Ninth District lower court attempt by 'resist' and 'obstruct' Democrats to force the Trump Administration to continue to open the floodgates to hundreds of thousands of applicants that are almost certain to be denied. The action was brought by the left's Southern Poverty Law Center and ACLU among other anti-Trump Administration organizations."
6. As a report was issued showing that Mexico suffered another unprecedented level of violence in the First Quarter of 2019, cartel gunmen slaughtered 13 members of a Mexican family in Verazruz!
NEWS BRIEF: "Mexico Breaks Violence Record in First Quarter of 2019", Mexico Star, 21 April 2019
"MEXICO CITY - Violence in Mexico hit new heights in the first quarter of 2019, with 8,493 murders recorded from January to March, according to official figures .. Last year was considered the most violent in Mexico's history, with over 33,500 murders -- the highest number since records began in 1997."
For years, I have wondered why the military has not assumed the major responsibility to fight the drug cartels, since local police seem to always be outgunned. The President of Mexico committed the military to this combat problem.
However: "Mexico has recorded nearly 250,000 murders since deploying the army, including last year's record as the newly fragmented cartels battle the military and each other, with widespread collateral damage."
NEWS BRIEF: "13 dead in mass shooting at family party in Mexican state of Veracruz", Mexico Star, 21 April 2019
"MEXICO CITY, Mexico - Mexican police are leaving no stone unturned in the search for gunmen who mass murdered more than a dozen people at a family party on Friday night. The shootings occurred in the city of Minatitlan in the southeastern Mexican state of Veracruz. The death toll on the night was 13 which included a child, five women, and 7 men. Four other people were wounded in the attack."
I have come to the conclusion that the values which Mexico possesses are so much different than ours that we should not only shut down illegal immigration on our Southern Border, but should move aggressively against any and all criminals which have already gotten across our border.
Then, President Trump needs to inform Mexico that she will no longer be part of the North American Union!
(NOTE: The bigger picture, of course, is that we do not want the North American Union simply because it is a crucial part of the fulfillment of the End Times' prophecy of Daniel 7:7-8. This North American Union would be Nation #1 in the Illuminati Plan to reorganize all nations of the world into the prophetic TEN!)