---
"He who dwells in the secret place of the Most High shall remain stable and fixed under the shadow of the Almighty, Whose power no foe can withstand." (Psalm 91:1)
---
New Cutting Edge Podcasts !!
We have just launched our Cutting Edge FREE Podcasts web site with 6 Podcasts and more to come as David is busily writing the scripts.
You can listen direct from the web site and as we add iTunes, Pandora and many more you will find those links there so you can listen at home or on your phone or in your car. Spotify has already launched our podcasts. Our podcasts are free to everyone and are provided to you by our readers and listeners who support Cutting Edge through one time or monthly donations and the sales from our book store.
Newest Podcast Posted 6-15-2022
Season 1 Episode 8
"You will never look at the NEWS the same way again"
---
Help us share the Gospel"
We want to thank all of our financial supporters. Over the years your support has proven crucial in enabling us to make our full site free for everyone so that those who cannot afford to donate can have full access. BUT, This year we have experienced the painful 'birth pangs' of a world which is going crazy as it spins toward Antichrist!
We are clinging to life in a barren land, much as this struggling tree shown above! Our heartfelt thanks for helping us continue our outreach and preventing Cutting Edge from disappearing from the Internet, at a most crucial time in world history!
We have always believed that more souls will be won for Jesus Christ during the Last of the Last Days than in entire previous centuries. But, we need your financial support.
Thank you in advance!
May Jesus Richly Bless You,
David Bay, Director
---
THREE NEW DVDS

Who were the Nephilim? What really happened at the Tower of Babel? Where is Atlantis? Who are the Shining Ones? Are these questions relevant to our walk with God today and our understanding of His creation?
Jesus said that as it was in the days of Noah, so shall it be at the coming of the Son of Man. Jesus also said to be ready for His return, that it comes like a thief in the night. This DVD takes an uncomfortable look at the days of Noah and many other topics so that we can be ready for our Savior's return. Topics that God chose to include in His Word are worth taking the time to study.
Ancient Cities looks at the Antediluvian world from a solid biblical foundation. Why are the stories of giants scattered throughout Scripture as well as our world today? Why did Joshua kill not only the men, but also the women, children, and livestock of the Anakim-Rephaim? What parallels do we find between the Bible and ancient Greek mythology? Ancient Cities studies Mount Olympus and the Greek gods whose tales shape our culture today. Why did the Romas at Lystra in the Bible think that Paul and Barnabas were the Roman gods Hermes and Zues? Ancient Cities examines the city of Rome's important role in spreading Christianity. Join Micah Van Huss as he teaches the topics that your Sunday school teacher refused to talk about.
130 Minutes

---
Jewish Roots of Christianity -- 4-DVD Set, 15 Episodes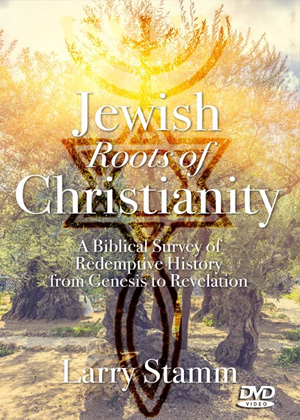 Jewish Roots of Christianity is now a television series!
Discovering your Jewish roots means discovering your Biblical roots! In one sense it may be stated that the gospels are simply a Jewish debate among Jewish people about the true identity of a Jewish man, Jesus. And the story takes place in the Holy Land, Israel. Now what could be more Jewish than that?
In the DVD Jewish Roots of Christianity, Larry Stamm, a first-generation Holocaust survivor and Jewish follower of Jesus, examines the religion of the Old Testament and in its ultimate fulfillment in the messianic hope as detailed in page after page of the New Testament. Jesus himself challenges us to "search the Scriptures…it is these which bear witness of me" (John 5:39).
In this biblical survey, Larry Stamm introduces such topics as the gospel in the Old Testament, how the Feasts of Israel point to the person and work of Messiah Jesus, the historical interaction between Biblical Judaism and New Testament faith, and more.

---
What's Next in Bible Prophecy (DVD Set)
Dr. Robert Lindsted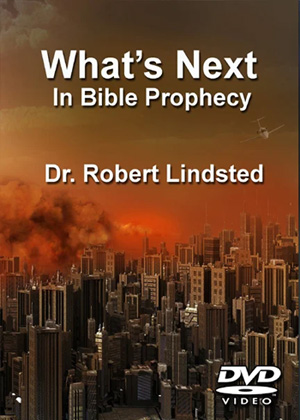 Matthew 24:3: And as he sat upon the mount of Olives, the disciples came unto him privately, saying, Tell us, when shall these things be? and what shall be the sign of thy coming, and of the end of the world?
As the world continues to wax worse and worse, one thing is very clear: Christ's return is drawing near.
Episode 1 – What to expect next on God's Calendar, going into the rapture why and when!
Episode 2 – What's Next on God's Calendar, "Coming Soon… on the Earth you Live on! Rapture, Tribulation, Armageddon!
Episode 3 – The coming war of Armageddon in the Jezreel Valley!
Episode 4 – The Millennial Kingdom, often referred to as the Millennium. The amazing things that we will see, as well as the Sheep/Goat judgements.
Episode 5 – The Millennial Kingdom, focusing on the restoration of creation!
Episode 6 – The Great White Throne Judgement where all unbelievers will be judged for their rejection of Christ along with Satan, the fallen angels and many more.
Episode 7 – The New Heavens and the New Earth, the beauties of Heaven and power of God. In this 2-disc series, Dr. Robert Lindsted takes us on a journey through the Bible as we study to find out more about the end times and What's Next in Bible Prophecy.

Over 3 hours of Bible Teaching
Seven Segments on 2 DVDs
A Complete Study of The Rapture, and the end of this age!

---
Critical News Analysis
1. Israel's Liberal Coalition, weak and terribly divided, finally fell yesterday.
NEWS BRIEF: "Israel's government falls over internal defections", DEBKAfile June 20, 2022
"In a farewell speech, PM Naftali Bennett handed over the caretaker premiership to his partner, Alternate PM Yair Lapid on Monday, June 20, after they called a new national election for Oct. 25."
But, Company is coming and he will now be greeted by an Interim Prime Minister.
"It will be up to Lapid to receive Joe Biden on July 13 when he arrives for his first trip to Israel as US President."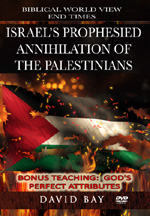 With no Prime Minister in place, we can expect President Biden to create all sorts of chaos as he fawns over the Palestinians.
Biden may also address the issue of un-recognizing the Palestinians and the status of Jerusalem.
Conservative Likud Party leader, Benyiman Netanyahu, seems poised to be Prime Minister again.
NEWS BRIEF: "Netanyahu and the right are about to regain power: They'll hold it for a long time", The Times of Israel, 8 June 2022
"The eight-party coalition that took office in Israel a year ago was always misrepresentative of the electorate's ideological affiliations. More than 70 of the 120 politicians Israelis voted into the Knesset in March 2021 came from seven firmly right-wing parties, either secular or religious ... Israel has been governed these past 12 months by a coalition that spans the political spectrum from right to left, with an Islamist party for good measure...."
What was the political glue which held this unlikely alliance together?
"a greater Israeli interest: ousting Benjamin Netanyahu."
2. How does one create an attitude of "White Supremacy" in seven easy steps?
NEWS BRIEF: "How to Create White Supremacy in Seven Easy Steps", American Greatness, June 19, 2022
"With every news cycle bringing us a racially inflected incident—such as the recent racial rampage in Buffalo—the media leaps at the opportunity to blame all the usual targets of elite scorn: Fox News, Tucker Carlson, the Republican Party, and Donald Trump. "
"... this isn't meant as a blueprint for actual white supremacists. I would not be writing this had the identity politickers on the woke Left not already followed this step-by-step guide perfectly. Perhaps they didn't know any better. But they couldn't have done any worse ... imagine we had the goal of taking a nation in which race relations had been steadily improving for decades and plunging it back into the racial maelstrom from which a new wellspring of white supremacy could emerge. Here's what we'd do:
"Step 1: Dismantle the Idea of Race-Blindness."
"Step 2: Get Children to See Race Early and Often" - Starting in Pre-school
"Step 3: Invent Race-Based Insults to Target Whites."
"Step 4: Spread Black-and-White Thinking About Race"
"Step 5: Institute Double Standards in Every Walk of Life."
"Step 6: Mandate "Diversity" Training."
"Step 7: Say You See Racism and White Supremacy Everywhere. "
"Trump's election, in other words, was not the genesis of a new white racial consciousness but rather, if anything, a consequence of it, of the Left's betrayal of the Martin Luther King, Jr.'s colorblind dream, of identity politics run amok, of people being attacked again and again for having had the misfortune of being born white in 21st century America. "
And, you can see a mighty nation wobbling in the high winds,preparing to fall. The Biblical warning is unheeded and freedoms for 330 million are lost:
"... if a house be divided against itself, that house cannot stand." (Matthew 3:25)
Before we leave this section, let us clearly demonstrate what God's view of races has always been: