Critical News Analysis -- End of the Age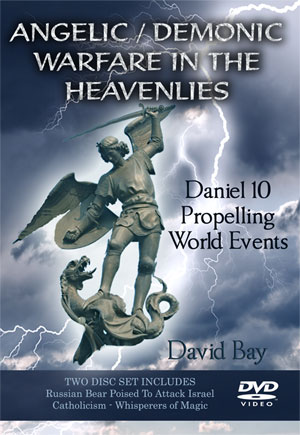 1. The Satanic Communist spirit fueling this cultural warfare is the ancient "Spirit of Amalek".
NEWS BRIEF: "(Spirit of ) Amalek Is Behind Riots & Culture War Against America: Israeli Rabbi Warns", Breaking Israel News, July 20, 2020
Now, listen to this next facts about Amalek and see that this description of attitude precisely fulfills the prophecy we showed at the beginning of this treatise (2 Timothy 3:1-5, KJV)
"... the evil Biblical nation of Amalek is behind the culture war against the west. In the post, the rabbi explains how:
* "Amalek has successfully neutralized Europe"
* Amalek is "in the advanced stages of conquering America without planes and tanks"
* "... is using the same tactics to weaken Israel from within more than all its external enemies have collectively managed since the state was declared."
* "It is the same playbook every single time. They erode the foundations of a moral society, using the system to destroy itself, until it is doomed…"
What is the "Spirit of Amalek" and how can we see its effects in today's world? Amalek exudes the following characteristics:
* "Amalek: It is morally wrong to defend your property when someone seeks to take it from you or destroy it. Your possessions can be replaced, but his life cannot, and his life is more valuable than your possessions. Even calling the police is racist and immoral."
* "Amalek: Those born today must bear the sins of their predecessors, profess their own guilt, and make endless, arbitrary restitution to an amorphous group of proclaimed victims."
* "Amalek: One who committed even the slightest moral crime decades ago – based on new definitions of morality today – shall be condemned and may have his life destroyed ..."
* "... Penance may be demanded, but no degree of penance shall ever be sufficient. The slate can never be wiped fully clean. Guilt is permanent."
* "Amalek: People who are 'frustrated' or 'angry' may express their emotions however they see fit, especially if they consider themselves victims of society in some way."
* "Hence, acts of actual violence against such people are self-defense, resistance against aggression, and entirely legitimate."
* "Amalek: You have to destroy society to rebuild it. The ends justify the means." (Pure Communism)
* "Amalek: If you think someone has too much money, it is your right to take it from him. He must have earned it in sin and prevented you from achieving. Even if not, it's unfair for him to have more than you."
* "Amalek: Those who came before us were all morally inferior to us. Whatever is the moral standard of today will be considered primitive tomorrow. We show our moral superiority by denouncing those who came before us."
* "Parents shall fear their children and children shall scorn their parents. This is the meaning of progress. Everyone must live in fear of evolving morals and fall into line with whatever is expected of them. Morality is determined by social groupthink."
As you can readily see, this Ancient Spirit of Amalek completely explains the scenes of wanton riot and destructions which has convulsed America for the past several months. This spirit is also the power source behind the hateful and spiteful and false statements made against the President in the past 3 1/2 years.
Who is Amalek, anyway? First, let us examine who Amalek was Biblically. He really existed and was the son of "Adah Esau's wife" And, like his father, Amalek drew God's ire because he constantly tried to destroy Israel.
"And Timna was concubine to Eliphaz Esau's son; and she bare to Eliphaz Amalek: these were the sons of Adah Esau's wife." (Genesis 36:12, KJV)
"And when he looked on Amalek, he took up his parable, and said, Amalek was the first of the nations; but his latter end shall be that he perish for ever." (Numbers 24:20, KJV)
The battle for America's soul is Supernatural, the type of warfare revealed in Daniel 10.
But, the spirit of Amalek is far different, and for an explanation, we must understand the teachings of supernatural combat in the Heavenlies as revealed in Daniel 10 (Above DVD, "Angelic / Demonic Warfare In The Heavenlies: Daniel 10 Propelling World Events")
We demonstrate the Biblical truth that the daily battling between Godly Angels and ungodly demons in the Heavenlies determines the flow of human history, precisely as Daniel 10 reveals. Godly angels are constantly battling ungodly demons over who would have control of human leaders. In Daniel 10, two demonic entities are identified as the 'King of Persia' and the 'King of Greece'. Powerful demonic beings were attempting to influence the human kings by this title to pursue Satan's plan for them and for their nation; but, Godly angels were fighting to influence these kings to follow God's plan. While God is omnipotent, and could win every battle, in His great prophetic plan, He chooses sometimes to allow the demon assigned to that king to prevail and to convince the king to follow Satans will for that king, for that nation and for that time
This type of supernatural battling in the Heavenlies is occurring every day in these End Times. In fact, no person who does not know about this supernatural conflict, determining how the rulers of nations and of churches and of businesses act, will ever understand the events and issues of this day.
A powerful demon has using the spirit of Amalek to wreak havoc over the earth for the past 100 years, preparing Earth to receive Antichrist.
During the period 1910-1950, demonic beings were shaking the world in events known today as World War I, World War II, and the Korean War. Consider the demonic beings guiding the various nations fighting that war:
* Russia -- demon guide was named "Baphomet"
In Odessa, Russia, in the town square, stands a statute of the Communist dictator, Josef Stalin. He is clearly identified with his bushy moustache. But, the inscription below boldly says, "Baphomet". Pastor Wurmbrandt has no trouble whatsoever believing that Communism is deep Black Magick Satanism, and that their supreme supernatural deity is Baphomet! ("Marx & Satan", by Pastor Wurmbrandt)
One note of interest: Amazingly, increasing number of Americans are now actually worshipping the demon god, Baphomet, the god of Transgenderism! Suddenly, our entire Western society seems to be going through a 'Paradigm Shift' in which everything seems to be changing at once! Our civilization is actively getting ready to prepare for the appearance of Antichrist.
Remember Reverend Wurmbrandt's final analysis of Communism:
"Communism is Collective Demon Possession"
* Germany -- Nordic god, Odin
Hitler worshipped gods Thor and Odin, even renaming Thursday, "Thor's Day". Ravenscroft reported that Hitler committed the German war dead to the dark god, Odin, believing these "sacrifices" would guarantee Nazi victory
Masonic leader, Albert Pike, also worshipped the Black Magick gods, Thor and Odin.
* Great Britain -- Rosicrucianism -- Winston Churchill followed the White Magic of Rosicrucianism.
* The United States of America -- President Roosevelt was a Black Magick Freemason and a Rosicrucian. We demonstrated in "Eye of the Phoenix", that President Roosevelt and Agriculture Secretary/Vice President Henry Wallace were deeply enmeshed in active Luciferian worship. Had the American people of that era really understood how deeply Roosevelt consulted the demonic spirit realm, they would have thrown him out of office on his ear!
Thus, the four key leading nations of World War II each followed a key demon from the pits of Hell. The death, destruction and mayham of this world war did much to prepare the world for the final world war which will put Antichrist on the world scene.
Even Israelites are concerned that America might be toppled.
NEWS BRIEF: "Israelis are worried – about America", Israel National News, Opinion by Jack Englehardt, July 21, 2020
"An editorial in the New York Post puts it unambiguously – the Democrat Party has abandoned Israel. To that, we add another sorry fact. The Democrat Party has (also) abandoned the United States of America."
I am not sure that the Democrat Party has just now abandoned Israel and the United States; rather, I believe they abandoned us sometime after World War I and had hidden this fact very well, until the election of Donald Trump caused these political rats to come into the open and reveal who they truly are.
"I wish I had better news for my friends and family in Israel, because here's a twist. Israelis are worried about us here in the United States. 'Are you okay?' Those are emails and phone calls I keep getting from Israel…sometimes frantic.
"Used to be the other way round. Loving Israel, agonizing over Israel, hurting for Israel, that used to be our job, from the all-powerful United States."
"All-powerful?"
"Now we are down on our knees. Literally? Yes. Here's a picture you thought you'd never see. The Democrat candidate for president of the United States down on a knee in an act of obedient submission to the mob."
"Ain't that a kick in the head…watching a civilization crumble before your very eyes. This, 2020, has been the worst year for America since…"
"People succumb to the allure of mindless brute force. That's what's happening in America."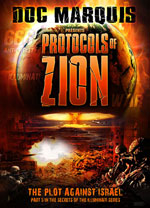 DVD
2. After so sanctimoniously beating its breast against the "systemic racism" within the United States, investigative journalism reveals that the New York Times has a very serious slavery background.
In 1820, Circa, the "Illumined" author of the Protocols said this about the control over the Mass Media.
"We must compel the governments of the goyim to take action in the direction favoured by our widely conceived plan ... by what we shall represent as public opinion, secretly prompted by us through the means of that so-called 'Great Power' -- the Press, which, with a few exceptions, is already entirely in our hands." [Protocol #7]
And again:
"In the hands of the States to-day there is a great force that creates the movement of thought in the people, and that is the Press. The part played by the Press is to keep pointing out requirements supposed to be indispensable ... and to create discontent ." [Protocol No. 2]
The most important single leader in this Mass Media campaign to create discontent is the New York Times. Even though subscribers are leaving the Times in droves, she still commands enough loyalty to be able to persuade enough people so that she can move the national barometer a little more to the Left.
Since the Black Lives Movement has erupted on the world scene, the NYT has published article after article which has purported to demonstrate that America is "systemically racist" because of our slavery past. The Times has presented America as beyond saving because she cannot eradicate the stain left behind by the Confederate ownership of black slaves.
Ancestors of New York Times Family Included Slave Owners, Confederate Supporters!
NEWS BRIEF: "Claim: Ancestors of New York Times Family Included Slave Owners, Confederate Supporters!", Breitbart News, 19 July 2020
"Michael Goodwin of the New York Post published an extensive investigative article on Sunday claiming that ancestral members of the family that owns the New York Times likely included slaveowners. Moreover, Goodwin recounted, the extended family also included members who fought for the Confederacy; contributed to Confederate memorials after the Civil War; and perhaps even engaged in the slave trade."
Ouch! the most self-righteous of all the Liberal "WOKE" organizations is now revealed to have been created by those filthy slave-owners! Do you remember one of the points so central to Amalek?
"Those born today must bear the sins of their predecessors, profess their own guilt, and make endless, arbitrary restitution to an amorphous group of proclaimed victims'. One who committed even the slightest moral crime decades ago – based on new definitions of morality today – shall be condemned and may have his life destroyed ..."
We shall just have to wait to see how much impact these revelations will have on the Liberal Woke world. If they impose the same standards they demand from others, the New York Times will be destroyed!
Speaking of other past crimes:
A prominent current Democrat Senator's great-great-grandfather owned 22 slaves and hid Lincoln's assassin, John Wilkes Booth!
NEWS BRIEF: "Senate Democrat's great-great-grandfather allegedly sheltered John Wilkes Booth: Owned 22 slaves", New York Post, July 18, 2020
"Michigan Democratic Sen. Gary Peters has been promoting his racial sensitivity by hosting justice-reform panels and sponsoring a bill to raise awareness of African-American history. "
"One thing he doesn't mention: his great-great-grandfather harbored John Wilkes Booth after President Lincoln's assassination. The infamous fugitive found safe haven in the home of Richard Garrett ... "
"As the elder Peters told it, five riders in Confederate uniforms approached Garrett's farmhouse near Port Royal, Va., on April 24, 1865, nine days after Lincoln's death. But news traveled slowly in those days and Garrett still had not heard of the attack on Lincoln ... One of the horsemen asked if Booth — traveling under the name of James W. Boyd — could hole up on the property."
"For two days the wanted assassin lived "completely at ease" with the family, sharing meals and playing with Garrett's children, until the feds found him. Booth was killed in the Garrett's tobacco barn — which was also torched — on April 26."
Who was Richard Garrett that Confederate soldiers could approach so boldly after Lincoln had been murdered? What made these soldiers believe Garrett would receive them so kindly?
"Garrett, a Confederate with 22 slaves, according to census records, demanded compensation for the burned barn. Lawmakers rejected the claim, calling his conduct with Booth 'undoubtedly disloyal'."
Once again, if we apply the Amalek rules: "Those born today must bear the sins of their predecessors, profess their own guilt, and make endless, arbitrary restitution to an amorphous group of proclaimed victims' ... One who committed even the slightest moral crime decades ago – based on new definitions of morality today – shall be condemned and may have his life destroyed ..."
Most Democrat Party officials whose ancestry lies in the original Confederate states, will fall into the same trap as the family of Michigan Democratic Sen. Gary Peters. I just wish today's Democrats would stop acting so hypocritically!
3. American citizens now living in major cities are fleeing their homes and moving to the suburbs.
NEWS BRIEF: "U.S. homebuilding surges as coronavirus sparks flight to suburbs ", Fox Business News, July 17, 2020
"U.S. homebuilding increased by the most in nearly four years in June amid reports of rising demand for housing in suburbs and rural areas as companies allow employees flexibility to work from home because of the COVID-19 pandemic."
Any activity which can be accomplished from home is going to escalate in popularity now, as this COVID-19 scare has shown that technical proficiency has progressed to the point where large offices and even larger conference rooms are unnecessary.
Both the Coronavirus and this Communist insurrection are driving this new exodus.
4. A preview of the disaster unfolding in Democrat cities:
NEWS BRIEF: "Trump Readies Federal Response to Homicide-Ridden Chicago", Brietbart News, 20 July 2020
"Homeland Security Investigations (HSI), part of United States Department of Homeland Security's (DHS) Immigration and Customs Enforcement (ICE), is planning a mission for 150 federal agents to assist other federal law enforcement efforts in Chicago, where homicide rates have soared."
"The Tribune reported on Chicago Mayor Lori Lightfoot's remarks at an unrelated press conference. 'We don't need federal agents without any insignia taking people off the streets and holding them, I think, unlawfully', Lightfoot said."
Reports coming from Portland, Oregon, indicate that Federal Marshals are riding the streets kin large unmarked black vans, and are stopping to arrest any ANTIFA member walking down the street.
This activity sounds like the time following the attacks of 9/11, when Federal agents were scooping up Muslim men with vans and detaining them according to the new authority from the Patriot Act. Since President Trump has already declared ANTIFA to be a domestic terrorist, is it possible that Federal Agents are detaining them on this basis and declaring them to be domestic terrorists.
I wonder if the current Patriot Act allows for the suspect to be secretly arrested, with no right to a lawyer, secret trials, and unlimited incarceration in Guantanamo Bay Prison?
A/G Barr has the final word:
"Attorney General Barr is weighing in on that with (DHS) Secretary Wolf, and you'll see something rolled out this week as we start to go in and make sure that the communities – whether it's Chicago, or Portland, or Milwaukee, or some place across the heartland of the country – we need to make sure their communities are safe."
Headlines Tell The Story
NEWS BRIEF: "Mayor Lightfoot's Chicago: 50 Shot, at Least 6 Killed, Since Friday Evening (Extreme Gun Controlled)",
NEWS BRIEF: "At Least 13 Shot as Fight Breaks Out in Peoria Illinois: Gun Controlled State",
NEWS BRIEF: "New Yorkers Call For More Policing Amid Violence Across NYC",
NEWS BRIEF: "N.Y. State Police Union Demands Troopers Be Removed From NYC
COVID-19 News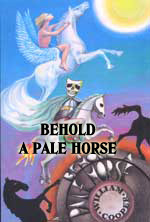 "Take control of the world ... to reduce ... the world to a safe level by a process of benevolent slavery and genocide ... The only alternative left to the world's ruling elite was to increase the death rate ... Dr. Aurelio Peccei of the Club of Rome ... advocated that a plague be introduced that would have the same effect as the Black Death of history." (Bill Cooper, "Behold A Pale Horse", p. 49, 167
5. The COVID-19 death rate is dropping.
NEWS BRIEF: "Wuhan Coronavirus Death Rate Drops for Twelfth Straight Week", Townhall, July 17, 2020
"The Centers for Disease Control and Prevention (CDC) reported the 12th straight week of a declining coronavirus death rate in the U.S. 'Based on death certificate data, the percentage of deaths attributed to pneumonia, influenza or COVID-19 (PIC) decreased from 8.1% during week 27 to 6.4% during week 28, representing the twelfth week of a declining percentage of deaths due to PIC', the CDC website states."
"... a 12-week decline is a well-established trend that just so happens to coincide with states reopening their economies. "
But, the number of new cases reported continues to spike. Is someone "cooking the books"?
NEWS BRIEF: "FLORIDA MAN DIED IN A MOTORCYCLE CRASH, AND HIS DEATH WAS LISTED AS A COVID-19 DEATH", Louder With Crowder, July 17, 2020
"We need to trust the data ... Trust the experts. Trust the experts' data. Sure, many experts have gotten their data wrong ... it doesn't matter. Whatever data the experts gave you last, trust that data because it's coming from experts being all experty and dataly."
"Also, completely disregard this news report where a Florida man was killed in a motorcycle accident and the experts counted the death as a COVID death in the data they made public."
As my Daddy was fond of saying, "It is true that figures don't lie, but liars figure"!!
What does the Protocols plan tell us about Mass Media and politician truthfulness?
* "Only one trained from childhood for independent rule can have understanding of the words that can be made up of the political alphabet." [Protocol #1] Notice that, in their minds, a completely different alphabet, language, exists other than the normal language spoken by the people."
* "... the word should not agree with the deeds of the diplomat." [Protocol #7] Not only is lying permitted, it is required! How can we ever believe anything Nancy Pelosi, or any other leader involved in the coming New World Order, say?
* "The principal object of our directorate consists in this: to debilitate the public mind by criticism; to lead it away from serious reflections calculated to arouse resistance; to distract the forces of the mind towards a sham fight of empty eloquence. In all ages the peoples of the world, equally with individuals, have accepted words for deeds, for they are content with a show and rarely pause to note, in the public arena, whether promises are followed by performance. Therefore, we shall establish show institutions ..." [Protocols #5; reiterated in Protocol #10]
* "... we shall give that physiognomy a voice in orators who will speak so much that they will exhaust the patience of their hearers and produce an abhorrence of oratory." [Protocol #5]
Have you reached the point of an " abhorrence of oratory"?
6. Even as Israeli cyberattack's have Iran's military on the defensive, Iran changes the dynamic by entering into a major agreement with China!
NEWS BRIEF: "China and Iran reach a new stage in their strategic partnership", Israel National News, July 21, 2020
"In recent years, the People's Republic of China and the Islamic Republic of Iran have expressed a common desire to formalize their comprehensive strategic partnership ... the central pillar of the new plan is that China will invest $280 billion in Iran's oil, gas and petrochemicals sectors. This amount might be front-loaded in the first five-year period of the deal with the understanding that further amounts will be made available in every subsequent five-year period, subject to both parties' agreement. There will be another $120 billion Chinese investment in upgrading Iran's transport and manufacturing infrastructure, which again might be front-loaded and then added to in each subsequent five-year period.
"More importantly, the agreement will deepen Chinese-Iranian military cooperation through joint training and exercises, joint research and weapons development, and intelligence sharing to fight terrorism, drug and human trafficking and cross-border crime. Additionally, China will be able to buy any oil, gas, and petrochemicals products at a minimum guaranteed discount of 12 percent to the six-month rolling low price of comparable benchmark products, plus another six to eight percent of that metric for risk-adjusted compensation."
After Iran attempted to poison Israel's main water supply through a cyber attack, Israel has launched a cyber campaign all over Iran, destroying military, nuclear research, and civilian attacks. Israel has noted the military noose drawing around her borders by her Palestinian enemies, a force led by Iranians in Syrian uniforms.
We postulated that, perhaps, Israel was warning Iran not to get too deeply involved in this coming war for Israel could still destroy without having to send one bomber or missile to carry out the deed.
But, now, China seems to be stepping in as a Superpower Guarantor!
7. The Democrats have suddenly produced a "solution" for solving the Israeli/Palestinian impasse;
But, this solution will destroy the Jewish State.
NEWS BRIEF: "As Israelis give up on peace deal, Democrats' 'solution' will destroy Jewish state", New York Post, July 18, 2020
"As Israelis increasingly write off the chances of a peace deal with Palestinian Arabs any time in the foreseeable future, the US Democratic Party is increasingly in thrall to a fantasy "solution" that would destroy the Jewish state."
"... writer Peter Beinart's outrageous call last week to strip Israel of its status as a Jewish nation in order to (theoretically, at least) make it a "home" for Palestinians and Jews alike ... With no military force of their own under a "one-state solution," and birth rates that would soon make Arabs the clear majority, Jews would be back to their pre-Nazi days, politically."
Without firing a shot, this Democrat Party plan would defund and de fang the mighty Israeli Defense Force, and would lead to an all-out attack on Israel from every Arab army in the Middle East.
"What's most notable, though, is that US Democrats aren't just parting with US Republicans — but with the people of Israel."
8. Without the participation of African Americans, the war to save the Union "as it was" could not have been transformed into a war to save the Union "forever worthy of the saving"—without slavery.
NEWS BRIEF: "An African-American 'Glory' in the Fight for Freedom: Civil War, save the Union "forever worthy of the saving"—without slavery", American Greatness, July 17, 2020
"July of 1863 was a critically important month in the American Civil War ... But there is a lesser known battle that occurred on July 18 of that year: the Union assault on Battery Wagner, one of the forts defending Charleston Harbor. Although a Union defeat, it marked a major milestone in the history of the United States: the transition of African-Americans from servitude to citizenship."
President Lincoln knew that, if he hoped to destroy the Institution of Slavery forever, he must get a Constitutional Amendment to that goal.
"In his Peoria speech of 1854, Lincoln said 'Our republican robe is soiled, and trailed in the dust. Let us repurify it. Let us turn and wash it white, in the spirit, if not the blood, of the Revolution . . . Let us re-adopt the Declaration of Independence, and with it, the practices, and policy, which harmonize with it . . . If we do this, we shall not only have saved the Union; but we shall have so saved it, as to make, and to keep it, forever worthy of the saving."
"Without the participation of African Americans, the war to save the Union "as it was" could not have been transformed into a war to save the Union "forever worthy of the saving"— that is, without slavery. And without that participation it is unlikely that African Americans could ever have achieved full citizenship and equality in the United States."
Thank God for making America worth saving, by annihilating the practice of slavery.