---
Critical Analysis of Headline News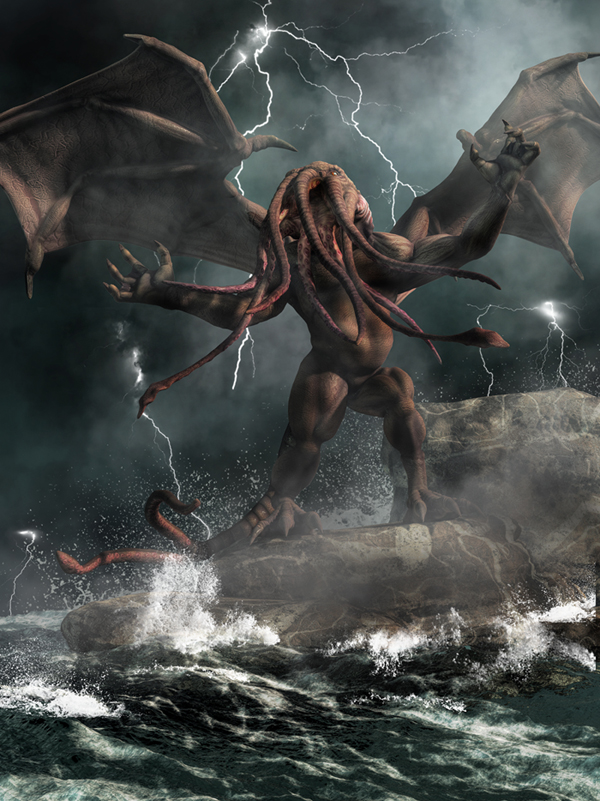 1. President Trump's attorney just boldly stated that the evidence of massive voter fraud across America is so strong that, when they release it, the effect will be like an attack from "The Kraken"!
NEWS BRIEF: "Sidney Powell Releases The Kraken: 'We're Getting Ready To Overturn Election Results In Multiple States'," November 15, 2020
"Sidney Powell releases the Kraken On Sunday morning ... While appearing on Fox Business Sunday Morning, Trump attorney Sidney Powell told Maria Bartiromo that her team is preparing to "overturn" the election results in multiple states as a result of a barrage of evidence she claimed shows the president actually won the election by millions of votes."
"Powell claimed that elections software switched 'millions of votes' from Trump to Democratic presidential nominee nominee Joe Biden ... apparently referring to election hardware and software by Dominion Voting Systems and Smartmatic, or perhaps other software and machines."
" 'They did this on purpose. It was calculated and they've done it before. We have evidence from 2016 in California. We have so much evidence, I feel like it's coming in through a fire hose', Powell told Bartiromo."
But, is this effort by the Trump Campaign going to fail because they were running out of time on the calendar? Rudy Giuliani, another Trump lawyer, weighs in on this subject.
NEWS BRIEF: "Rudy Giuliani: We have enough time to prove systemic fraud", Israel National News, Nov 16, 2020
"President Trump's attorney is confident there is enough time and 'more than enough' evidence to give Trump a win in the election."
NEWS BRIEF: "SHOCKING EXCLUSIVE: WE CAUGHT THEM! Pennsylvania Results Show a Statistically Impossible Pattern Behind Biden's Steal!", Gateway Pundit, Nov 15, 2020
"In Competitive States, Once Biden Gained the Lead with MASSIVE Vote Dumps, The Remainder of Votes All Possessed Same Biden to Trump Vote Ratio -- THIS IS INCONCEIVABLE!"
"On election night President Trump totally ran away with the election in Pennsylvania. President Trump was ahead of Joe Biden by nearly 700,000 votes! It was an insurmountable lead. The President was still ahead in Pennsylvania with 56% of the vote to Biden's 43% the next morning.
"The President was winning Pennsylvania and held a 675,000 vote lead in the election over Joe Biden ... What happened next was corrupt and criminal as the Democrats went about to steal Pennsylvania for Biden. They took a Trump landslide and they criminally flipped it to Joe Biden."
2. Joe Biden's top advisors must be getting worried that "Sleepy Joe" will not be president after all, as a number of 'Fortune 500' CEO's pledge to "intervene" should Trump overthrow Biden's phantom victory.
NEWS BRIEF: "Fortune 500 CEOs Will Intervene if Joe Biden Isn't Inaugurated by January 20", Breitbart News, 16 Nov 2020
"Executives from Fortune 500 corporations say they are planning to intervene if Democrat Joe Biden is not inaugurated into office by January 20, 2021. A report by CBS News states that in a conference call late last week, Fortune 500 executives were planning to step in on behalf of Biden to pressure Republican lawmakers if President Trump holds up the former vice president's transition."
Folks, this action is unprecedented! Never before, after the official election was over, have top CEO's of privately held companies stepped between the two parties to announce they were going to "intervene" on behalf of Joe Biden if he was not inaugurated on January 20, 2021.
Now, why would they pull such an unprecedented stunt, threatening President Trump?
The only reason I can think of is that they are very, very concerned that Biden's fraudulent victory would be overturned before January 20!
3. As we fight this battle for the soul of America, we must remember that this fight is a spiritual struggle.
NEWS BRIEF: "How to Stay Sane in a World Gone Mad: "Why worry when we can pray?", Canada Free Press, Nov 17, 2020
"For those of us who support the notion of maintaining the integrity of the great American experiment in personal liberty and economic freedom within the framework of a representative republic operating on democratic principles, the events unfolding before us are the stuff of Orwellian nightmares. Like watching a slow-motion train wreck, we have tuned in day after day to the spectacle of the once celebrated fairness of the American election system descending to a level that would make third-world banana republics, the old Soviet satellites, and Mideast pretend democracies blush. "
"This thing is still very much up in the air. And if we don't want the Prince of the Power of the Air to win on all fronts it is absolutely critical that those who believe in the power of prayer in Jesus' name do not lose heart. We can spend our days glued to the TV or searching the Internet for news or we can instead recall that God is in control."
Indeed, God is in control. Listen:
"And we know that all things work together for good to them that love God, to them who are the called according to his purpose. For whom he did foreknow, he also did predestinate to be conformed to the image of his Son, that he might be the firstborn among many brethren." (Romans 8:28-29, KJV)
Speaking of the comfort of God's foreknowledge, listen to this statement of fact:
"... in thy book all my members (days of my life) were written, which in continuance were fashioned, when as yet there was none of them."
An alternate English translation: "... all the days of my life were written before ever they took shape, when as yet there was none of them." (Psalm 139:16b)
In other words, God planned for you and me and this nation to take the path He planned for us. God created these events in Eternity Past, and He will guide us all to His planned destination.
But, can anyone be so powerful as to thwart God's plan? Can Satan/Lucifer. all the demons of Hell, Nancy Pelosi, Joe Biden, Hillary Clinton, "Hanoi" Jane Fonda, Gloria Steinem, or any one else, pluck you and me and our great nation, out of the Father's Hand?
"And I give unto them eternal life; and they shall never perish, neither shall any man pluck them out of my hand. My Father, which gave them me, is greater than all; and no man is able to pluck them out of my Father's hand." (John 10:28-30, KJV)
"And ye shall be hated of all men for my name's sake: but he that endureth to the end shall be saved." (Matthew 10:21, KJV)
Praise God!! We are on the winning side!
Just pray and pray and fast!
An exorcist believes he can see evidences that these Radical Leftist are demonically possessed!
NEWS BRIEF: "Leading Catholic Exorcist Sees Signs of Demonic Oppression and Possession in Unhinged American Left", Gateway Pundit, Nov 14, 2020
"Father Chad Ripperger, a leading Catholic exorcist and author of numerous books on possession, demonic oppression, and deliverance prayers, says the American left appears to be cooperating with demons ... Antifa and Black Lives Matter appeared to be getting preternatural help from the forces of evil."
"Then, in October, we learned and reported that Black Lives Matters regularly call on evil spirits to give them power and knowledge ... 'when they [people]… get caught in something or when their shame is revealed about the sin that they've committed, they sometimes become very vociferous and very angry about it and try and push the envelope even more'."
"In short, the election hasn't been decided, and the demons (and their human allies) are trying to demoralize patriots by claiming the battle is over. "
"There's our recipe for prevailing in this election:
1. Remember that we are fighting a spiritual battle, not a human conflict.
2. Demons claim victory and rights when they have no such things.
3. Do NOT get demoralized, for despair is the devil's most potent weapon.
4. Keep the focus on God (Jesus)."
Cutting Edge warned, in 2008, that a nationwide demonic possession was entirely possible.
""Is National Demonic Possession Possible?", Cutting Edge Archived Article Since 2008
DVD
4. Citizen support for stricter gun controls are at the lowest level since 2016.
NEWS BRIEF: "Support for stricter U.S. gun laws at lowest level since 2016", Liberty Unyielding, Nov 17, 2020
"In the absence of a high-profile mass shooting in the U.S. in 2020 and amid the coronavirus pandemic, civil unrest related to racial justice issues and the contentious presidential election campaign, Americans are less likely than they have been since 2016 to call for increased gun control."
"Since the early 1990s, Americans' preferences for tougher gun control have generally peaked in the wake of prominent mass shootings and waned as the memory of each fades ... Americans' support for a ban on the possession of handguns, at 25%, is near the lowest on record in Gallup's 40-year trend. The latest reading, which is down 18 points from its 1991 high, is a slight decline from last year's 29%. Currently, 74% of U.S. adults say such a ban should not be put in place."
5. As President Trump prepares to begin distribution of COVID-19 vaccines, two developments occur which are most noteworthy:
* Biden's COVID-19 task force issues a statement saying that people over 75 years of age should receive the vaccine "LAST"!
NEWS BRIEF: "Biden COVID Advisor: Those Older Than 75 Should Get Vaccines Last", The Federalist, Nov 16, 2020
"American's should be deeply troubled that a man Biden is looking to for advice on COVID is someone who hopes to die at 75 and has publicly supported rationing care for the elderly."
As we reported in our News Alert last week, Dr. Ezekiel Manual is now 63 years of age, only 12 years from his "drop-dead" date of 75! And, Joe Biden is already 77!
"... this is what he wants for himself: 'I am talking about how long I want to live and the kind and amount of health care I will consent to after 75 ... "Our living too long places real emotional weights on our progeny" — not merely in terms of caregiving needs, but because "there is much less pressure to conform to parental expectations and demands after they are gone".
Then, Dr. Ezekiel Manual seems to get really upset when he thinks of how the extended life of millions of people can affect society, mostly by the individual actions of all those "too elderly" people!
"What about simple stuff? Flu shots are out. Certainly, if there were to be a flu pandemic, a younger person who has yet to live a complete life ought to get the vaccine or any antiviral drugs ... So, no to antibiotics."
Now, he raises the issue of "living life worthy of life" -- an Adolf Hitler maxim, upon which the Nazi thug murdered 20 million "unworthy" people.
"These people who live a vigorous life to 70, 80, 90 years of age — when I look at what those people 'do,' almost all of it is what I classify as play. It's not meaningful work. They're riding motorcycles; they're hiking. Which can all have value — don't get me wrong. But if it's the main thing in your life? Ummm, that's not probably a meaningful life."
And, now, this evil doctor speaks to vaccine distribution:
"... the very vaccine priority model Emanuel proposes would exclude those over age 75 from receiving a COVID vaccine, at least until availability is widespread and no shortages exist, globally ... if Emanuel is not just one adviser among many but becomes a key adviser on policies for the elderly — someone who looks at his boss and sees, not evidence of the importance of valuing the lives of the old as well as the young, but as "proof" that the way to measure whether the value of a life is if that person is capable of being productive?"
When government officials jump into the ethical question of when a person should die -- taking that control from God -- a future genocide is inevitable and will occur sooner rather than later.
ADULT EUTHANASIA is most definitely a goal of a new Biden president!
And, if he fails, or dies, or is declared "incapacitated" Kamala Harris will jump forward to seize the initiative!
* Since New York Governor, Cuomo, opposed the vaccine because it was developed by Trump, New York is not going to be part of the first wave of vaccinations!
NEWS BRIEF: "Cuomo Upset New York Won't Get Trumpicilin Virus Vaccine", American Greatness, November 16, 2020
"New York's Governor Cuomo, possibly a serial killer, has his panties in a twist because President Trump said the federal government will not be sending the Pfizer vaccine to New York state. On Friday the Trump administration held a press conference announcing a possible time line and distribution plan for a vaccine developed under the public-private partnership program, Operation Warp Speed."
"Twenty million people could be vaccinated in December, according to Moncef Slaoui, co-lead of Operation Warp Speed. But not New York state because Governor Cuomo previously made a big scene about refusing to allow a Trump vaccine to be distributed to his state's residents. "
What does the Bible say about a wicked man who digs a pit for his enemy and then waits in hiding to see him fall and then to finish him off?