What Paul is revealing here is astounding!! He is saying that Antichrist simply cannot arise until the "apostasy comes first"; further, this particular End of the Age apostasy is defined as "the predicted great falling away of those who have professed to be Christians". Certainly, this definition fits Evangelical leaders like Richard Cizik perfectly.
Whenever "Christian" leaders like Richard Cizik depart from clear teaching of the Bible, he is opening the door for Antichrist to arise! The "Man of Sin" simply cannot come to the world scene until and unless professing Christian leaders of that era open the door for him by publicly departing from Christian teaching. Does Rick Warren and Richard Cizik understand that they are opening the door to Antichrist, and that they will face Jesus on this issue once His 1,000 year reign is over?
This story is as discouraging to true believers as the statement made about ten years ago that "The Gospel Overrides The Bible" -- http://www.cuttingedge.org/news/n1746.cfm
We encourage you to take a few moments to read this unbelievable statement by a "Christian" leader, as this code phrase was intended to lead Christians into an acceptance of homosexuality, the same issue which Richard Cizik is trying to promote.

Combo Offer
II. Our economy continues to move into the controlled Fascist Economy - the planned economy of the New World Order. The "Big 3" Automakers are the current target.
Remember that one of the strong facets of the Fascist Economy is that the government regulates how many competitors in the world can produce the same item or offer the same service. This means that, initially, the government has to force mergers and/or bankruptcies of the companies who are not selected to survive.
Another facet is that, while the government allows private ownership of the Means of Production, it heavily regulates those companies.
We see both these Fascist facets in this one article.
NEWS BRIEF: "A czar? A merger? You got it, senator", by Tom Walsh, Detroit Free Press, December 5, 2008
"For 5 hours and 40 minutes of U.S. Senate testimony as riveting as anything I've ever seen on C-SPAN, America was treated Thursday to a fascinating view of Detroit's most powerful men. The auto company chief executives -- Rick Wagoner of General Motors Corp., Alan Mulally of Ford Motor Co., Bob Nardelli of Chrysler LLC -- and UAW President Ron Gettelfinger were aiming to please.
"They were contrite.
"They were compliant.
"They bobbed their heads in agreement whenever a senator proposed another condition, no matter how serious or sideways, for providing up to $34 billion in rescue loans to keep Detroit's automakers alive. 'Nothing concentrates the mind like a death sentence', said Senate Banking Committee Chairman Chris Dodd, D-Conn., as the hearing concluded."
Like every major crisis which the Illuminati has ever deliberately created, they plan that the crisis will nearly result in the absolute death of whatever is targeted for major change. People simply resist major change unless threatened with a near death experience. Therefore, it is no wonder that Mass Media portrayed the banking and insurance industry as facing certain death unless the government stepped in, and now it is no wonder that we are being told that the auto industry will certainly die unless the government steps in.
Now, let us return to this article to see that a consolidation of auto makers is being predicted as the answer to this disaster.
"GM and Chrysler had both warned of possible collapse by the end of this month without cash infusions of $4 billion or more, a doomsday scenario that lent an air of sobriety to Thursday's hearing ... What transpired was a probing, spirited and occasionally humorous give-and-take about how to get desperately needed cash to the automakers, yet do so in a way that protects taxpayers from repeatedly dumping money into uncompetitive companies."
"A few minutes later, Sen. Bob Bennett, R-Utah, threw them another curve. He said he liked the idea of GM buying Chrysler, which was under heavy discussion a couple months ago but was discarded as the companies focused on the cash crisis. What if, Bennett asked, a GM-Chrysler merger was made a condition to get the rescue loans? 'The first job to go would be mine', Nardelli said. 'But if it would save Chrysler, I'd do it'."
Therefore, we see the government "suggesting" a merger. Chrysler would cease to exist as it is gobbled by General Motors.
This next segment demonstrates the planned severe and thorough government regulation of these auto companies.
"GM, in its 37-page viability plan presented Tuesday to Congress, had suggested that a federal oversight board be created to monitor GM's progress on restructuring and release future loan installments as the company meets certain benchmarks. Mulally, Nardelli and Gettelfinger were asked Thursday by senators if they were OK with a powerful board to ride herd on Detroit's automakers in exchange for rescue loans."
"Yes, they replied."
Just as Cutting Edge warned months ago, the march into a Fascist Economy has passed from the banking and insurance industry to the automaking industry. When the process is completed, we are likely to see only one auto maker in North America and severe government regulation of that single company.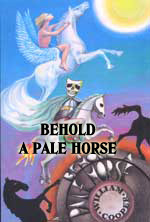 Behold A Pale Horse
III. India's government is preparing proof designed to show that the Pakistani military had a direct hand in the disastrous terrorist attack in Mumbai, India on November 26.
If this can be definitively proven, the pro-Western Pakistani government will be pressured still further to officially join President Bush's "War On Terror".
Pakistan, meanwhile, says it is awaiting the proof.
NEWS BRIEF: "Pakistan army had hand in Mumbai attacks", YNET News, December 5, 2008
"Indian newspapers said on Friday the government had proof that Pakistan's military spy agency was involved in the Mumbai attacks, including evidence supplied by the US Federal Bureau of Investigation ... The Hindu newspaper said investigations into the Mumbai attack had led to the names of handlers and trainers of the Islamist gunmen and the locations where the training was held. These were believed to be military or ISI men."
Frankly, I would not surprised to learn that the Pakistani Intelligence Service had a hand in planning and carrying out this terrorist attack. After all, Pakistan's Intelligence Service has always been controlled by elements far more Islamic radical than the civilian pro-Western leadership. In fact, when President Musharraf reluctantly agreed to join President Bush' "War On Terror" following the 9/11 attacks, he was consistently threatened by the radical Islamic leadership of the Pakistani Intelligence. In fact, Musharraf was nearly assassinated on a couple of occasions.
Furthermore, Pakistan's military operation against the Taliban which use Pakistani territory as safe havens for their attacks in Afghanistan is consistently undermined by opposition from the Intelligence Service. It makes sense to me that they would want to force Pakistan's military to move significant forces from the Afghan border to the Indian border in response to an Indian buildup on the opposite side of the country; such a move would dramatically lesson the Pakistani military position on the Afghan border, giving the Taliban greater freedom of movement at the very time they are gaining the upper hand against NATO forces.
Now, let us examine India's allegations.
"The detained man told investigators he had attended four training camps in Pakistan over the past 18 months, Mail Today newspaper said. He has said he is a member of Lashkar-e-Taiba, a Pakistan-based group blamed for previous attacks in India ... The prime suspect for the Mumbai attacks is Lashkar-e-Taiba, an Islamist group fighting Indian rule in disputed Kashmir, and which analysts say has had ties with Pakistani intelligence in the past."
One of the side effects of the Mumbai terrorist attacks has been that India is also being pressured to join the West's global "War On Terror". After all, India's government has consistently proven reluctant to join the global war against terror. Wouldn't it be interesting if this Mumbai attack resulted in both Pakistan and India joining the West's "War On Terror"? President Obama would see his hand strengthened oversees as he obediently follows the script handed him.
What script? Remember, the Illuminati conceived in 1917 that they must create a global crisis in order to force their coveted New World Order, a global government, economy and religion which will be ruled by their Masonic Christ. Listen to the quote:
---

Big Savings on Closeouts and Sale Items - Up to 75% off!


See all the items in our Special Offers and Sale Area

159 Bookstore Items Marked Down To Save You Money

---

New Bookstore Items

"Financial Crisis Combination Offer"

Regularly $34.98, Now Only $19.98, Saving You $15.00

"How To Survive This Financial Crisis - Biblical Principles" - DVD by Pastor Hoggard reveals that the current economic stress now facing us is predicted in prophetic Scripture, and then informs us how to Biblically survive! As Christians, we should be concerned, but not afraid. The Bible has the answers, the hope, and the help for dealing with what will come to our country. In this teaching, we look at what the Bible says about the cause, effects, and promises to the Believer during financial hard times.

Now you will have the REAL solution as to how a Christian will survive hard economic times - This DVD is truly a "Sign of the Times" video.

The book, "End Time Money Snare" informs us of the deliberate trap set for us by International Bankers. Did you know that world bankers have systematically created a "Money Trap" for the majority of people so that they can be maneuvered more easily into the New World Order?

A NEW RELIGION IS SWEEPING THE WORLD!! Already, massive conversions have taken place, claiming perhaps 4 billion converts -- among them many Christians This new faith is a massive global boom in a materialisticly-based faith -- 'Mammonism' - which is leading the world into an End-Time trap - a global money snare. What form will this trap take and how can its grip be avoided? Can Christians prosper in the Lord's grace and still live free of any complicity in this End-Time agenda?

Author Wilfred Hahn, international financial executive, documents and unmasks the rise of three very powerful gods, a most deadly snare for the last-days world. You will be aware of the hooks and dangers of this time, as the Enemy of Your Souls is setting a deadly snare for you

Hardback book, 348 pages

This combination offer is truly tailor-made for the times in which we live -- http://www.cuttingedge.org/detail.cfm?ID=1970

SPECIAL PURCHASE OFFER!

"Adam's Synchronized Chronology of Ancient, Modern, and Biblical History On Sale"

In Old-Fashioned Map Binder, Panels Unfold To 25ft Wall Map w TWO FREE Booklets ($6.99 Retail)

Regularly $44.98, Now Offered On Sale At Only $$29.98, Saving You $15.00!

Adam's Wall Chart is on Sale + a FREE Chart Key plus a FREE Teaching Guide are included! The Guide turns the Chart into a Homeschool teaching tool! A vintage reproduction of this famous illustrated time-line of Earth history, first published in 1871. Fold-out chart features detailed, full-color drawings of various stages of world history, from Adam and Eve to the late 19th Century, with handwritten commentary throughout. Perfect for educational settings, Homeschooling, Sunday Schools, churches. Even includes the descriptive booklet originally published with the chart

Follows James Ussher's time-line from 'The Annals of the World', the inspiration for this monumental 'Adam's Synchronized Chronological Chart, Map History' Discover ancient cultures like the Assyrians, Babylonians, Persians, Greeks, and more! Delight in the mysterious Seven Wonders of the World, learning where they once stood. Get the BIG PICTURE of world history and discover how it all fits in nicely with the Biblical Worldview. You can have a library of information at your fingertips

FREE Teacher's Manual shows the teacher how to explain every single panel in the Wall Chart, plus giving tests and answers. Wonderful Teaching Tool!

NOTE: This item cannot be shipped in a Priority Mail Flat Rate Box. Shipping box measures 30"L x 15" W - http://www.cuttingedge.org/detail.cfm?ID=1618


DVD

"21st Century Sustainable Feudalism - Power, Their Role, Total Control"

In this DVD, Joan Veon clearly shows where the power resides in this global system, where that power is, what role the British play, insight as to where the world is headed, and what you need to do to survive.

Feudalism is defined as a political, military, and/or economic structure owned or controlled by one dominant person or group. Of course, this is exactly what the New World Order is - a single group of secret societies which controls every portion of every nation on earth!

America, formerly the Land of the Free, is the bastion for the type of Feudalism which is the global system of Antichrist, the New World Order - http://www.cuttingedge.org/detail.cfm?ID=1959

Companion New Joan Veon Video

"The 2008 Credit Crisis: Creative Destruction - The Final Transfer of America's Financial Sovereignty"

World Government is no longer coming -- IT IS HERE RIGHT NOW! The slowly evolving global financial system which will interconnect our currency, tax code, stock exchange, and severe regulatory system into a global government structure uniting all countries of the world into ONE is now upon us

For America, the transition will occur through Congressional passage of "The Department of the Treasury Blueprint For A Modernized Financial Regulatory System" authored by Secretary Paulson, Robert Steel, and David Nason.

This DVD demonstrates how this plan strips us of the last vestiges of our financial sovereignty, as the old system is systematically being torn down

The power granted the Treasury is so great that the Federal Reserve and Treasury Department can now even usurp the Constitution of the United States! http://www.cuttingedge.org/detail.cfm?ID=1936

NEW PAMPHLETS! Now 65 From Which To Choose

"Understanding The Book of Revelation"

Only $3.99

There are so many differing views on the Book of Revelation that many people are confused as to what to believe. This pamphlet compares key passages from Revelation 1 to the end of Revelation 22 according to the four major beliefs of this prophetic book: 1) Historicist View; 2) Preterist View; 3) Futurist View; 4) Idealist View. Most modern Bible scholars hold to the Futurist View, as does Cutting Edge Ministries.

This study is made easier by - 1) Simple Outline of Symbols and Events; 2) A Chart which compares the differing views at a glance

The Book of Revelation is meant for Christians at the End of the Age and is meant to give them encouragement and hope. Jesus IS coming back and will judge all humanity; the powers of evil are doomed before Jesus; God promises a wonderful future for all who believe in Jesus Christ

This pamphlet will instruct you as well as encourage you! http://www.cuttingedge.org/detail.cfm?ID=1961

"Biblical Baptism"

Only $3.99

'One Lord, One Faith, One Baptism' (Eph 4:4-6)

What is Baptism? Why be Baptized? See: 1) Jesus' Teachings; 2) History and Methods of Baptism; 3) Old Testament Symbolism in Baptism.

These words of the Apostle Paul in Ephesians are a humbling reminder that Baptism is an external symbol of our inner heart change and of our unity as believers. Our Baptism, our faith, and our Lord unite us into one body, His Church

While Baptism is a very important practice, it is one of the most commonly misunderstood

Apart from Jesus Christ, Biblical Baptism has no significance - http://www.cuttingedge.org/detail.cfm?ID=1960

New Bible Study Resource -- 45-page Booklet

"Bible Map Insert"

45 Pages With Plastic Overlays

Where are the ancient Bible lands today? This handy quick reference fold-out pamphlet show you with transparent overlays where the ancient lands are located today.

Fantastic for comparing places in the news with places in the Bible. Fits in the back of most Bibles. Includes the following maps: 1) Middle East during Old Testament times; 2) Assyrian & Persian Empires, Babylonian Kingdoms; 3) Holy Land of the Old Testament; 4) United and Divided Kingdoms; 5) Holy Land during the ministry of Jesus; 6) All of Paul's Journeys; 7) Roman Empire at AD 60

High-gloss, plastic-coated pamphlets containing hundreds of facts and which fit inside most Bibles - http://www.cuttingedge.org/detail.cfm?ID=1962

If you exchange gifts for Christmas, we encourage you to give the gift of eternal life through Jesus Christ our Lord! We offer gifts of traditional Christian edification and gifts which warn people of the closeness of the End of the Age and which specifically teach the exact prophetic signs which point to the soon appearance of the "Man of Sin", Antichrist.

Please consider the following items as you prepare your gift list.

Pastor Hoggard

Pastor Michael Hoggard has easily become our most popular teacher in the Bookstore. He is an expert on Freemasonry and the Global Forces which are driving world events. But, just as importantly, he is an excellent Bible teacher -- his style is interesting, his exegesis of Scripture is correct, and he effortlessly weaves current events into prophecy so you can see exactly which world and national events are fulfilling Bible prophecy.

Listed below are some of his most popular items, including his newest one -- and most of them are significantly reduced in price! To see a complete listing of Pastor Hoggard's DVD's, just go to the Bookstore Main Page and click your mouse into the "Keyword" Search Box. Enter "Hoggard".

"Love Not The World"

Biblical Money Management and

Biblical Worship

Regularly $19.99, On Sale $12.99

Can we love God and still love the world? Pastor Hoggard answers this question boldly by searching out Biblical Wisdom

"Club Worship" - Hoggard laments over the increasing number of churches who are looking more and more like a nightclub than true churches. He shows examples of such "Club Churches" and contrasts them with pictures of genuine, Biblically based churches

Pastor Hoggard then warns of preachers who mislead their flock by telling them that they can be like the unsaved world -- and love that world -- and still love God

Are you worldly or Godly? Is your pastor and church worldly or Godly? You can understand the truth after watching this video

Message based upon 1 John 2:15-17 - http://www.cuttingedge.org/detail.cfm?ID=1958

We carry 14 other items by Pastor Hoggard, from the threat of the Rick Warren type of "Emerging Church" to the invasion of occult symbolism and doctrine in Contemporary Worship. These DVD's would certainly give the gift of eternal life and which warn of prophecy being fulfilled in our Daily News.

Other Gifts Which Give Eternal Life And Which Warn of Prophecy Fulfillment

"The Coming One World Religion - The Vatican Leads The Way!"

PLUS DVD "Tell Catholics The Truth!"

Two Videos On One DVD! This is the #1 video in "Proclaiming The Gospel Ministry

! 2,000-year-old Prophecies foretelling the global religion which will serve Antichrist are thoroughly examined, along with the Vatican's strategy for uniting all religions under the Papacy.

This study is one of the most important in our time, as it reveals how far down the prophetic road the Vatican is in uniting all world's religions - Christianity, Islam, Judaism, Hinduism, Buddhism, and the other religions of the world!

The second video is entitled, "Tell Catholics The Truth" and it answers the most important question: 'What is our most trustworthy source for knowing God's Truth?' Scripture provides the answer - the Bible is our supreme authority in all matters of faith and our only source of confidence in eternal Heaven - http://www.cuttingedge.org/detail.cfm?ID=1947

Vincent's Word Studies In The New Testament - by Marvin R. Vincent Favorite Amplified Bible Commentary Resource This item is on sale.

Price: $99.95
Sale Price: $49.95
Vincent's Word Studies in the New Testament is one of the favorite word studies of the Bible scholars who wrote the Amplified Bible Commentary! The purpose of Vincent's is to re-establish the complete meaning of the key words in the original Greek text. Vincent's will add riches of reading and depth of understanding to every book of the New Testament. This resource will be one of your favorites

Readers need no formal language to use this book in unlocking for themselves the riches of the New Testament. vincent lists EACH SIGNIFICANT WORD in the New Testament with its meaning, derivation, idioms and uses in a verse-by-verse format

4 Hardbound Volumes, Save $60.00! Special Purchase



Systematic Theology by Charles Hodge - 3 Volumes, 2,400 pages

Price: $99.99
Sale Price: $49.99
The magnum opus of one of America's most prominent theologians offers an in-depth exploration of theology, anthropology, soteriology, and eschatology.

This monumental work, now a standard for theological students, was written while Hodge served as a professor at Princeton (1851-1878), where he permanently influenced American Christianity as a teacher, preacher, and exegete. Hodge must be classed among the great defenders of the faith, and possessed an extremely rare talent for clearly expressing complex subjects in easily understood writings.

But he earned a higher title to fame in that he was the champion of his Church's faith during a long and active life and her trusted leader in time of trial during the Civil War.

Includes a comprehensive index.

3 Volumes, 2,400 total pages

A History of the Jewish People in the Time of Jesus Christ 5-Volume Set - SALE Save $110.00!


Price: $199.99
Sale Price: $89.99
This classic work includes extensive essays on the Roman political system and its leaders, the political and religious parties of Judaism, messianic movements, and pertinent Greek and Jewish literature including the Apocrypha and Pseudepigrapha from the centuries before and after Christ. This five-volume set is the original edition of Schürer's landmark work, including the original index. This set consists of two divisions: Division One, volumes 1 and 2; and Division Two, volumes 1, 2, and 3.

H-1977 - Jamieson-Fausett-Brown Bible Commentary -- 3-Volume Set -

You Save $50.00! This item is on sale.

Price: $129.95
Sale Price: $79.95
Highly recommended by Evangelist C.H. Spurgeon, who said of this Commentary set: "It contains so great a variety of information that if a man has no other exposition (of the Scriptures) he would find himself at no great loss if he possessed and used it diligently."

Jamieson-Fausett-Brown Bible Commentary is such a critical, experimental, and practical Bible commentary, it has been beloved by generations of Christians. This 3-volume set is renowned for its scholarship and keen insight into the Scriptures. During this Last Days' era of extreme Church Apostasy, Christians today need material in which they can place substantial faith -- Cutting Edge Ministries regularly uses Jamieson-Fausett-Brown Bible Commentary; we highly recommend it

"Christian Combat Manual"

How To Overcome Objections To The Gospel And Win Souls

'The Christian Combat Manual' is written to help Christians engage our current pagan, anti-christian culture. The chapters are carefully constructed to train ordinary Christians in how to confront and respond to the major intellectual and cultural challenges that face Christians today.

This unique soul-winning book is worth its weight in gold, as it "equips the saints" to witness and to win souls in this modern age in the Western World

http://www.cuttingedge.org/detail.cfm?ID=1829

"Shadow of the Almighty: Life and Testament of Jim Elliott"

"He is no fool who gives up what he cannot keep in order to gain that which he cannot lose"

Jim Elliott did give up his mortal life -- which he could not keep -- in order to gain eternal life in Heaven which he cannot lose! With these immortal words, Jim Elliott and his wife and four friends decided to reach out to a cannibal Indian group in Ecuador. Jim and his friends paid for this commitment with their lives, but a flood gate was opened for many missionaries to reach this tribe, and soon, virtually the whole tribe was won for Jesus Christ

This book chronicles the portrait of faithfulness, obedience, and sacrifice! A beautifully written memoir including original photographs, this best-selling classic tells the story of the martyrdom of Jim Elliot and his four fellow missionaries at the hands of Ecuador's Hauorani Indians

Making full use of her husband's revealing diaries, Elizabeth Elliot fills in the details of a life utterly committed to Jesus Christ. Your spiritual life will be blessed by this account!

272 pages, Cloth - http://www.cuttingedge.org/detail.cfm?ID=1953

"Spurgeon's Sermons On Men of the Bible"

Save $10.00

Spurgeon's sermons on more than 25 men in the Bible are contained within this one volume. here, you will discover that men such as Abraham, Enoch, Jonah, Matthew, and Thomas are much like you in their doubts, their desires, their relationships, their complete humanness and their hunger for genuine faith

Spurgeon's words are as powerful today as they were more than 100 years, so let him introduce you to the real men of the Bible - as you have never known these saints before!

Known as the "Prince of Preachers", Charles Haddon Spurgeon (1834-1892)served for 30 years at the Metropolitan Tabernacle in London. During his lifetime, Spurgeon preached to 10 million people and his collected sermons fill 63 volumes, remaining as one of the best-selling writing series in history. Christians and seekers throughout the world prize Spurgeon's sermons because of their Biblical grounding, eloquent text and simple encouragement to follow Jesus Christ - http://www.cuttingedge.org/detail.cfm?ID=1956

"Spurgeon's Sermons On Women of the Bible"

Save $10.00

This volume features sermons on more than 20 women of the Old and New Testaments -- the pious, the faithful, the notorious, and the broken. You will discover that women such as Esther, Sarah, Rahab, Hannah, Mary and the Samaritan woman are much like you in their desire for genuine faith, their relationship struggles, their daily pressures and doubts, and their growing trust in a loving God

Spurgeon's are as rich and nourishing today as they were more than a century ago. So, let Spurgeon introduce you to the complex, the passionate, and the very real women of the Bible -- as you have never known them before! http://www.cuttingedge.org/detail.cfm?ID=1957

"The Heart of John Wesley's Personal Journals - Intimate Look At An Inspiring Faith"

John Wesley's influence on modern Protestantism is as impossible to measure as is the Faith which drove him. The founder of the Methodist Movement, Wesley traveled throughout the United States and England, preaching the Gospel of Jesus Christ to a hungry generation. Advised early in his life to keep a daily journal, Wesley filled 26 volumes with his honest reflections of his own spiritual growth and spiritual warfare.

'The Heart of John Wesley's Journal' brings together in one volume the most fascinating and insightful of these daily journal entries

Here is the story of how Wesley felt his heart 'strangely warmed' by the Holy Spirit. You will read accounts of how his message prevailed despite difficult circumstances, antagonistic listeners, and personal struggles

You will be inspired by Wesley's unflagging energy as he carries out God's work in the face of incredible obstacles. http://www.cuttingedge.org/detail.cfm?ID=1954

"George Muller of Bristol"

Muller is the greatest single example of powerful faith in the past 2,000 years! He literally prayed food into the pantries of his children's orphanages every single day.

Muller believed God gave him one passage by which he was to operate his orphanage ministry: "Open your mouth wide and I will fill it." (Psalm 81:10b)

Taking this Biblical promise literally, George Muller prayed in every need for every day.

During this End of the Age, all of us need the faith of a George Muller if we are to confront the urgent danger which Christians are going to face at this End of the Age.

480 pages - http://www.cuttingedge.org/detail.cfm?ID=1952

New "Purpose Driven" DVD

DVD

"The BIBLE DRIVEN Church PLUS Deception and Apostasy"

by Michael Gendron

Rick Warren's 'Purpose Driven Church has taken the Evangelical Christian Church by storm! As he states, his church is centered is 'Purpose Driven'. Shouldn't a church of Jesus be 'Bible Driven'? This DVD answers this question boldly!

This is a timely message that contrasts God's blue print for building and sustaining His church with man's method and madness for building his own church through movements such as the emerging church. Do not be led astray by the latest fad that is sweeping Christianity. Mike Gendron offers the Biblical blueprint for establishing and operating a genuine Christian Church. Your pastor and deacons then can easily contrast this Biblical Church to Rick Warren's counterfeit "Purpose Driven Church"!

The second video 'Deception and Apostasy' shows how the Lord Jesus Christ is NOW purging His Church and purifying His Bride of the tares planted by Satan. Those who have been born of the Sprit will remain faithful to the Lord but others must be warned of the growing deception within the church.

Or, you can buy this product in a Combination Offer and save $10.00!

"Purpose Driven DVD Combination Offer - BIBLE DRIVEN Church DVD PLUS Apostasy, Purpose, and the Paradigm Shift DVD

Now you can present the dangers of the Purpose Driven Church on the one hand by watching 'Apostasy, Purpose, and the Paradigm Shift' and then show your pastor and the deacons how Jesus wanted His Church established and run!

'Apostasy, Purpose, and the Paradigm Shift' DVD specifically warns of the dangers of the Purpose Driven Church. This video gives the reader the vital information needed to identify the warning signs needed to stand in defense of the Faith in the face of this gathering storm of apostasy. It should be required reading for all pastors and laypeople who desire to understand the deceptive nature of this apostasy, and particularly those who are battling this movement within their own church.

Your pastor and deacons then can easily contrast this Biblical Church to Rick Warren's counterfeit "Purpose Driven Church"!

'Bible Driven' Church DVD is a timely message that contrasts God's blue print for building and sustaining His church with man's method and madness for building his own church through movements such as the emerging church. Do not be led astray by the latest fad that is sweeping Christianity

Regularly $44.98, Now On Sale For Only $34.98, Saving You $10.00!

http://www.cuttingedge.org/detail.cfm?ID=1946

NEW MAGNIFICENT BIBLICAL REFERENCE RESOURCE




"Complete Works of Josephus: THE Jewish Historian of the Christian Era! Six Books In One!"

On Sale! Regularly $59.99, Now Only $39.99, Saving You $20.00!

An exquisite reproduction of an original 1850 copy with remarkable illustrations, with gold leaf gilded pages!
This fascinating compilation is a remarkable record of history from Creation to about 100 A.D. in the Christian era

This monumental work includes the revered works by Flavius Josephus -- THE most revered Jewish historian during the Christian era -- PLUS additional scholarly text by William Whiston, including: 1) Antiquities of the Jews; 2) History of the Jewish Wars; 3) Sequel to the History of the Jewish Wars; 4) Flavius Josephus against Apion; 5) The Life of Flavious Josephus; 6) Three Dissertations on Jesus Christ, Abraham, John the Baptist and James the Just

But there is more! This book also includes: 1) Comparative View of the Lives of the Patriarchs; 2) Chronology Table From Creation to the Birth of Our Lord; 3) Over 60 impressive and artistic engravings

ABOUT THE ILLUSTRATIONS: During the mid-19th Century, the Tallis publishing family were well-known for their production of steel-engraved maps, which were highly sought after by collectors today. These engravings include detailed vignettes of life plus ornately illustrated frames. Their artisans were without question the most skilled of that age. This creative precision is revealed in the dozens of superbly detailed engravings in 'The Complete Works of Flavius Joseph' depicting Biblical and historic scenes.

944 Pages, Casebound, Classic Hub Spine, with ornate binding

Over 60 illustrations - http://www.cuttingedge.org/detail.cfm?ID=1937

* Wow Item For the Weekend

Delightful Christian Music - WithA Twist!

On Sale For Only $13.97 Each

"Bright Canaan - Folk Hymns - Vocal and Instrumental" - Sample Medley of Songs

"From Zion's Hill: Messianic Praise and Worship Collection" - Sample Medley of Songs

Click Here To See Full Write-up!

Excellent Bookstore Items Warning of Contemporary Issues and of the Global New World Order Plan

"Defeating The Totalitarian Lie: A Former Hitler Youth Warns America"

This book is certainly most appropriate warning at a time when we are gradually falling into the planned dictatorship of the Illuminati - a dictatorship possibly during the administration of President Obama!

All parents must begin preparing their children, exactly as these parents did! The main preoccupation of my parents during the Nazi years was to save us children from Nazi indoctrination says Hilmar von Campe. At 10 years old, like every other child, he had to enter the Hitler Youth and at 18 he was conscripted into the army. He was a gunner in a tank in the Yugoslavian theatre fighting the Soviet army, became in 1945 a prisoner of war of the Communist Tito government and in the same year staged a sensational escape crossing seven borders.

His reports about the Nazi years and the war are a lesson of history as he brings facts unknown to most Americans. He describes the why-it came about, his own moral responsibility and how his life changed. The Nazi system, like any other totalitarian system, he says, is based on lies. Lies are at the root of the problem in the world. You cant defeat them with money or armies but only with the truth.

Hilmar compares developments in American society and in the world today with what happened in pre-Nazi Germany and warns America to turn away now from the destructive ideological path we are on. - http://www.cuttingedge.org/detail.cfm?ID=1948

DVD

"Sons of God & The Antichrist"

by Former Satanist Bill Schnoebelen

Did you know that Fallen Angels have their own DNA? And, did you know that plans are in place to start mixing Fallen Angels DNA with human DNA? Nephilim are among us, just as in Genesis 6 and are marrying and cohabitating with human women. When that happens, Satan will be corrupting the human race just as it was corrupted in Genesis 6

Research is also going forward to make human DNA into a viral substance so humans can be implanted through VACCINATIONS!!

Bill Schnoebelen shows pictures of physical evidence of these Sons of God. Then, Bill demonstrates how this new development ties directly into the coming Antichrist, the Mark of the Beast, the counterfeit Gospel, and the apostate worldwide church

When these Sons of Gods manifest themselves, they will lead hundreds of millions of people into adoration of Antichrist

Nearly 3 hours long. -- http://www.cuttingedge.org/detail.cfm?ID=1289

DVD

"Planned Population Reduction"

In the Book of Revelation, the number of people killed by God's judgments equals 66%; the Illuminati has precisely this same figure in mind! God many times uses wicked man to deliver His judgment, and this End of the Age period is no exception. God has allowed scientists working for the Illuminati to unlock the secrets of death listed below, so His prophecies could be fulfilled.

Dynamic topics include: Vioxx, artifical fertilzers, pesices, injections, Immunizations, Vaccinations, genetically altered seeds, cell phones, diet drinks, Soy products, Mercury preservatives, MSG, Aspartame, Flouridated water, suppessed cures, Chemtrails, aluminum cans & cookware, Anthrax, Cancer treatments, DDT, created diseases, milk additives and processes, MTBE, Splenda and that is just scratching the surface! Nearly 3 hours long -- http://www.cuttingedge.org/detail.cfm?ID=1132

DVD

A strong Medical warning which only an Illuminati insider could give. Systematic poisoning of the entire population through medicines is a key part of the Plan to reduce the population of the world by 66%. Bill Schnoebelen reveals the conspiratorial origins of American medicine; how the ruling elite stole medicine from the Church and set up the an evil cabal medical establishment to reduce population by withholding cures on the one hand, while developing chemicals which systematically destroy your health under the guise of protecting it.

Bill will speak on how our medical establishment is out of balance. He will expose The Iron Triangle: How the Federal Drug Administration, the drug companies, and the medical schools collude together to control and destroy your health.

Bill is a Nutritional Herboligist. He has been studying herbs for thirty years, and is a Certified Natural Health Professional, and a Doctor of Naturopathy (natural healing).

He will teach how to use herbs to strengthen your immune system and health. Herbs can be used for super-food to make up for what is lacking in your diet. This video seperates the Biblical truth from the new age nonsense. - http://www.cuttingedge.org/detail.cfm?ID=1084