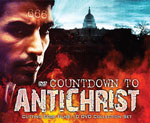 "Is A Shooting War About To Start Between Russia and the United States?"
Is World War III Possible over the current Ukrainian crisis? What saith the Prophecies?
---
HOT NEWS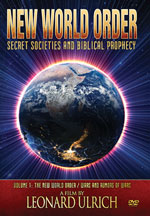 I. Ukraine admits its forces cannot restore order to much of Eastern Ukraine.
Will this area fall into Russian hands by default, without an invasion?
NEWS BRIEF: "Kiev says she is "helpless" to restore order in east Ukraine", Houston Chronicle, April 30, 2014
"HORLIVKA, Ukraine (AP) — Ukraine's police and security forces are "helpless" to quell unrest in two eastern regions bordering Russia, and in some cases are cooperating with pro-Russian gunmen who have seized scores of government buildings and taken people hostage, the country's acting president said Wednesday."
If the Ukrainian military is experiencing some of its units cooperating with pro-Russian troops, or if these units are actually defecting, then the current Ukrainian government is in serious trouble. Russia may win control of Eastern Ukraine (pictured below) without firing a shot. We have already reported the reality the Ukraine is in serious economic difficulty and may fall if she goes into default.
She might fall into Russia's hands without Russian troops having to set foot on Ukrainian soil.
What is the Ukrainian government's goal now that she has admitted her forces cannot regain control?
"Oleksandr Turchynov said the goal now was to prevent the agitation from spreading to other territories. 'I will be frank: Today, security forces are unable to quickly take the situation in the Donetsk and Luhansk regions under control', Turchynov said at a meeting with regional governors.
" 'The security bodies ... are unable to carry out their duties of protecting citizens. They are helpless in those matters. Moreover, some of those units are either helping or cooperating with terrorist organizations'."
"Turchynov instructed the governors to try to prevent the threat from overtaking more central and southern regions."
The situation must be grave from Turchynov for him to admit publicly that his forces are "helpless". By instructing Ukrainian forces to simply try to keep the rebellion from spreading Turchynov is writing these areas of Eastern Ukraine off, conceding their loss to Russia.
How serious is the rebellion in Luhansk? They have already lost their headquarters!
NEWS BRIEF: "Separatists storm east Ukraine government HQ in Luhansk ", Aljazeera News, 29 April 2014
"Hundreds of pro-Russian separatists have stormed the regional government headquarters in Ukraine's eastern city of Luhansk, unopposed by police, the Ukrainian government says. Kiev has all but lost control of its police forces in parts of eastern Ukraine, where pro-Russian activists have seized buildings in the region's second biggest city of Donetsk and several smaller towns."
" 'The regional leadership does not control its police force', Stanislav Rechynsky, an aide to Arsen Avakov, the interior minister, told Reuters news agency on Tuesday. 'The local police did nothing'."
Those Russian troops along the border, plus trained agitators within, and Russian troops dressed in non-Russian uniforms, are creating a pressure which seems to be working. As of this moment, it appears that Russia will soon achieve control over most of Eastern Ukraine.
Making matters worse, the Ukrainian government is initiating a call-up of her armed forces.
NEWS BRIEF: "Ukrainian armed forces put on alert - acting President Turchynov", Russia Beyond The Headlines, April 30, 2014
"The Ukrainian armed forces have been put on combat alert ... 'I am once again addressing the real danger of the start of a continental war against Ukraine by the Russian Federation. Our armed forces have been put on full combat alert ... We have issued an order on forming a territorial defense battalion in each region', he said."
What is President Obama's reaction to this rapidly deteriorating situation? Is he going to stand strong, or be characteristically tepid?
NEWS BRIEF: "US 'to react' if Russia crosses into Ukraine", Aljazeera News, 29 April 2014
"The US ambassador to Ukraine says an "inevitable, sharp reaction" should be expected from the United States if Russian troops were to cross the border into Ukraine. Geoffrey Pyatt, speaking at a news conference in Kiev on Tuesday, said such a move would be 'a major escalation'."
"The separatists have seized city halls, police stations and other government buildings in at least 10 cities and towns across eastern Ukraine."
Now is the time for the United States' President to stand up and be counted, even if strong reaction to any Russian invasion would mean all-out war. Headlines across the Internet today are full of warnings about World War III breaking out from this crisis.
NEWS BRIEF: "Russia 'Wants To Start World War III': Ukrainian PM Yatsenyuk", NBC News, April 25, 2014
NEWS BRIEF: "World War III looming: What would Churchill and Einstein say on Ukraine Crisis?", The Baltimore Sun, April 29, 2014
NEWS BRIEF: "Putin Marches Towards World War III?", Rush Limbaugh, April 16, 2014
NEWS BRIEF: "Tripwire to World War III", Patheos News, April 21, 2014
NEWS BRIEF: "Impeach Obama Before He Detonates World War III", Executive Intelligence Review, April 11, 2014
NEWS BRIEF: "Can World War III Be Far Behind?", by Professor Francis A. Boyle, Counter Currents, 27 April 2014
These news articles screaming warnings of an impending World War III are just a few which you can find on the Internet. All over the world, people are being told that Russia is reviving the Cold War and that if she crosses into the Ukraine, a hot thermonuclear war might be unleashed.
These are frightening headlines, especially since Tribulation Prophecies seem to foretell of nulcear war. Listen:
"And I will shew wonders in the heavens and in the earth, blood, and fire, and pillars of smoke. The sun shall be turned into darkness, and the moon into blood, before the great and the terrible day of the Lord come." (Joel 3:30-31)
These effects foretold in this Scripture are known effects from nuclear explosions. Will this Ukrainian crisis be the trigger for this type of warfare? We have posted a new Headline News article on this critical subject:
"Is A Shooting War About To Start Between Russia and the United States?"
Is World War III Possible over the current Ukrainian crisis? What saith the Prophecies?
II. Once again, radical forces are attempting to legalize adult - child sex!
America is once again being assualted by the kinds of spiritual forces seen in Sodom and Gomorrah!
NEWS BRIEF: "The Left's Push for Adult-Child Sex", Charisma News, 4/29/2014
"Shocking allegations by former child actor Michael Egan against openly gay X-Men director and producer Bryan Singer have stunned Hollywood into relative silence. I say 'relative silence' because unless he's a Catholic priest, the relativist left's false narrative is that a gay man is always the victim and never the victimizer."
"Nonetheless, this latest episode has once again shined the spotlight on the long-established link between the homosexual lifestyle/movement and pedophilia—a link that, despite 'progressive' denials to the contrary, is hiding in plain sight."
What percentage of homosexual men prey on underage teen boys?
"... a study published in the left-leaning Archives of Sexual Behavior of over 200 convicted pedophiles and pederasts. It found that "86 percent of offenders against males described themselves as homosexual or bisexual." This demonstrates, as notes Peter Sprigg of the Family Research Council, that 'homosexual or bisexual men are approximately 10 times more likely to molest children than heterosexual men'."
"The connection between homosexual abuse and gay identity is undeniable. Although clearly not all gay-identified men and women abuse children or were abused as children, the verifiable reality is that an alarmingly high percentage of them do and were. As with most forms of abuse, the cycle is both circular and vicious. Born that way? Not so much. Made that way? Sadly, it appears so."
"But of equal concern is the fact that many of the most prominent LGBT activists across the globe have either overtly endorsed or given their implicit approval of what the left euphemistically calls 'intergenerational intimacy' (read: child rape)."
President Obama's administration cannot be counted upon to protect young children from these gay predators. The President has appointed a hungry fox to protect the henhouse!
"A teacher was told by a 15-year-old high school sophomore that he was having homosexual sex with an 'older man.' At the very least, statutory rape occurred. Fox News reported that the teacher violated a state law requiring that he report the abuse. That former teacher, Kevin Jennings, is President Obama's 'safe school czar'.'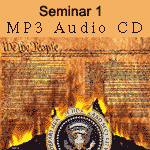 In Seminar One, "America's Leadership of the New World Order", we show what the situation was on the streets of Sodom that day the angels came to Lot's house. The men and young boys surrounded Lot's house, demanding he send the angels outside so they could have sex with them. Let us review the pertinent Biblical account.
The angels had entered Lot's house to stay the night and had just enjoyed dinner with Lot and his family:
"... before they lay down, the men of the city of Sodom, both young and old, all the men from every quarter, surrounded the house. And they called to Lot and said, Where are the men who came to you tonight? Bring them out to us, that we may know (be intimate with, have sex with) them." [Genesis 19:4; Parallel Bible, KJV/Amplified Bible Commentary]
From this passage, we can see that the young boys and old men surrounding Lot's house fully expected to have public gay sex with the angels in Lot's house! In America even today -- even though our Supreme Court has legalized Sodomy -- it is illegal for any couple to engage in public sex, whether heterosexual or homosexual. We have laws against public sex, but Sodom evidently did not, for the gay men surrounding the house showed no fear of arrest. They were bold to the point of being brazen.
We can blame "sex researcher" Dr. Kinsey for this explosion of sexual sin in America today. "The Kinsey Reports" have been used to change the laws concerning sex crimes in America, resulting in the minimal sentences so often given to rapists and pedophiles. Further explained is that the Kinsey data laid the foundation for sex education -- training teachers, psychologists and even Catholic priests in human sexuality. What has been the consequence?
Working secretly in his attic, Dr. Kinsey was one of America's original pornographers. His influence inspired Hugh Hefner to launch Playboy Magazine - the "soft" approach to porn - which in time would escalate the widespread use of pornography through magazines, cable TV and the Internet. In 2006 the California Child Molestation & Sexual Abuse Attorneys reported that: "The number of victims of childhood sexual abuse and molestation grows each year. This horrific crime is directly tied to the growth of pornography on the Internet."
Perhaps most disturbing, Alfred Kinsey has been accused of training pedophiles to work with stopwatches and record the responses of children being raped - all in the name of "science.
What is God's response?
"Babylon the great is fallen, is fallen, and is become the habitation of devils, and the hold of every foul spirit, and a cage of every unclean and hateful bird ... For her sins have reached unto heaven, and God hath remembered her iniquities. " (Revelation 18:2, 5, KJV)
God is taking notice and preparing history's greatest judgment upon the United States of America. "Her sins have reached unto heaven, and God hath remembered her iniquities. "
Reach out aggressively to all your friends and loved ones not yet saved, warning them of God's wrath to come. God counsels "Come out of her, my people, that ye be not partakers of her sins, and that ye receive not of her plagues."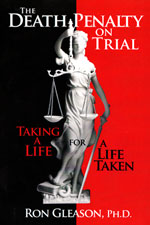 III. After a criminal did not immediately die during his execution, death penalty opponents instantly sprang to the attack, arguing that America must eliminate Capital Punishment.
NEWS BRIEF: "Botched Oklahoma execution reignites death penalty debate", The Washington Post, April 30, 2014
"Tuesday night's botched execution in Oklahoma, which resulted in an inmate's writhing death from a heart attack 43 minutes after he received what was supposed to be a lethal injection, was just one in a series of bungled execution attempts the past few years. It's prompting calls for a moratorium on capital punishment from death penalty opponents."
As Americans moved right-ward in many of their views -- especially concerning firearms -- they moved right on the subject of the Death Penalty. During the days of President William Clinton, death penalty opponents seemed to have the upper hand. Now, we are going to hear a lot of rhetoric concerning the efficacy of the Death Penalty.
Historically, opponents of the Death Penalty have based their objections on two issues:
1) Death Penalty is barbaric -- one always has to ask whether the victim's death was even more barbaric. Considering the steps the states take to ensure that the poor murderer did not suffer, you can safely assume that, in the vast majority of executions, the perpetrator suffered a lot less than his poor vicitim.
2) Death Penalty does not deter crime -- did you know that God never intended for the death penalty to deter crime?
In fact, since God created the punishment of death for certain crimes, we must look in the Bible for our answers. First, let us answer the criticism that the death penalty does not deter crime.
In Deuteronomy 13:5, God tells us in the last sentence what the purpose of the Death Penalty is in Israel's judicial system -- "So shall you put the evil away from your midst". God repeats this reason for establishing the Death Penalty, in Deuteronomy 22:21, "So you shall put away the evil from among you". And again in Deuteronomy 22:23, "So shall you put away evil from among you." And again, in verse 24, "So shall you put away evil from among you."
In other words, God never intended the Death Penalty to be punishment or deterrance; He intended the Death Penalty to rid society of the severe offender once and for all, so he could never commit crime against society again, or against any member of that society. God also never intended for the Death Penalty to "deter" crime, but only to rid society of that criminal forever. Remember that the next time you hear a debate on the Death Penalty. For too long, we Christians have allowed opponents of the Death Penalty to define the terms of the national debate, and we actually find ourselves on the defensive when this spurious argument against the Death Penalty is raised.
God's original intention was to permanently remove the criminal from society! This penalty permanently removes from society those criminals who would kill again, and again, and again.
Now, let us examine the crimes God considered so heinous that the guilty must die.
Crimes for which God decreed the DEATH penalty:
* Incest.-- Lev. 18:6-16.

* Sexual relations with an in-law. -- Lev. 18:12-16.

* Sexual relations with a neighbor's wife. -- Lev. 18:20.

* Sacrificing children in a religious ceremony. -- Lev. 18:21.

* Homosexuality. --Lev. 18:22; 20:13.

* Bestiality. -- Lev. 18:23; 20:15-16.

* Cursing father and mother. -- Exodus 20:17; Lev. 18:9.

* Anyone who is a medium and has a familiar spirit, or is a wizard. -- Lev. 20:27.

* Murder. -- Exodus 21:12.

* Anyone who kidnaps another person. -- Exodus 20:16.
We present these Scriptures so you may comprehend how God views the Death Penalty and how He plans on punishing for these sins. Interestingly, most Americans today would not view any of these sins as being serious enough to warrant the death penalty. All Christians who are opposing the Death Penalty on the supposed basis that it is not Christian need only to remember that Jesus Christ never did remove the Moral Code of the Old Testament. In fact, He upheld it, saying, "Think not that I am come to destroy the law, or the prophets: I am not come to destroy, but to fulfil. For verily I say unto you, Till heaven and earth pass, one jot or one tittle shall in no wise pass from the law, till all be fulfilled." [Matthew 5:17-18] Christians who are currently opposing the Death Penalty need to further understand that they are playing directly into the hands of the New World Order Plan, in addition to fighting God!
America is not dealing with its criminals as God demands. What happens to a nation whose leaders consistently refuse to carry out God's commands regarding punishment for these crimes listed above?
After much warning,. God will carry out the death penality against the entire nation. Listen:
Jeremiah 12:17 -- "But if any nation will not hear and obey, I will utterly pluck up and destroy that nation, says the Lord." [Parallel Bible, KJV/Amplified Bible Commentary] The wording in the original Hebrew of this verse is that of a gardener plucking up a weed by the entire root system to destroy it. God has regularly destroyed nations in this most thorough manner in history, and will do so again in the near future.
Jude 14b-15 -- "Behold, the Lord comes with His myriads of holy ones -- ten thousands of His saints; to execute judgment upon all, and to convict all the impious (unholy ones) of all their ungodly deeds which they have committed in such an ungodly way, and of all the severe -- abusive soul-jarring -- things which ungodly sinners have spoken against Him." [Parallel Bible, KJV/Amplified Bible Commentary]
Our souls are jarred within us when we hear of the most vile sins being committed in our society today. Our souls are jarred within us when we hear people blaspheming Jesus Christ by lying from the pulpits and from the TV ministries that pollute our precious land. Like Lot, whose righteous soul was terribly distressed by all the sin and moral corruption he witnessed daily, our souls are terribly abused and jarred.
Psalm 104:35 , "Let the sinners be consumed out of the earth, and let the wicked be no more." This is the bottom line goal of the entire Book of Revelation. God is going to rid the Earth of all sinners, using the four weapons of military destruction, famine, pestilence, and wild beasts.
These Biblical quotes of national destruction bring us back to our earlier discussion of Revelation 18, where God carries out the Death Penalty on America! Time is short and God's judgment draws close.
Warn the lost. Warn the wicked. Warn your loved ones! Soon, the Age of Mercy and Grace will be past.
---

Against All Odds Israel Survives
6 DVD set - Run Time: 9 hours
How does Israel survive against all odds? Modern-day Israel is truly a divine wonder of the current age. How has it triumphed through four major wars and survived relentless terrorist attacks? Meet the actual people who lived through what can only be described as miracles of Biblical proportions, and share their remarkable stories.
Miracle 1 - The Assignment; Miracle 2 - Miracle at Michmash; Miracle 3 - Shula: The Girl Who Became a Spy; Miracle 4 - The Miracle of Survival: Hitler and the Holocaust;Miracle 5 - A Boy Named Ezra; Miracle 6- The Miracle of '48; Miracle 7- 1967!; Miracle 8 - A Warrior Named Kahalani; Miracle 9 - The People of the Book Come Home; Miracle 10- A Place of Miracles?; Miracle 11- Myth or Miracles?; Miracle 12- Rescue at Entebbe; Miracle 13- In Search of a Miracle.
ORDER NOW -- Watch Dynamic Trailer
---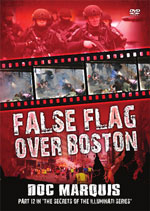 False Flag Over Boston"
New DVD by Doc Marquis
Volume 12 of 'Secrets of the Illuminati' Series
No one should doubt for a minute that the Boston Marathon was a 'False Flag' event carried out by the Illuminati. On April 15, 2013 multiple explosions at the 'Boston Marathon Race' killed and injured hundreds; was this just another 'jihad by some radical Islamic group' or, is there more to what happened at Boston than our own government wants us to know?
"Did the Illuminati have a hand in the Bonston Marathon Bombings and, if so, what evidence can be linked to them"?
"Why were runners at the race being told that there would be a "Bomb Exercise" going on before the race even began"?
"Police personal who lived and worked around Sandy Hook mysteriously show up in Boston. Why? They have no jurisdiction there...or do they"?
"What was the secretive, private, civilian military group known as 'The Craft', with their 'Skull cap Logo', doing at the Boston Marathon Bombings"?
These and so many other questions will be answered as Doc Marquis, once again, teams up with his Director Cory Black to unveil the "False Flag Over Boston". Two hours long - http://www.cuttingedge.org/detail.cfm?ID=2618
---
Unique End of the Age Spiritual Warfare

"Doctrines of Demons"
New DVD by Ron Matsen, Koinonia House
The Apostle Paul gravely warned us that one of the unique events alerting us that the End of the Age was upon us was that, suddenly, 'christian' leaders would abandon genuine Biblical doctrines, teaching instead (1 Timothy 4:1).
Satan often relies on deception through disinformation. Disinformation is the intentional misrepresentation of the truth. Therefore, doctrines of demons are creeds that offer counterfeit truths, bold lies passed off as Biblical Truth. Ron Matsen teaches clearly that teachers abound today, teaching doctrines of demons and are deceiving many!
Jesus told us, that, when we see End of the Age prophecy being fulfilled, we were to look up, for our Redemption is drawing nigh! This DVD will enlighten you and give you great encouragement. http://www.cuttingedge.org/detail.cfm?ID=2616
---
---
---
Headline News Articles
Jesus' Triumphal Ride On Palm Sunday - Fulfillment of the Most Precise, the Most Incredible Prophecy In The Entire Bible!
When Jesus fulfilled this prophecy, He stamped "Valid" on His entire Messianic ministry and office. But, sadly, most people have never, ever heard of this wonderful prophecy -- certainly not from our pulpits!
D.A.R.P.A. IS FUNDING AN IMPLANTABLE CHIP FAR MORE ADVANCED THAN"DIGITAL ANGEL"! M.M.E.A. - MULTIPLE MICRO ELECTRODE ARRAY IS SO ADVANCED IT CAN FULFILL REV 13:16-18! Part 1 of 5
We explain the actual science of MMEA in this article so you can see how all humans on earth can be completely controlled by this implantable chip! Emotions - fear, euphoria, depression -- plus pleasure and pain, can be controlled and even caused, by R.F. (Radio-Frequency signal)! Silent, large funding is occurring that soon will be ready for "The Christ" to use once he arises. RFID is just the "tip of the iceberg".[For full details of D.A.R.P.A., read NEWS1739]
D.A.R.P.A. IS FUNDING AN IMPLANTABLE CHIP FAR MORE ADVANCED THAN"DIGITAL ANGEL"! M.M.E.A. - MULTIPLE MICRO ELECTRODE ARRAY - Part 2 of 5
The funding source always reveals the ultimate goal the Illuminati has in mind for this human implantable chip. America is leading the way to establishing the greatest, most repressive global dictatorship imaginable, one that will fulfill Bible prophecy of the "Mark of the Beast".
M.M.E.A. - MULTIPLE MICRO ELECTRODE ARRAY IS SEEN BY OCCULTISTS AS "TRANSCENDENCE", A MEANS BY WHICH MANKIND SHALL MAKE THAT "PARADIGM JUMP" IN CONSCIOUSNESS TO BECOME GOD! - Part 3 of 5
"The Brain Machine Interfaces Program will create new technologies for augmenting human performance through the ability to noninvasively access codes in the brain in real time and integrate them into peripheral device or system operations ... This technology is just another church, a place to worship ... The kingdom of God is within us all, so these technologies are expanding the environment ... God is all powerful love. You can do no wrong when the spirit of love, the Holy Spirit is with you. " ["Technical Jesus"]
M.M.E.A. - MULTIPLE MICRO ELECTRODE ARRAY IMPLANTABLE CHIP -- IS IT JUST ANOTHER "SATANIC INSERT" WHICH HAVE BEEN USED BY COVENS FOR OVER 4,000 YEARS? - Part 4 of 5
Satanists make extensive use of special inserts in a person's body who is in witchcraft, or a person they wish to control. The Biblical Mark of the Beast would be a natural "insert" for the most powerful Satanist witch in world history to use to control the entire population of the world. Stand by for startling insights!
Technology to "buy and sell" with the M.M.E.A. chip is both simple and in use right now! Too many people believe the technology to "buy and sell" with an implantable chip is complicated and that the chip must be updatable -- not true, as you shall soon see!
PROPHETIC ALERT! President Obama Is Quietly Forming The North American Union!
Progress toward forming Supernation #1 of the Club of Rome Plan is suddenly lurching forward.
Daniel 7:7-8 is now rapidly moving toward completion.
This prophecy is the only one in the entire Bible which must be fulfilled before Antichrist can arise!
Is President Obama Going To Make An Announcement Confirming The Existence of Extra-Terrestrials? He has just appointed a "UFO adviser"!
Was Ronald Reagan A Secret Member of the Luciferian Secret Society, The Rosicrucians?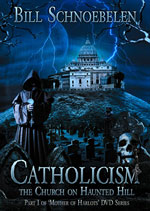 SPECIAL ANNOUNCEMENT
Pope Francis I Preparing To Be The False Prophet Revelation 13:11-18
Your hair will stand on end when you read of the doctrinal heresies and doctrinal reversals initiated by Pope Francis !
"At the proper moment in history, the Pope will visit the combined Jewish/Christian/Moslem sector of Jerusalem to announce that all religions should be combined into one." (Illuminati Plan)
This is the Plan and Pope Francis I is the Man.
BREAKING NEWS JUST IN! Pope Francis has just announced he will visit Jerusalem in May! See details in this article, above.
Abruptly, Significant Progress Occurs In Prophetically Reorganizing All Nations Into 10 Supernations
Prophetic Supernation #9 is forming, with a deadline of December, 2015
South and Southeast Asia (ASEAN) is now coalescing into a single giant nation. When this nation is formed, it will be part of the fulfillment of Daniel 7:7-8
"Gun Control / Seizure Advocates Enter Through Back Door To Achieve Control:
We will pry your gun from your dead, cold fingers" (Lt. Col. Bateman, Homeland Security)".
Shocking Prophetic News: Revelation 18 Prophecy Reveals That America Will NOT Suffer Economic Collapse Until Antichrist Is Here
Subscribe To Headline News For Only $25 per year!
Your faithful support enables us to keep Cutting Edge free for everyone else. Our readers have always loved the indepth correct news analysis found in our "Headline News Analysis".
If you want only to make a donation rather than subscribe to Headline News, simply click on the 'Donation Button' shown to the left and complete the simple form.

---