I truly am concerned that Leftist politicians have held sway over this country long enough that God will begin America's national judgment by causing undiscerning people to come to power.
Let us pray.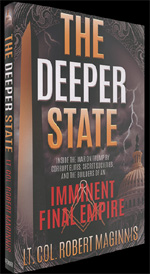 Book
4. As Coronavirus deaths continued to decrease, scientists issued a startling announcement:
* Lockdowns of healthy people does more harm than good
NEWS BRIEF: "WHO Official Warns Against Coronavirus Lockdowns", American Greatness, Oct 12, 2020
"A World Health Organization (WHO) official urged world leaders this week to stop 'using lockdowns as your primary control method' to prevent the spread of the coronavirus."
What? After months of lockdowns and destroyed economies caused by "following the science", as Democrats constantly pronounce, these same scientists are now telling us to not impose severe lockdowns!
"The statement has prompted questions about whether the WHO has backflipped on its advice, after they previously advised against lifting lockdown restrictions too quickly ... Dr Nabarro, the WHO's special envoy on COVID-19 said they should not be used as the primary method of control."
"Nabarro continued to highlight some of the negative global impacts of the lockdowns, noting how poorer economies have been greatly affected:
* "... the tourism industry, for example, in the Caribbean, or in the Pacific because people aren't taking their holidays... "
* "Look what's happened to smallholder farmers all over the world"
* "Look what's happening to poverty levels, it seems that we may well have a doubling of world poverty, by next year"
* "We may well at least have a doubling of child malnutrition because children are not getting meals at school."
* "... remember, lockdowns just have one consequence that you must never ever belittle, and that is making poor people an awful lot poorer."
* Masks also do not work against this virus!
NEWS BRIEF: "CDC Reveals: Most who contracted COVID-19 wore masks", Trending Politics, October 12, 2020
"Without question, the COVID-19 pandemic appears to have become the most politicized virus in the history of America, and for no good reason. As the country struggles to return to some semblance of normalcy – amid ongoing lockdowns and other restrictions after Americans were initially told they would only last two to three weeks – we're still not getting accurate information about the virus."
"For instance, did you know that the Centers for Disease Control and Prevention confirmed in a study published last month that regular use of masks are not doing much good in terms of preventing the spread of the virus."
And, now you know the dangers of "listening to the science"!
Remember, trusted scientists in the Confederate South prior to the Civil War repeatedly stated that science had indisputable evidence that the black man was inherently and forever inferior to the White.
At the same time as Confederate propagandists were asserting the inferority of the black, the Mormon Church was teaching that blacks did not even possess a soul!
Remember, also, Adolf Hitler and his henchmen constantly taught that the Jew was inferior to the Aryan and that they were not human, but rodent, and deserved to die. Science told him so.
Remember these facts the next time you hear Joe Biden preach that he intends to "follow science"!
CDROM
5. Another Leftist lie against President Trump is that a component of his treatment against COVID-19 came from aborted baby tissue!
NEWS BRIEF: "Fact Check: Left Falsely Claims Trump's Coronavirus Treatments Developed Using Fetal Tissue", Breitbart News, 8 Oct 2020
"CLAIM: Leftwing media are claiming the medications President Donald Trump was given to treat his coronavirus infection were developed using fetal tissue from aborted babies.
"VERDICT: False. None of the medications Trump was given involved the destruction of human life."
"The New York Times published a piece Wednesday with the headline, 'The treatment that Trump touted as a 'cure' for Covid-19 was developed using cells derived from fetal tissue'."
"Portraying Trump as a hypocrite, the Times wrote the 'antibody cocktail' the president 'touted on Wednesday afternoon was developed with cells originally derived from fetal tissue, a practice that his administration has moved to restrict."
A spokesperson of the manufacturer of this cocktail drug reacted swiftly to this lying assertion.
"Remdesivir, an antiviral drug Mr. Trump received, also was tested using these cells. '293Ts were used in testing the antibodies' ability to neutralize the virus', said Alexandra Bowie, a spokeswoman for Regeneron. 'They weren't used in any other way, and fetal tissue was not used in the research'."
Independent medical sources agree with the officials at the company producing Remdesivir concurred:
"CLI has reviewed the published information and our conclusion is straightforward: The president was not given any medicines to treat COVID-19 that involved the destruction of human life. No human embryonic stem cells or human fetal tissue were used to produce the treatments President Trump received–period."
Listen to God's words on this subject: "I hate and abhor lying: but thy law do I love." (Psalm 119:163)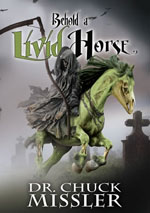 DVD
6. An Israeli research team announced they had created a cocktail drug which not only heals the COVID afflicted, but then creates an immunity which protects against a future occurrence!
NEWS BRIEF: "Israeli 'Corona Cocktail' Provides Covid-19 Immunity", United With Israel, Oct 12, 2020
"Move over, Mr. President, Israeli researchers say their new antibody cocktail to treat and prevent COVID-19 may be more effective that the treatment taken by Donald Trump after he came down with the coronavirus."
How does this treatment work? Notice this is a 'treatment' given to a patient showing signs of COVID-19 infection, not a vaccine given to people showing no symptoms.
"Scientists at Tel Aviv University (TAU) developed the treatment that they say uses natural antibodies that remain stable in the blood. 'Since the antibodies are natural and remain stable in the blood, one injection can protect against COVID-19 for several weeks, or even several months', said Dr. Natalia Freund of the Faculty of Medicine."
""This cocktail was developed naturally by the patients' immune systems ... It turns out that the body's ability to neutralize COVID-19 derives from more than one type of antibody, so that when several antibodies simultaneously attack the virus, the cocktail is effective in neutralizing the coronavirus."
Great news! Now, Americans can safely vote on November 3, without having to worry about getting COVID-19. Mail-in ballots are no longer necessary.
And, for crying out loud, the Democrats can stop appearing in public with face masks who do not work, after all! This news destroys the pandemic propaganda!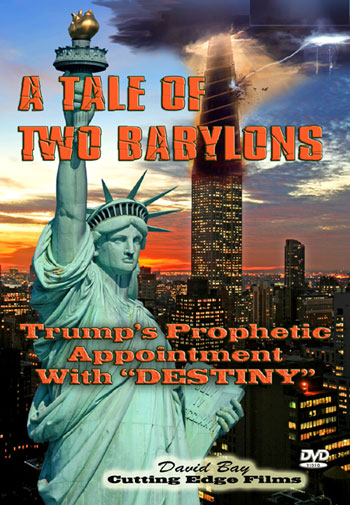 DVD
7. President Trump continues building his record of success with the African American community!
NEWS BRIEF: "President Trump builds on his record with Black Americans: Platinum Plan will raise economic tide", by Addul Ali ,The Charlotte Post, October 13, 2020
"I know we've all heard the saying that 'this is the most important election of our lifetime', and I genuinely believe that the 2020 election is the most important in the history of our country."
"President Trump is now launching his Platinum Plan to ensure opportunity, security, prosperity, and fairness for Black Americans moving forward. He is committing $250 billion to create an era of new prosperity for Black communities throughout the country, and he is promising to build on the First Step Act with new legislation. President Trump has provided so much for us, and he's not stopping anytime soon."
But, the best is yet to come for black Americans -- if Trump is re-elected:
"President Trump is now launching his Platinum Plan to ensure opportunity, security, prosperity, and fairness for Black Americans moving forward. He is committing $250 billion to create an era of new prosperity for Black communities throughout the country, and he is promising to build on the First Step Act with new legislation. President Trump has provided so much for us, and he's not stopping anytime soon."
It is always much more effective to raise citizen's income by granting him / her a new job than to give them a pittance from government, which can never provide the higher level of pay than the Private Enterprise job. Jobs are more effective than welfare!
This author then concludes:
"I am Black and Hispanic, I am a veteran, and I am a Republican. I will be voting for Donald Trump on Nov. 3. Not just because of the economy, not just because of the restoration and modernization of the United States military, not because of the historic peace deals in the middle east or Europe but because Donald J. Trump is the only thing in the way of America becoming the next Cuba or Venezuela."
How do Americans view their economic status right now?
NEWS BRIEF: "Poll: 56% Americans Say They Are Better Off Now Under Trump Than Four Years Ago Under Obama-Biden", Breitbart News, 8 Oct 2020
"A solid majority of 56 percent of Americans say they are better off now than they were four years ago, a new Gallup survey reveals. Only 32 percent say they are worse off than four years ago. The number is, as Fox News's Laura Ingraham noted on Thursday night, 'the highest Gallup has ever recorded'."
"The question represents an interesting gauge of support for an incumbent president facing reelection as it asks, generally speaking, if the respondent believes their life has improved during the first term of the president asking voters for a second term."
Shockingly enough, even Joe Biden acknowledges that people should vote Trump:
NEWS BRIEF: "Biden: Voters Who Think They're Better Off under Trump 'Probably Shouldn't' Vote for Me", Breitbart News, Oct 12, 2020
"During an interview with Cincinnati's WKRC Local 12 on Monday, 2020 Democratic presidential nominee former Vice President Joe Biden stated that if people think they're better off today than they were under the Obama-Biden administration, 'their memory is not very good', and 'they probably shouldn't' vote for him."
There you have it: if you believe that your economic situation is better off than it was four years, go, even Joe Biden says vote Trump!
Spread the Word!
BREAKING NEWS -- "Small Business Optimism Soars to Prepandemic Levels", Breitbart News, 13 October 2020
"It's all the way back. Optimism among small-business owners climbed higher in September to prepandemic levels ... Expectations for sales also improved and more owners said now is a good time to expand."
America is on her way to achieving the kind of economic wealth for her people that we see in Revelation 18:7)!
And, Trump is the President to take us there.
---
New Item Book Report
"Communism is Collective Demon Possession"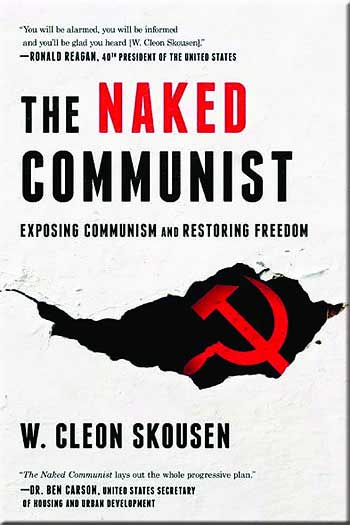 "The Naked Communist: Exposing Communism & Restoring Freedom"
Book Update of 1958 - Paperback by W. Cleon Skousen
NEWS BRIEF: "Compare Original '45 Goals Of Communism' To Modern Woke Crusade: From "Naked Communist", Canada Free Press,
"Have you ever wondered what the precursors to the current goals of protesters and radicals demanding defunding police departments across America? Also, their crazed goals to pull down all historic statutes – even Mt Rushmore? And as US Reps AOC and Ilhan Omar demand destruction of capitalism, haven't you wondered where such unhinged and universally disastrous ideas came from?
"Well, there's an actual source for such catastrophic, ruinous policies…World Communism. And on Thursday, January 10, 1963, a list of 45 Communist Goals were offered for the record that were argued to help take over USA. These were read into the Congressional Record, taken from a book called 'The Naked Communist'," by Cleon Skousen (On Sale, above)
While Skousen lists 45 goals which Communists plan to achieve in any non-Communist country, we shall just list the most important 10:
1) Normalize Revolt -- "Create the impression that violence and insurrection are legitimate aspects of the American tradition"
2) "Cancel the Police"
3) "Dismember the Family"
4) "Infiltrate Schools With Leftism"
5) "Pervert the Press" - Take over the Mass Media
6) "Media Blockade ... "Gain control of key positions in radio, TV, and motion pictures."
7) "Demolish the Founders"
8) "Condemn the American Experiment" -- ""Belittle all forms of American culture and discourage the teaching of American history."
9) Big Business Now Intimidated - ""Infiltrate and gain control of big business."
10) " Cancel the Constitution"
These are only 10 of the 45 Communist goals reported in this book, "The Naked Communist"! I find it highly offensive that such a Satanic failure system could erupt so strongly in America!
Read this book, pass on the warning: "The warriors are at our gates, threatening to break them down! Now is the time for all good men to come to the aid of our country." Now is also the time for mature Christians who know their Bible prophecies to warn people to repent of their sins through Jesus' shed blood on Calvary.
God has placed us here to warn others. Listen:
"But if the watchman see the sword come, and blow not the trumpet, and the people be not warned; if the sword come, and take any person from among them, he is taken away in his iniquity; but his blood will I require at the watchman's hand. So thou, O son of man, I have set thee a watchman unto the house of Israel; therefore thou shalt hear the word at my mouth, and warn them from me." (Ezekiel 33:6-7, KJV)
We are all "Watchmen on the Wall", being able to uniquely see through the din of turmoil to the approach of God's judgment upon a prosperous America as foretold in Revelation 18:7-8.
Christian, stand strong, as the fields are white with fruit!
432 Pages -- https://www.cuttingedge.org/detail.cfm?ID=2926 -- Only $26.95