SEE TRAILER FOR MAGNIFICENT ADAM'S WALL CHART
Perfect For Homeschooling or Sunday School
"Adam's Synchronized Chronology of Ancient, Modern, and Biblical History"
Unfolds To 25ft Wall Map - Watch the demo above.
Available Two (2) Ways: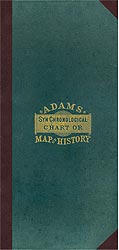 1) Old-fashioned Map Ledger Binder holds the beautifully illustrated panel which unfolds to 25 feet.
The Map Ledger permanently protects the Wall Chart and this was the way in which this chart was originally introduced in 1871.

On Sale!
Regularly $37.99 - On Sale For Only $29.99 - You Save $8.00
http://www.cuttingedge.org/detail.cfm?ID=1618
2) Wall Chart Only, Without Ledger

On Sale!
Regularly $27.99 - On Sale For Only $21.99 - You Save $6.00!
A vintage reproduction of this famous illustrated time-line of Earth history, first published in 1871. Fold-out chart features detailed, full-color drawings of various stages of world history, from Adam and Eve to the late 19th Century, with handwritten commentary throughout.
Chart holds to Biblical dates and events.
Perfect for educational settings, Homeschooling, Sunday Schools, churches. Even includes the descriptive booklet originally published with the chart
Follows James Ussher's time-line from 'The Annals of the World', the inspiration for this monumental 'Adam's Synchronized Chronological Chart, Map History'
Discover ancient cultures like the Assyrians, Babylonians, Persians, Greeks, and more! Delight in the mysterious Seven Wonders of the World, learning where they once stood. Get the BIG PICTURE of world history and discover how it all fits in nicely with the Biblical Worldview. You can have a library of information at your fingertips - http://www.cuttingedge.org/detail.cfm?ID=1619
---

Special Subscription Promotion
For Only $25, You Get $45 Back!
For a limited time, you can now renew your subscription to Headline News for the minimum $25, and receive a FREE CDROM containing:
1) Cutting Edge website on CDROM - the entire website ( a $25.00 value)
PLUS
2) Cutting Edge Seminars 1 and 2 in MP3 format. We consider these seminars to among the best of all the CD's we carry, and will one day soon produce them in video.
Seminar 1 -- "America's Leadership of the New World Order"
Seminar 2 -- "America Determines The Flow of History" -- NOTE: My work on this seminar started Cutting Edge on the road to produce "Secret Mysteries of America's Beginnings" videos. These two seminars on CDROM is a $19.99 value, but is yours free once you subscribe or renew your subscription. Simply click on the above banner and you will be taken to the Subscription Area.
Therefore, the total value on one CDROM which you get when you subscribe for at least $25 is $44.99! You receive more than you give!
---
---------- This Weeks Hot News ----------

I. The Bush Administration sets the Annapolis Peace Conference for November 27-28!
Incredibly, 11/28 is the one date in November, this year, in which the intervening days between the last 30-year event adds to a '22'. For details on this incredible "Unseen Hand" controlling the life of Modern Israel, read NEWS2252, "The Annapolis Peace Conference Is Reported To Be Held November 27-28, Precisely Conforming To The Illuminati Record of creating a major event every 30 years, and always in November".
I have long ago learned that there is no such thing as "coincidence". As President Franklin Roosevelt once said: "If an event happens, you can be sure it was planned".
NEWS BRIEF: "The Annapolis Summit: A 24-hour summit", The Baltimore Sun, November 21, 2007
"The recent past has complicated the prospects for significant developments at a 24-hour summit. It also means that progress will depend on input from more than Israeli and Palestinian leaders. The RSVPs aren't in yet, but prominent Arab neighbors and European leaders must attend and be willing to contribute to an overall agreement. And the Bush administration has to exert some leadership to push the dialogue and goodwill commitments forward."
The Bush Administration is now officially sending out invitations.
NEWS BRIEF: "Nearly 50 Parties Invited to Mideast Peace Talks Tuesday in Annapolis", By Glenn Kessler, Washington Post Staff Writer, The Washington Post, November 21, 2007
"The State Department formally announced last night that the United States has invited representatives of nearly 50 countries and institutions -- including Saudi Arabia and Syria -- to sit down with Israelis and Palestinians in Annapolis on Tuesday in a conference designed to kick-start substantive peace talks in the region. The conference at the U.S. Naval Academy will be 'a signal opportunity' to launch bilateral negotiations between Israel and the Palestinians, Assistant Secretary C. David Welch told reporters, noting that it comes after 'a long period in which there have been no such negotiations'."
"Welch stressed that broad international backing is important to give the revived peace talks momentum ... U.S. officials believe Arab participation at a senior level is essential to help Abbas during the negotiations, especially in countering claims from extremists that he is making too many compromises. The militant group Hamas took control of the Gaza Strip in June, leaving Abbas in charge of only part of the Palestinian territories. Arab participation is also important to Olmert as he fends off attacks from the Israeli right and tries to demonstrate to his people that progress with the Palestinians will result in diplomatic ties with their Arab neighbors."
This final segment shows that the Annapolis Summit will likely end on Wednesday, November 28.
"The conference will formally open Tuesday with speeches by Bush, Olmert and Abbas, and will include a meeting of the three men. Then Bush will hold bilateral talks with Abbas and Olmert back in Washington on Wednesday."
Thus, the conference is planned to end November 28.
The time lag between the third major event in the 30-year cycle (11/19/1977, when Egypt's Sadat signed a Peace Treaty with Israel) and this November 28 meeting in Annapolis, is exactly 10,966 days, which when added together, equals '22'. This is the third interval in the 90 years since the 1917 Balfour Declaration which has added to '22'. We are having a math professor from a local college calculate the odds against this happening by accident.
Interestingly, the Calendar Calculator shows that the total number of days from the Balfour Declaration (11/2/1917 and this Annapolis Summit (11/28/2007) equals 32,898 days, which is almost 33,000. Cutting Edge has reported on many occasions that the number "33" is the most sacred number in the realm of the Occult (Read NEWS1766, for full details).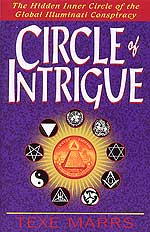 DVD
II. Remember the cardinal rule of high-level international conferences: No negotiations ever occur during the conference, for all negotiations have already occurred.
No major world leader wants his reputation tarnished by a failure at such a conference. Therefore, the fact that President Bush and other major world leaders have committed to attending this conference means that all details have already been worked out so that all that has to happen is for a semblance of tough negotiations to be staged and then the grand announcement made.
Right on cue, as the time drew near for the Peace Summit to convene, Israeli and Palestinian leaders suddenly found common ground.
NEWS BRIEF: "Momentum builds for Mideast peace summit: Israeli and Palestinian leaders are pedaling toward peace with an energy that has not been this palpable in more than seven years", The Christian Science Monitor, November 21, 2007
"Jerusalem - Israeli and Palestinian leaders are pedaling toward peace with an energy that has not been this palpable in more than seven years, when talks at Camp David broke off ... On Tuesday, Egypt's president, Hosni Mubarak, gave his support for a peace summit scheduled for next Tuesday in Annapolis, Md., after he met with Israeli Prime Minister Ehud Olmert in Sharm el-Sheik, Egypt. On Friday, Arab League delegates meet to develop a unified front ahead of the talks."
What is really happening is that all invited parties are now meeting to ensure that they understand their role in the scripted events about to unfold. Remember, the skill of the propagandist is to make events which have been deliberately planned to unfold in such a manner as to convince the undiscerning people of the world that they are accidentally unfolding.
Egyptian President Mubarak "let the cat out of the bag" as far as the real goal of the Annapolis Summit.
""I look forward to [the conference] leading to the launching of serious peace negotiations which deal with all final status issues in a defined time frame and according to an agreed follow-up mechanism," Mr. Mubarak said Tuesday." (Ibid.)
While I do not expect a Palestinian State to be formed at Annapolis, I do expect that a declaration will be made which shall make a Palestinian State inevitable -- a "done deal". Historians will tell you that the 1917 Balfour Declaration made it inevitable that Israel would come back to her land, even though it did not accomplish that feat immediately. Similarly, the United Nations vote on 11/29/1947 did not actually establish Israel, but set a transition period in motion so Israel could have six months transition to properly set a modern state in motion.
Likewise, Israeli and Palestinian leaders have talked about a 6 month transition period following Annapolis. This period of time would give the Palestinians time to form their new government.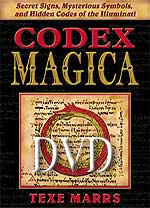 III. STRATFOR Intelligence is reporting that Pakistani President Musharraf transferred control of his nation's nuclear warheads to American control - in late 2001!!
Pakistani militants are going to be outraged if this story can be confirmed, for they will now view Musharraf as a traitor to the entire Islamic cause -- he sold out the most precious achievement of the Islamic peoples to the hated American Infidel, the "Great Satan"!
NEWS BRIEF: "Pak nukes already under US control", by Chidanand Rajghatta, The Times of India, 20 Nov 2007
Video Showing TV Announcement of American Control of Pakistan's Nukes
"WASHINGTON: Pakistan's nuclear weapons are already under American control even as analysts are working themselves into a lather on the subject, a well-regarded intelligence journal has said. In a stunning disclosure certain to stir up things in Washington's (and in Islamabad and New Delhi's) strategic community, the journal 'Stratfor' reported on Monday that the 'United States delivered a very clear ultimatum to Musharraf in the wake of 9/11: Unless Pakistan allowed US forces to take control of Pakistani nuclear facilities, the United States would be left with no choice but to destroy those facilities, possibly with India's help'."
I well remember that, in November - December, 2001, Pakistan and India were edging carefully to the precipice of atomic warfare. However, cooler heads prevailed and the countries backed away from nuclear conflict.
In retrospect, I wonder if this very real threat of nuclear war was actually designed to hide the fact that Pakistani President Musharraf was in the process of handing control of his nukes to the Americans? The nuclear confrontation between India and Pakistan made no sense whatsoever at the time.
Let us now return to this featured article:
" 'This was a fait accompli that Musharraf, for credibility reasons, had every reason to cover up and pretend never happened, and Washington was fully willing to keep things quiet', the journal, which is widely read among the intelligence community, said."
In past weeks, Musharraf and other Pakistani leaders have warned that, if militants gain control over Pakistan, then militants would possess nuclear weapons. This, also, is probably a ruse. If Pakistani militants really ever became convinced that President Musharraf really did hand control of his country's nuclear arsenal to the United States, they would have no difficulty inflaming the patriotic passions of the vast majority of Pakistani citizens against Musharraf.
Musharraf would suddenly face a citizenry so outraged that all the loyalty of all the soldiers and generals in the Pakistani military could not save him.
In fact, the passions of the entire Islamic world could quickly rise to conflagration levels, because the entire 1.4 billion Muslims have always looked upon the Pakistani nuclear capability as a real source of pride. Only Pakistan, out of all the other Islamic nations in the world, developed nuclear weapons.
If the average Muslim throughout the world became convinced that Musharraf betrayed Islam in this manner, we might see an explosion the likes of which no one can imagine. Poor Musharraf and his complicit generals could be hanged in a fortnight!
For this reason, you can expect all sorts of denials from all levels of governments, from Pakistan to the United States.
IV. The Pentagon is actually demanding maimed soldiers who have lost body parts in combat to repay a portion of the $30,000 bonus which they were paid when they enlisted!
As I can testify to, having spent almost 4 years in U.S. Army Intelligence, this story reveals the true nature of the heart of the generals and admirals and presidents running the American military machine. They do feel that the average soldier is just "cannon fodder".
One New Age author stated this view quite simply: "A woman with a newborn baby is too starry-eyed to see a wealthy man's cannon fodder or a cheap source of slave labor." [Cooper, "Behold A Pale Horse", p. 63]
Now, let us examine this terribly sad news.
NEWS BRIEF: "Wounded Soldier: Military Wants Part Of Bonus Back", KDKA TV News, November 19, 2007
"PITTSBURGH (KDKA) - The U.S. Military is demanding that thousands of wounded service personnel give back signing bonuses because they are unable to serve out their commitments. To get people to sign up, the military gives enlistment bonuses up to $30,000 in some cases. Now men and women who have lost arms, legs, eyesight, hearing and can no longer serve are being ordered to pay some of that money back."
Of all the trillions of dollars which Presidents Eisenhower through the current Bush have wasted on so many projects and wars, it is inconceivable that the Pentagon now would be attempting to force soldiers who have already sacrificed the normalcy of the rest of their lives to pay some of the bonus money back.
After all, the only reason that these wounded and maimed soldiers can no longer "fulfill their time commitments" is because they were wounded and maimed by enemy soldiers whom they faced bravely on the battlefield!
The next time you hear President Bush, or Vice President Cheney, or a general extol the virtues and the sacrifices of the brave American soldier, remember that their own hearts are as black as coal. As the above New Age quote reveals, these Global Elitists really care nothing about the soldiers that serve. These leaders are globalists anyway, silently pursuing a global agenda which plans on ending America's sovereignty very soon!
In researching the health disaster of Depleted Uranium poisoning, in which our leaders knowingly used weapons which they knew would end up killing over 90% of our brave soldiers, I heard one lifetime Army officer lament that in the sight of top generals, soldiers were just "throw away" men - disposable human beings.
Now, you know the truth, for this news story reveals the true heart of the top leaders of The Pentagon -- and the White House for that matter.
Extremely sad, but true, our leaders are members of the "Brotherhood of Darkness"
V. As the American Dollar continues to plummet, people need to realize that the Plan is to dissolve the currency and replace it with the Regional NAFTA currency, the Amero.
In fact, regionalization is a key interim step toward the ultimate goal of the Global Dictatorship of the Masonic Christ, and their plan will completely fulfill Bible prophecy!
Josef Stalin verbalized this part of the Illuminati Plan in 1936! Stalin said that Regionalization of nations had to occur before the final dictatorial world government could be established. Listen:
NEWS BRIEF: "Prime Minister Steven Harper could stop the North American Union", Judi McLeod, Canada Free Press
"The regionalization (consolidation) of the world is quite similar to the three-stage plan outlined by Stalin at the 1936 Communist International. At that meeting, the official program proclaimed: 'Dictatorship can be established only by a victory of socialism in different countries or groups of countries, after which there would be federal unions of the various groupings of these socialist countries, and the third stage would be an amalgamation of these regional federal unions into a world union of socialist nations."
McLeod then stated the obvious: "The third stage is taking place right now as we in the United States of America become part of a federal union, the North American Union, which will in the near future become part of a worlds union of socialist nations."
The European Union was an earlier step in regionalizing the governments of the world prior to the establishment of the final Global Dictatorship. The goal is a 10-nation reorganization which shall be modeled on the Fascist system, not the Socialist/Communist. We noted the 10-nation global reorganization all the way back in June, 1996, in NEWS1002, "The Rest of The Story About NAFTA".
These are the 10 Super Nations of the world organized between December 31, 1992 and the end of 1996; all newly-created superstates were established as economic unions and all planned to gradually change to political unions.
1. North America (NAFTA)
2. Western Europe
3. Japan
4. Australia, South Africa, and the rest of the market-economy of the developed world.
5. Eastern Europe, including Russia
6. Latin (South) America
7. North Africa and the Middle East
8. Tropical Africa
9. South and Southeast Asia
10. China (Eduard Pestel, "Mankind At The Turning Point", Reader's Digest Books, 1974)
NOTE: This 10-Nation reorganization fulfills the prophecy of Daniel 7:7-8 and Revelation 17:12-17. All these new supernations were originally established between 1992-1996, with the exception of Japan and China, of course, and they were all established as Economic Supernations.
As the European Union reaches its final stage of the changes needed to turn that regional economic nation into a political entity, NAFTA is beginning this transformation. One of the most important changes is in the currency, and the AMERO is waiting in the wings. I suspect that the AMERO will initially be offered as part of a "Basket of Currencies", just as the EURO was initially established. In other words, a person and a company could elect to do business the old-fashioned way, by using their nation's existing currency -- Mexican Peso, Canadian and American Dollars -- or they could do business with the AMERO. Since the value of the AMERO will be fixed and will never fluctuate, commodities like oil could be bought by the AMERO, thus bringing prices down significantly.
The AMERO could be established well before the political apparatus establishing NAFTA as a real government is established. In fact, introducing the AMERO might well be one of the earliest steps.
With all this as background, let us review an article which demonstrates how inevitable the formal organization of NAFTA into a political country truly is.
NEWS BRIEF: "North American Union 'a couple years away': Bilderberg author who 1st exposed plot in 1996 sees EU replication as imminent", World Net Daily, November November 19, 2007
Before we get into the meat of this article, let us talk briefly about how correct the subtitle is: "sees EU replication as imminent". This statement is exactly correct! The original Plan is for every supernation in the 10-Nation global reorganization (above) which is not now a nation in their own right to be first created as an economic giant (Free Trade Zone) and then gradually manipulated into a political nation.
The European Union has been taken down this path, and is nearing the final goal. NAFTA is just now getting started down the political path, having been created as an economic entity in 1993. As NAFTA takes shape as a political nation, the path the E.U. has already trod will be the blueprint for NAFTA. This fact also means that North American leaders will seek to avoid the mistakes and pitfalls through which the E.U. passed.
Now, let us examine this news article:
"The next giant step toward world government will be integration of the U.S., Canada and Mexico in European Union-style merger in the next few years, says the author of a best-selling book on the power of shadowy international organizations promoting the move. 'I would say [it's just] a couple of years away', reports Daniel Estulin, author of 'The True Story of the Bilderberg Group'."
However, the next part of this World Net Daily article totally misses the point:
"Estulin, a Canadian now living in Europe, says the original plans for a North American Union involved the U.S. and Canada as the prime participants. It was motivated primarily by the desire to harvest Canada's abundant natural resources. In his new book, Estulin reveals the first efforts in this plan date back to 1996 when the elite Bilderberg Group first discussed plans for the dismantlement of Canada as an independent nation and proposed its merger – minus Quebec – with the United States into a Greater North America."
This is not true. The plan for NAFTA is really a very old plan, and can be traced back to 1606, to Sir Francis Bacon, as he planned for both a North American union and a South American union (Manly P. Hall, 33rd Mason), "America's Assignment With Destiny: The Adepts In The Western Esoteric Tradition")
In fact, the very name, "America" is said to to have been taken from the god of the Aztecs, Mayans, and Mexicans, Quetzalcoatl.