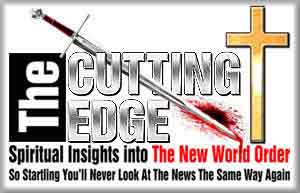 News Alert
Friday, 8/9/2019
HOME - Book Store - Newsletter Archives - Facebook -- Daily News Updates

Read the full most current newsletter online
---

---
Analysis Headline News
1. A most significant "CONVERGENCE" of prophecies is now occurring throughout the world, alerting us that the Rapture is near!
2. A ' Good Guy With a Gun" stops an armed man with 100 rounds of ammunition at a Missouri Wal-Mart!
3. As "Conservatives" Trump, McConnell, Dan Crenshaw support the 'Red Flag" law, remember that one citizen already has lost his life over that law.
4. Did Ambassador to Russian, Jon Huntsman, resign so he could focus on a 2020 primary run against President Trump?
Huntsman is a Mormon darling who has been tagged for some time for a White House campaign.
---





"Grasping the Truth and Direction of the Word of God" DVD
Vol 2 - Are We Building The Kingdom of God?
This DVD contains the second installment of a study of the Kingdom of God that traverses the entirety of Scripture. As the study continues from Disc 1, we will be looking into the Word of God to ascertain the role of todays Christians in the construction of Gods Kingdom.
* We will discuss the New Covenant that God will make with the House of Israel as introduced by the prophet Jeremiah.
* We will then conclude the study in the Old Testament with a summation that lays the groundwork for and foretells of the coming Messiah, King of Israel, that will rule over the entire earth---both Jews and Gentiles.
* The Gospel of Matthew presents Jesus as the King for whom the Jews have long been awaiting
* We will learn of Jesus' bona fide offer of the Kingdom to First Century Israel, their rejection of the Kingdom, and their execution of their King.
* We will traverse a path that reveals the mysteries of the parables into the book of Acts, and ultimately to the Book of Revelation---the book that details the Kingdom of God on Earth.
* We study the misapplication of Scripture, the perverting of Scripture, and the outright redaction of the Inspired Word of God that is leading to a general gross misunderstanding of the Kingdom of God in the Church Age.
This message will prove to be indispensable to your understanding of Jesus' role in the foretold Millennial Reign. Run Time 1 hour 50 minutes.
Only $19.99, Will be shipping July 25 -- http://www.cuttingedge.org/detail.cfm?ID=2912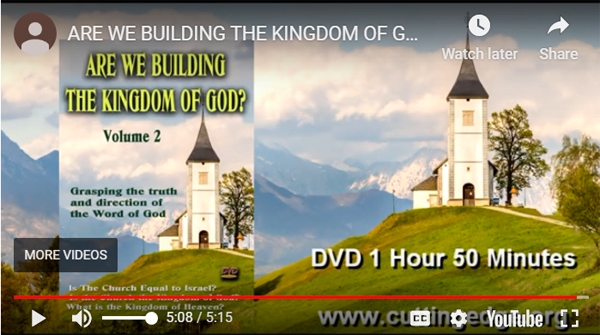 ---
NEW DVD-Are We Building The Kingdom of God? Vol 1 DVD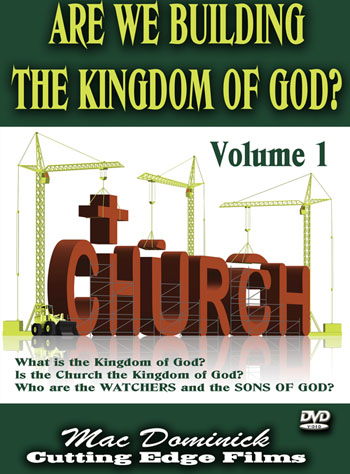 by Mac Dominick
* What is the Kingdom of God?
* Who are the Watchers and the sons of God and how do they fit in with Building the Kingdom of God?
* Are we now living in the Kingdom of God?
* Is the Church the Kingdom of God?

This study begins before Genesis, in Eternity Past, and continues through the Book of Revelation, and will be absolutely critical in maturing your faith at this End of the Age.
Isaiah 9:6-7 is the logical starting point for this study. Jesus Christ is revealed as:
* The coming ruler of World Government.
* His government shall rule from Jerusalem from the lineage of the Throne of David.
* His government shall rule FOREVER.
* He shall be Mighty God.
* He shall rule with eternal Justice and Peace.
* Christians today must focus their gaze upon this final wonderful ruler and His kingdom, because this world is going to have to go through an unparalleled tyrannical kingdom of Antichrist and of God's judgment upon all mankind. No matter how awful events are going to get, remember, you are not home yet!
In the ultimate analysis, who builds God's Kingdom on Earth? Human Church leaders or Jesus Christ?
Only $19.99, 2 hours long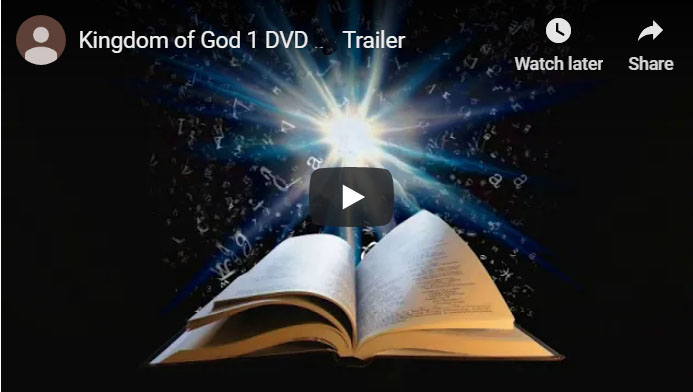 ---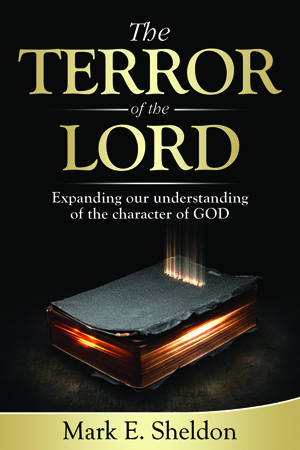 The Terror of the Lord: Understanding ALL of God's Attributes"
Regularly $16.99, Now Only $14.99
The Christian Church has neglected to balance the teaching of Gods love with the equally important truth that He will judge each person who has ever lived. However, the pendulum of emphasis has swung to the side of His love and mercy for a long time.
But the pendulum needs to swing back. Not all the way to a judgmental and legalistic God, but to a balanced expression of His personality. There needs to be a declaration of His terror by those who know Him to those who know Him not. We who know Him are neglecting to warn people of the consequences of taking God too lightly.
Unbelievers have always had a reckless attitude toward God. That is no surprise. But Christians today are doing the same. We are living in an era of self-serving motivations. Even in Christian society, we don't want to lay ourselves down for the good of others. The idea of self-denial has become virtually obsolete. Anything that God would truly have us do we see as an annoying inconvenience. We shun Gods ordained opportunities to be included in His marvelous work of saving lost people from an eternal hell.
Whole congregations attend church Sunday after Sunday without ever hearing words like sin, judgment, and hell. Ministers and leaders teach year after year, never touching on phrases like 'the anger of the Lord' and 'the fear of the Lord'. We teach too lightly, preach too lightly, pray too lightly, and the result is the world takes God too lightly . Even the secular world is noticing this lack of fervor by the church.
The Tennessean newspaper ran a troubling headline on an Easter Sunday morning, way back in 1992. It read: 'Hells Not a Hot Topic Right Now.' Rest assured, Hell is as hot as it has ever been. Its the preaching that has cooled. If preachers wont preach about Hell, who will? If the churches wont warn sinners about Hell, who will?
One of the greatest sermons ever preached was titled 'Sinners in the Hands of an Angry God[', delivered by Jonathan Edwards. Edwards began his sermon with the verse from Deut. 32:35: Their foot shall slide in due time . . . (King James Version). where are these sermons today? Where are these preachers today? As Ravenhill so profoundly stated in his book, Why Revival Tarries: 'We have too many dead men in the pulpits giving out too many dead sermons to too many dead people.'
171 pages, https://www.cuttingedge.org/detail.cfm?ID=2911
Uses only King James Version
---
Critical News Analysis -- End of the Age
1. A most significant "CONVERGENCE" of prophecies is now occurring throughout the world, alerting us that the Rapture is near!
Antichrist's Temple
NEWS BRIEF: "Temple Institute Video Urges Jews to Wake Up And Realize Third Temple Is About To Be Rebuilt", The Jewish Press, August 6, 2019
"The Temple Institute, the center of research and preparation for the third Holy Temple, has released a powerful new video to awaken world Jewry and re-frame the traditional three-week period of mourning into one of preparation for the rebuilding of the Third Holy Temple."
"... The video challenges people's' preconceptions of Tisha B'Av as a day of eternal mourning, evoking Isaiah's promise that the Third Temple is the secret of world peace and harmony and the hope of all mankind"
Notice that, in the minds of Orthodox and Observant Jews, the building of the Third Temple will bring worldwide peace and harmony and hope because the long-awaited Jewish Messiah (Christ) will be the leader ruling from Jerusalem.
But, the New Testament quite clearly foretelling that this Jewish Messiah shall be Antichrist, he who comes in the guise of 'Christ'!
The point is that Israel is being increasingly filled with a spirit longing for their false Messiah to appear.
Unparalleled Lying / Deception
NEWS BRIEF: "America Is Drowning in the Left's Lies About Trump", R&F News, August 6, 2019
"The president of the United States, Donald Trump, never said there were 'fine' Nazis or Ku Klux Klansmen. This is one of the two great lies of our time — the other being that all Trump supporters are racists — and perhaps in all of American history."
"... with regard to the Trump-Russia collusion issue, the news media were never driven by a pursuit of truth; they were driven by a pursuit of Trump."
"A leftist says whatever is necessary to gain power."
Six days a week, I scour headline news from dozens of outlets around the world; and, I tell you now that sometimes, I feel absolutely overwhelmed by the total hatefulness being spread by Leftist politicians (including RINO Republicans) and the Mass Media.
But, why should I be surprised, for Jesus told us in Mathew 24, that unprecedented deception was one of the hallmark characteristics of the coming kingdom of Antichrist, aka, NOVUS ORDO SECLORUM, aka, New World Order?
Listen to our Saviour's prophetic words:
"Take heed that no man deceive you" (Matt 24:4)
"... many false prophets shall rise, and shall deceive many" (Matt 24:11)
"For there shall arise false Christs, and false prophets ... if it were possible, they shall deceive the very elect" (Matt 24:24)
Born Again Christians today, and their pastors, have been forewarned enough that they should know that Jesus is "near, even at the very doors". Yet, the vast majority are thoroughly deceived, and therefore, asleep.
When Jesus warned that "false Christs" would appear and deceive many, He was not talking about religious leaders, as He covers that by saying "false prophets". During Jesus' day, Jews considered the word "Christ" to refer to the political office of the coming Messiah. Therefore, by saying that "false Christs" would be our political leaders! Yet, too many Americans refuse to believe that our political leaders just might be our President, our Congressman, and our Senator!
Listen to other verses warning of unparalleled deception marking the End of the Age.
"Take heed that no man deceive you." -- Jesus, Matthew 24:4
"...many false prophets shall rise, and shall deceive many." -- Jesus, Matthew 24:11
"For there shall arise false Christs, and false prophets, and shall show great signs and wonders; insomuch that, if it were possible, they shall deceive the very elect." -- Jesus, Matthew 24:24
"... after my departing shall grievous wolves enter in among you, not sparing the flock." -- Paul, Acts 20:2
Wars and Rumours of Wars
NEWS BRIEF: "Iran isn't giving up on regional domination", Israel Hayom News, 8-1-2019
"Despite the crippling US sanctions on its economy, Tehran is continuing its efforts to surround Israel with missiles and hostile forces, with a new focus on Iraq."
NEWS BRIEF: "Palestinians resume arson attacks on southern Israel: Incendiary Balloon", World Israel News, August 8, 2019
"A fire that broke out on Wednesday in the Gaza-adjacent Simhoni forest was the result of an arson balloon flown over the Gaza border fence, an arson investigator from the Ashkelon Fire and Rescue Service determined on Wednesday."
NEWS BRIEF: "Pakistan expels Indian ambassador, cuts trade with Delhi", DEBKAfile, August 8, 2019
"Responding to India's withdrawal on Monday of autonomous privileges from the disputed Kashmir region, Pakistan's Imran Khan government Thursday expelled India's ambassador to Karachi, suspended its ambassadorial appointment to Delhi and told its army to remain vigilant."
"... the historic standoff between Karachi and Delhi over Kashmir threatens to erupt again."
The REAL importance of this Indian/Pakistani conflict over Kashmir is the the Chinese road through Kashmir over which the prophetic 200 million soldiers from the"Kings of the East" passes through the province of Kashmir. India is intent on stopping the Chinese from using this road, while China is equally determined to keep this road under Pakistani/Chinese control. (Read full details in NEWS1602)!
NEWS BRIEF: "Iraq: Christians evacuating their villages due to Turkish bombardments", Jihad-Watch News, August 7, 2019
"ERBIL, Kurdistan Region — Around 10 Christian villages in the northern Kurdistan Region have been evacuated due to frequent and increasing Turkish bombings targeting apparent Kurdistan Workers' Party (PKK) positions ... Civilians in the area are living in continuous panic, due to the Turkish bombardments and PKK movements in the areas of Kani Masi," he told Rudaw."
False Messiah Figures [vs 5]
The 20th Century has seen the appearance of so many Messiah-type figures as to stagger the imagination.
Nation shall rise against nation, and kingdom against kingdom
Nation Rising Against Nation, and Kingdom against Kingdom -- this is an idiomatic phrase which defines a conflict started between two local combatants but quickly joined on both sides by allies, thus making the war much larger [vs 7].
World Wars I and II fit this prophecy precisely! And, when World War III hits, the two sides will also come together in just this manner. The alliances are all set, just waiting for the conflict to erupt.
Earthquakes In Divers Places
Famines and earthquakes occurring all over the globe -- once again, this is an idiomatic phrase meaning that famines and earthquakes will occur simultaneously in different parts of the globe [vs 7].
NEWS BRIEF: 'Ring of Fire' hit with 70 earthquakes in just 48 hours",New York Post, August 22, 2018
"Fears are mounting that the catastrophic "Big One" earthquake could rip through California, killing thousands, after 70 quakes rocked the deadly Ring of Fire in just 48 hours. A cluster of 16 'significant' quakes — above magnitude 4.5 — hit yesterday following 53 that shook the region along the disaster zone on Sunday. The earthquakes rattled Indonesia, Bolivia, Japan and Fiji but didn't reach the western coast of the US, which sits on the horseshoe-shaped 'Ring of Fire' fault line."
NEWS BRIEF: "Yemen on brink of 'world's worst famine in 100 years' if war continues", The Guardian, 12/10/2018
NEWS BRIEF: "UK pledges £35m to Afghanistan as food crisis worsens", The Guardian", 1/20/2019
NEWS BRIEF: "Catastrophic Droughts Are Becoming the New Normal in Somalia", The Slate, August 7, 2019
NEWS BRIEF: "More than 113 million people suffer 'acute hunger' globally, UN says", TRT World News, August 2, 2019
NOTE: This list is not meant to be an exhaustive one, but rather a sampling to drive my point home.
Prophecies are fulfilling to the point where the first shot will be fired, beginning the final Tribulation Judgments falling. What did Jesus tell His believers when they see an accumulation of End Times' prophecies?