West's Missile Defense: Propaganda vs Reality
Propaganda -- Lasers: Israel's Rocket Defense? "Six batteries currently are deployed in Iraq." And from the reports I've heard, the Phalanxes are performing rather well, with several confirmed kills"
US to deploy missile interceptors at Japan base: Missiles hitting missile most primitive technology
Reality Is That Israel's Scalar Weapons Technology Provides 100% Effective Rocket Shield Should Israel Choose To Use It -- OBLIVION Book Tells Whole Story, Including Drawings To Demonstrate Effectiveness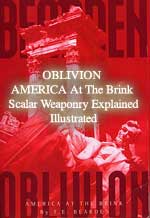 ---
Special Emphasis
Bush Plan To Produce The Masonic "Skull & Bones" Messiah
Entire foreign policy dedicated to this planned Messiah -- the ultimate goal of the New World Order Plan
Timing of the Final Events Which Will Produce The Masonic Christ Might Surprise You
The Bible is clearer than you think as to how to recognize when the final events will transpire
---
ALL-OUT WAR ESCALATES!
Israel fights Hezbollah on the ground, tries to make buffer zone
Bloodiest Day of Fighting Results in Deaths of 30 Terrorists
Thousands of IDF troops operating in S. Lebanon
Katyusha Rockets Rain on Northern Israel; Residents Stuck in Shelters
Pilot killed as 2 IDF choppers collide, then crash
Casualties mount in Israel war in Lebanon
Hizbullah arch-terrorist Nasrallah appeared on TV Thursday claiming more surprises are in store for Israel
Israel Hits 200-km. Range Missiles, Many Still Remain
IDF Tanks enter Gaza refugee camp
World Media Wavers in Support of Israel
World Reactions: Israel is Right, and Talk of World War III
The Lebanon Security Zone – An Historical Retrospective
4 IDF ground troops killed in cross-border fighting
Dirty bomb rockets ready: Hezbollah poised to fire warheads of spent nuclear rods
CBS News Anchor Katie Couric Refuses To Go To Middle East To Cover Israeli - Palestinian War
Israeli support for Lebanon war overwhelming -Poll reveals
Britain and US defy demand for immediate ceasefire: Superpowers provide diplomatic cover for Israeli attacks
Hezbollah Nourished by Iran, Syria Roots
Conflict might increase Iran's influence in region
Russia Criticizes Israel for Offensive
Israel: Relations with Spain hurt by PM's accusation of 'abusive force'
Spanish PM in Palestinian scarf scandal
3,000 Americans emigrate TO Israel: As rockets fly, planeloads of Jews arrive in Middle East
Christian Lebanese caught in crossfire: Anguished over lack of U.S. support in opposing Hezbollah
EXILED Islamic preacher of hate, Omar Bakri, has begged the Royal Navy to rescue him from war-torn Beirut
U.N. Post Hit in Israel-Hezbollah Fighting
Let Israel take off the gloves and get the job done: Hong Kong Standard Editorial
---
Miscellaneous Non-Integrating States News
China and Russia May Be Reneging on Iran: May be reneging on commitments to demand that Iran stop enriching uranium
Headline News Analysis Archives: Nuclear Armed Iran vs Nuclear Armed America: Whom should the world fear?
US says Iranians witnessed N.Korea missile test
Chavez, Castro may push Mercosur meeting leftward: Chavez marked his nation's debut as a member of South America's biggest trade bloc
Oil revenues fuel spree in Venezuela: Economy, sales soar as Chavez loosens cash flow
Incursion to curb militants in Somalia could backfire: Presence of Ethiopian troops may provoke Islamic militia to escalate the conflict
Indonesian tsunami survivors pack refugee camps
Turkish anti-West mood 'rising'

---
Non-Integrating States News -- Iraq
Baghdad bracing for assault: With violence soaring, U.S. general warns of extremists' plans for major offensive -- General Caldwell said insurgents were streaming into the capital for "an all-out assault against the Baghdad area"
Curfew extended as Baghdad violence mounts
Violence displaces 27,000 families in Iraq
Baghdad attacks remain up since al-Zarqawi killed
Increased security can't curb attacks: In the first 35 days of the effort the average daily number has risen from 23.8 to 25.2
The doctors who are too afraid to care for patients: Many of Iraq's wounded can no longer be saved as the healthcare system collapses amid violent intimidation
In Baghdad, bakers are now the targets
Strapped for Money, US Army Extends Cutbacks
Marines' defense lawyers denied Iraq visit: Want to visit the Iraqi village where military investigators say seven Marines and a Navy medic kidnapped and murdered a civilian.

Iraq breaks with U.S. and assails Israeli raids
US forces surround Iraq towns in Qaeda operation: Near northern Iraqi city of Kirkuk
---
U.S. Successfully Completes Missile Test: : The Minuteman III dummy warheads traveled about 4,200 miles before hitting a water target in the Marshall Islands
---
At NAACP, Bush Tries to Mend Rift: Applause and Boos Punctuate Speech, His First to Group as President
Clinton, Obama urge NAACP to press Bush on Voting Rights Act: Senator Obama urges delegates "Don't be bamboozled" -- Warning came one day before President Bush addresses the NAACP for the first time
Voting Rights Act Headed to Bush's Desk: President says he will sign act, trying to improve his standing with minorities
---
Mexican presidential tangle has kept just shy of violence
---
Terrorist Charges Dismissed Against Saudi National
---
Tropical Storm Beryl Hits Massachusets
---
Former Soviet Union leader Mikhail Gorbachev backs alternative power sources: Says nuclear power stations should only be built in cases of extreme need, as a "last resort"
---
Profit climbs for Halliburton: Oil companies spent heavily to increase output
---
Guard Sent To St. Louis: Heat Deaths Rise
---
California Governor Schwarzenegger provides $240m stem-cell center loan
US House Fails to Override Stem Cell Veto
---
Lightning strikes California wildfire areas
---
Indian Police make arrests in Mumbai bomb blasts
---
Poland's New Premier Wins Confidence Vote
---
Abu Ghraib rewarded: President Bush wants to appoint as Federal Judge the Pentagon's general counsel most closely associated with the illegal and immoral Abu Ghraib sexual humiliation and abuse of prisoners
Guantánamo and Oath Betrayed: Guantánamo and the Abuse of Presidential Power
---
Congressman Mike Rogers, R-Ala presses White House on 'super-state' plan: Asks Bush administration to fully disclose its activities