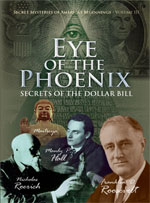 "Eye of the Phoenix" DVD
Third video in series, "Secret Mysteries of America's Beginnings"
Special Announcement
We have some really good news about the shipping of "Eye of the Phoenix" DVD! Chris Pinto, the producer, will finish his work on the Master DVD on 12/22 and will overnight it to the graphics company. They should complete their work on it by 12/26 and will send it to their factory. We should have it in our possession no later than January 6.
Many of you plan to buy this DVD, but have been reluctant to purchase it during our "Pre-Sale" program because you were afraid the video would never be produced and you would lose your money. Rest assured, all the bills for this video have been paid and it will most certainly be produced.
Therefore, we are planning to return all three videos in this series back to regular price at Midnight, December 24. If you want to save money on these videos, you can do so only for the next 7 days, as follows:
* Purchase "Eye of the Phoenix" for only $19.99 rather than $24.99
* Save $40 on all three videos - $19.99 for "Eye of the Phoenix" and pay only $10 each for "New Atlantis" and Riddles In Stone" - You save $44.98!
Watch "New Atlantis" video trailer
Watch "Riddles In Stone: The Secret Architecture of Washington, D.C." video trailer
"Eye of the Phoenix" reveals the incredible occult, Masonic secrets of the One Dollar Bill. Your jaw will be continually dropping at the many revelations of the occult symbolism on the American One Dollar Bill. We prove that President Franklin Roosevelt (33rd Degree Mason) and Vice President Henry Wallce (32nd Degree) knew before placing the symbol on the Dollar Bill that the All-Seeing Eye hovering over the unfinished pyramid was the Masonic symbol of their coming Christ (Antichrist).
"A much better video than the first two" -- J.R. Church, Prophecy In The News
This testimony is incredible, because the first two videos won a number of Film Industry awards for quality of the material, for the quality of the scriptwriting, and for the excellence of the camera work.
---
---------- This Weeks Hot News ----------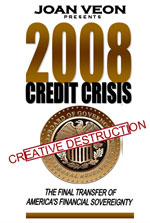 DVD
I. The embattled American consumer received some really good news this week.
The Federal Reserve lowered the prime interest rate to 0.25%, as close to zero as you can possibly get!
The Fed borrowed a page from the Central Bank of Japan, which has successfully been using this kind of low rate for 6 years to fight recession.
NEWS BRIEF: "Fed effectively cuts benchmark rate to zero", International Herald Tribune, December 16, 2008
"The Federal Reserve entered a new era Tuesday, setting its benchmark interest rate so low that it would have to reach for new and untested tools in fighting both the recession and downward pressure on consumer prices. Going further than analysts anticipated, the central bank cut its target for the federal funds rate to a range of zero to 0.25 percent, a record low, bringing the United States to the zero-rate policies that Japan used for six years in its own fight against deflation. The rate, the interest on overnight loans of reserves between banks, had previously been 1 percent, and a cut of a half-point had been widely expected."
How might this incredibly low rate affect you and I, the average consumer?
NEWS BRIEF: "How the Fed's shock-and-awe move could affect you", L.A. Times, December 16, 2008
"The Federal Reserve tried for a major shock-and-awe effect with its interest rate cut and other moves Tuesday aimed at rescuing the economy from a devastating downturn ... Paltry rates on bank certificates could force savers into stocks. Investors could gain the courage to return to the market ... For homeowners, the awe element may be the ability to refinance a mortgage at a rate of less than 5%."
"In poker terms, 'The Fed went all in', said Paul McCulley, a managing director at bond-fund giant Pimco in Newport Beach. 'It was exactly what they needed to do', he said, to strengthen their commitment to ending the credit crisis and to set the stage for a turnaround in the economy'."
While these lower rates will also reduce the rates banks pay on regular savings accounts, there is a major silver lining for the average consumer.
"By reducing the cost of money, the Fed wants to fatten banks' profits and thereby encourage them to lend more ... The silver lining, he said, is that with inflation dropping rapidly, savers' 'real' returns -- after inflation -- have improved sharply."
"Because many home-equity credit lines and other consumer loans are tied to banks' prime lending rate, those borrowers will immediately get a break: With the Fed's rate move, banks cut the prime Tuesday to 3.25% from 4%."
This article does not mention credit card rates, but on this Thursday, the Fed is likely to introduce new regulations for the credit card companies -- a 1,000 page document -- which should save consumers from more predatory practices and should encourage consumers to start using credit cards for purchasing. (See our writeup on this major development in our News Alert of 12/15)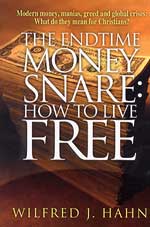 II. Another facet of the Fascist Economy is forming, as the new "Car Czar" is said to possess the authority to force companies into bankruptcy!
Remember, under the Fascist system, the government decides how many competitors can make the same item or provide the same service. From September-November, the government forced a number of banks and insurance companies into bankruptcy, giving the major Illuminati connected banks a much larger share of the marketplace.
The same thing is likely to happen with the car making industry, both in America and worldwide.
NEWS BRIEF: "U.S. May Give Car Czar Power to Force Bankruptcies ", Bloomberg News, December 16, 2008
"The U.S. Treasury may adopt a plan that would let a car czar or the Treasury secretary force General Motors Corp. and Chrysler LLC into bankruptcy if the automakers don't show they can survive without government aid ... 'The power rests in the hands of either the czar or the Secretary of the Treasury to force bankruptcy by March 31'."
This is classic Fascism!
We still expect that the American "Big Three" will ultimately be pared down to the "Big One". The companies being forced into liquidation will probably merge with another company so job losses will be kept at a minimum.
Globally, the same mechanism will pare down the number of car producers. The Japanese car industry is suffering from slower than anticipated sales, so you will probably see the same kind of government-forced paring down. Europe, South Korea, and China will also reduce the numbers of car companies.
The car producers which are allowed to survive will enjoy fatter profits because they will have less competition in the marketplace. We have been warning for over 10 years that the Fascist Economy is the planned economy in the New World Order; the time for that final transition is getting close enough now that we can see this system coming quickly.
Meanwhile, the Bush Administration is now assuring the car makers that he will provide emergency financial aid so that they will not go bankrupt before a much more Liberal President Obama can take office January 20.
NEWS BRIEF: "White House assures automakers help is on the way", Yahoo Finance, December 15, 2008
"President George W. Bush suggested that a rescue package would come sooner rather than later. 'An abrupt bankruptcy for autos could be devastating for the economy', Bush said on Monday. 'This will not be a long process because of the economic fragility of the autos'."
Even though Conservative Republicans are urging the President to not use funds from the $700 billion rescue fund to bail out the "Big Three", one TV commentator stated that Bush did not want to have any of the three automakers go bankrupt "on his watch".
Remember, the Plan envisions a controlled economy, not a failed one.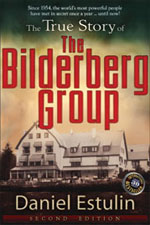 III. Surprise, surprise! President Obama has filled his administration positions with members of the infamous Bilderberger group, the CFR and other Illuminati organizations!
Brushing aside his oft-repeated promises of bringing about "real change", Obama is proving that the same secret society power which has been behind the American presidency since World War I will continue to rule the White House!
NEWS BRIEF: "Change? Obama Inner Circle Filled With Bilderbergers", American Free Press, Issue # 51, December 22, 2008
"FOR TWO YEARS, Americans have heard an unrelenting mantra of change emanating from the campaign trail. But now that President-elect Barack Obama has begun forming his cabinet, we're seeing a cadre of more deeply entrenched insiders than any administration that has preceded it."
Did you understand this sentence? Obama's Cabinet is more deeply entrenched with elite Illuminati people than was George Bush's!
"In regard to key foreign policy advisors, all three of Obama's selections either initially supported the Iraq war, or still do. On the economic front, each appointee maintains a close relationship with the Jewish triad of Ben Bernanke, Robert Rubin and Alan Greenspan—as well as bailout engineer Henry Paulson. Barack Obama himself is a Council on Foreign Relations member, has strong ties to Zbigniew Brzezinski, and participated in a clandestine meeting with Hillary Clinton at Bilderberg member Diane Feinstein's house at the time when 2008 Bilderberg members were congregating only a few miles away."
This article then lists the key 14 advisers which Obama has brought on thus far.
1. TIMOTHY GEITHNER – TREASURY SECRETARY -- Bilderberg, Council on Foreign Relations, Trilateral Commission, president and CEO of Federal Reserve Bank of New York, director of policy development for IMF, member Group of Thirty (G30), employed at Kissinger & Associates, architect of the recent 2008 financial bailouts, mentored by Lawrence Summers and Robert Rubin."
2. PAUL VOLCKER – ECONOMIC RECOVERY ADVISORY BOARD - Bilderberg, Council on Foreign Relations, North American chairman of Trilateral Commission, Federal Reserve chairman during Carter and Reagan administrations, president of Federal Reserve Bank of New York, G30 member, chairman Rothschild Wolfensohn Company, key figure in the collapse of the gold standard during the Nixon administration, longtime associate of the Rockefeller family."
I was shocked to hear that Paul Volcker was named to Obama's team, for few people other than Kissinger are more powerful in the international Illuminati leadership than Volcker!
3. RAHM EMANUEL – CHIEF OF STAFF - Member of Israeli Defense Force, staunch Zionist, senator, Board of Directors for Freddie Mac, member of Bill Clinton's finance campaign committee..."
Many Jews are taking solace in Obama's appointment of Emanuel to this very high White House post, believing that this appointment means that President Obama will be very pro-Israel.
4. LAWRENCE SUMMERS – NATIONAL ECONOMIC COUNCIL - Bilderberg, Council on Foreign Relations, Trilateral Commission, treasury secretary during Clinton administration, chief economist at World Bank, former president of Harvard University, Brookings Institute board member, huge proponent of globalization while working for the IMF, protégé of David Rockefeller, mentored by Robert Rubin."
5. DAVID AXELROD – SENIOR ADVISOR - Political consultant whose past clients include Sens. Hillary Clinton, John Edwards and Christopher Dodd..."
6. HILLARY CLINTON – SECRETARY OF STATE - Bilderberg, Council on Foreign Relations, Trilateral Commission..."
Many Conservatives also vividly remember her most Liberal Health Care Plan and her personal involvement with the murdered Vince Foster. No other appointment signals more loudly that Obama is going to pursue the Illuminati agenda than this one.
7. JOSEPH BIDEN – VICE PRESIDENT - Bilderberg, Council on Foreign Relations, U.S. Senator since 1972, member of the Senate Judiciary Committee, current chairman of the U.S. Senate Committee on Foreign Relations, strong Zionist sympathizer ..."
8. BILL RICHARDSON – COMMERCE SECRETARY - Bilderberg, Council on Foreign Relations, former U.S. congressman, chairman of the Democratic National Convention in 2004, employee of Kissinger Associates, UN ambassador, governor of New Mexico, energy secretary.."
9. ROBERT GATES – DEFENSE SECRETARY - Bilderberg, Council on Foreign Relations, former CIA Director, defense secretary under President Bush, co-chaired CFR task force with Zbigniew Brzezinski .."
Remember, also, that Robert Gates is so emphatically opposed to any real attack on Iran that, when Bush appointed him as Pentagon chief, observers noted that his elevation to this post meant that there would be NO attack on Iran. His retention by Obama means exactly the same thing.
10. TOM DASCHLE – HEALTH SECRETARY - Bilderberg, Council on Foreign Relations, former Senate majority leader, Citibank lackey, mentored by Robert Rubin."
11. ERIC HOLDER – ATTORNEY GENERAL - Key person in the pardon of racketeer Marc Rich, deputy attorney general under Janet Reno, facilitated the pardon of 16 Puerto Rican FALN terrorists under Bill Clinton."
12. JANET NAPOLITANO – HOMELAND SECURITY DIRECTOR -- Council on Foreign Relations, Arizona governor, attorney for Anita Hill during the Clarence Thomas hearings, U.S. attorney during the Clinton administration..."
13. GEN. JAMES L. JONES – NATIONAL SECURITY ADVISOR -- Bilderberg, Trilateral Commission, European supreme allied commander, special envoy for Middle-East Security during Bush administration, board of directors for Chevron and Boeing, NATO commander, member of Brent Scowcroft's Institute for International Affairs along with Zbigniew Brzezinski, Bobby Ray Inman, Bilderberg luminary Henry Kissinger and former CIA Director John Deutch."
These credentials are incredible! The NSA post will be filled in the Obama Administration with an insider every bit as experienced and trustworthy as Henry Kissinger was under President Nixon. In another parallel, Jones will be facing a withdrawal from an unpopular and unwinnable war just as Kissinger faced during the Vietnam War.
14. SUSAN RICE – U.N. AMBASSADOR - Council on Foreign Relations, Rhodes scholar, campaign foreign policy advisor to presidential candidates John Kerry and Michael Dukakis, member of Bill Clinton's National Security Council and assistant secretary of state for Africa, member of the Brookings Institute (funded by the Ford Foundation and the Rockefellers), and member of the Aspen Strategy Group (teeming with Bilderberg insiders such as Richard Armitage, Brent Scowcroft, and Madeleine Albright)."
As you can see from these most powerful 14 posts, President Obama is as sold out to, and controlled by, the same Illuminati forces that controlled Presidents Bush/Clinton/Bush/Reagan and Carter. For that matter, the Illuminati has tightly controlled the American Presidency since President Franklin Roosevelt, 1933.
To this list, we add Austan Goolsbee, who was Obama's chief economic adviser during the 18-month campaign. Goolsby is a lifelong Adept in the secret society, Skull & Bones! (Read full details in NEWS2267, entitled, "Senator Obama Has Strong Ties To Illuminati - Communist Illuminati At That!")
Did the American people vote against Bush policies only to elect Obama who will pursue the same exact agenda?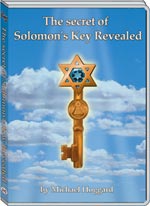 Hoggard DVD
IV. President Bush's acceptance of an Iraqi withdrawal security pact, which is tantamount to a withdrawal agreement that slaps America in the face, is proof that this formerly great country was defeated in Iraq after all!
NEWS BRIEF: "It's Official: Total Defeat for U.S. in Iraq", AlterNet News, December 15, 2008
"On November 27 the Iraqi parliament voted by a large majority in favor of a security agreement with the US under which the 150,000 American troops in Iraq will withdraw from cities, towns and villages by June 30, 2009 and from all of Iraq by December 31, 2011. The Iraqi government will take over military responsibility for the Green Zone in Baghdad, the heart of American power in Iraq, in a few weeks time. Private security companies will lose their legal immunity. US military operations and the arrest of Iraqis will only be carried out with Iraqi consent. There will be no US military bases left behind when the last US troops leave in three years time and the US military is banned in the interim from carrying out attacks on other countries from Iraq."
The breadth and width of the anti-Americanism behind this security agreement is staggering! Every single major part of the nearly six-year American war against Iraq is repudiated in this security agreement, as we detail below.
1) "American troops will withdraw from cities, towns and villages by June 30, 2009 and from all of Iraq by December 31, 2011." Had Coalition Forces won this war, no Iraqi official could order American troops out of the country by a certain date.
2) "The Iraqi government will take over military responsibility for the Green Zone in Baghdad." Since the Green Zone HQ was continually attacked during the five years of warfare, while it was being guarded by American forces, I guess there will be no additional risk in turning over responsibility for its protection to Iraqi forces.
3) "Private security companies will lose their legal immunity" - Iraqi officials are salivating over being able to legally lay their hands on private contractors, whom they have accused of many war crimes.
4) "US military operations and the arrest of Iraqis will only be carried out with Iraqi consent." This prohibition has been in place for over a year. Had the Americans won this war, there is no way that they would allow their commanders to be under the veto power of Iraqi government officials. This portion of the security agreement simply screams American defeat.
5) "There will be no US military bases left behind when the last US troops leave in three years time." Victors almost always leave strong bases when their major combat forces are removed.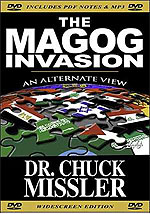 6) "The US military is banned in the interim from carrying out attacks on other countries from Iraq." This provision means that no forces based in Iraq can be used for an attack on Iran. Were the American military really planning an attack on Iran, these forces would be ideal to use, since they are so very close to the Persian Kingdom. This provision lends further weight to our position that there will be NO attack on Iran.
Iran is Ancient Persia, and is foretold in the Ezekiel 38-39 prophecy to be one of the nations marching with Russia against Israel at the End of the Age. Therefore, Iran is protected against a devastating attack and Russian leadership and military reputation are protected as well.
Since Summer, 2003, Cutting Edge has been solidly maintaining that there will be no attack on Iran, even if the face of numerous naval armadas being sent to the waters off Iran. President Obama will not order an attack, either. As this DVD, above, reports, all nations who are foretold to be marching with Russia against Israel are now lined up properly. All details of this prophecy are now in place.
Now, let us return to our featured story of the American defeat in Iraq.
"The Status of Forces Agreement (SOFA), signed after eight months of rancorous negotiations, is categorical and unconditional. America's bid to act as the world's only super-power and to establish quasi-colonial control of Iraq, an attempt which began with the invasion of 2003, has ended in failure."
Iran has to be thrilled, for this pact provides for the orderly withdrawal of American forces, leaving Iran as the only major regional Islamic force in the Middle East. America's defeat is so complete and so staggering that Israel is starting to sound very concerned about Iran, as she certainly should be.
Cutting Edge readers will remember our warning during April-May, 2003, when Americans believed that we had easily won the war against Iraq. We stated that, while we did not know the exact sequence of events, we did know that the Illuminati Plan was written so that American forces would ultimately be defeated.
Beginning with the Korean War and continuing with the Vietnam War, the Plan has provided that one of the major ways in which superpower America would be whittled down to size so she could meld into a global government was by fighting expensive, long-term wars in which she would not emerge victorious.
The only exception to this Plan was the 1990-1991 Gulf War, but the purpose of this war was to strengthen the hand of the United Nations and to place foreign forces in the Middle East as a way to make an invasion later on more palatable. (Joel 3 was being set)
Unfortunately, this Plan has worked out as it was written, giving America a tremendous black eye throughout the world, but especially within the Arab world. This next news story illustrates the contempuous attitude toward America by Arabs.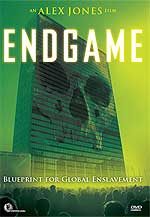 DVD
V. An Arab reporter attending President Bush's news conference demonstrated his contempt by suddenly standing up and throwing both of his shoes at the President!
NEWS BRIEF: "Shoe-attack reaction reflects tricky U.S. endgame in Iraq", USA Today, December 16, 2008
"Comedians are having a field day with the shoe assault on President Bush by an angry Arab journalist at a Baghdad news conference on Sunday. Humorist Andy Borowitz, for example, suggests that the New York Yankees want to sign the attacker as a pitcher. Bush laughed off the flying footwear: 'It was a size 10'. The unscathed president also joked about seeing the man's 'sole'."
All kidding aside, though, the incident has a serious aspect ... Reaction to TV journalist Muntadhar al-Zeidi's contemptuous act is a reminder that as important as it is to leave Iraq secure, many Iraqis will never see the United States as their liberator. Sectarian and tribal divisions assure there will be no 'victory', in the triumphal sense."
For the past four years, Cutting Edge has maintained that the policy which the Bush Administration was following in Iraq was the Illuminati strategy called, "Blood In The Streets". This strategy is employed by a technologically superior force fighting against an inferior force. The superior force will deliberately create such monstrous affronts to the people of the inferior force that their leaders will order attacks on the superior forces, even though they understand that their army is likely to be destroyed.
In quite a number of ways since March, 2003, American forces have deliberately provoked the Iraq people in order to stoke this kind of intense hatred throughout the Arab world. We have posted a number of articles on this subject:
NEWS1631 - "Blood In The Streets" - A Perfect Blueprint For The Upcoming Slaughter of Iraq First And Then All Muslims" (Originally Posted March 26, 2002; updated May 3, 2004)
NEWS1913 - "Enraging 1.4 Billion Worldwide Muslims - 'Blood In The Streets' Strategy - Part 1 - - Sexual Abuse and Specific Humiliation of Iraqi Prisoners"
NEWS1914 - "Enraging 1.4 Billion Worldwide Muslims - 'Blood In The Streets' Strategy - Part 2 - Destroying and Damaging Holy Places, Mosques - And Murdering Large Numbers of Civilians"
NEWS1916 - "Muslim Anger Over Coalition Abuse And Degradation Explodes: Iraqi Insurgents Behead American Contractor" - "Blood In The Streets" Strategy, Provoking Inferior Army To Attack
We believe that the entire Islamic global population is being deliberately angered so that the stage is being set to so enrage the population that, at the right moment in world history, Islamic nations will arise against the coveted city of Jerusalem. Listen to the prophecy: