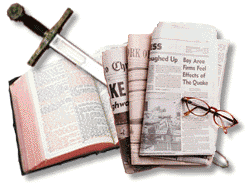 Newsletter Archives For Christians On The New World Order

Headline News - Archives 2001
Welcome to the most complete source of information on Biblical prophecy and The New World Order available on the Web. Our goal is to provide you with an analysis of what's currently happening in the news and how it is impacting your life. Each week we'll be looking at a number current events and providing you with information which is unavailable through any other ministry. We hope you'll bookmark this page now and come back often.
If you are a new reader of The Cutting Edge, we highly recommend that you first review several transcripts from our radio show which convey the foundational understanding of Biblical doctrine, prophecies and the New World Order.
The complete text of the Current Weekly Newsletter Articles can be accessed and downloaded by subscribers and supporters of this ministry. Your gift to this ministry of $20.00 or more per year will make it possible for this site to remain on the Internet and will give you a subscription to our online newsletter. When we receive your donation in support of this ministry, we will email you a user name and password giving you access to the complete text of all current newsletter articles listed on this page.
We hope you'll find this continuing source of new and vital information invaluable and would like to thank you in advance for your support of our outreach ministry.
OPERATION NORTHWOODS: PROOF POSITIVE THAT AMERICAN GOVERNMENT LEADERS ARE WILLING TO CREATE A PLAN THAT WILL KILL FELLOW AMERICANS
In 1962, our Joint Chiefs of Staff wanted to invade Castro's Cuba so they created a shocking plan to deliberately stage terror attacks, bomb American ships, sabotage other ships, have "friendly" Cubans invade our Guantanamo Bay base, fake a shoot-down of a civilian air liner, sinking a boatload of Cuban refugees, and a fake shoot-down of one of our fighter planes -- all to be falsely blamed on Cuba so as to justify an American invasion. How many thousands of Americans and Cubans would have died had President Kennedy authorized this plan?
THE SCRIPTURAL BASIS FOR A PRE-TRIBULATIONAL RAPTURE
The Understanding Of Bible Prophecy Has Proven To Be Progressive—As World Events Continue To Unfold, Elements Formerly Deemed Allegorical Now Make Perfect Sense!!!! Also, since 1989, the demonic Guiding Spirits have been telling New Age leaders to prepare their adherents for the Rapture!
ARMY GENERAL URGES PRESIDENT TO SEND TROOPS TO SOUTH KOREA NOW !
General Singlaub urges the President to send American troops to South Korea now to try to stave off North Korean attack. Such an action would fulfill the plan for World War III that Cutting Edge has been teaching for 12 years. Such an action could also bring foreign troops to our soil in fulfillment of 1952 Plan to create five Military Patrol Zones in America. Part 1 of 2.
THE ORIGINS OF MODERN APOSTASY - Chapter 2
Modern religious unbelief did not erupt in the scene over night. The apostasy that permeates Christianity today has its roots all the way back to the early years of the Church. In order to grasp the tactics of Lucifer implemented in today's "Outcome-based Religion", one must first understand the significance of the struggles of Bible-believing Christians in centuries past to preserve the purity of the Faith for successive generations. This chapter documents these struggles from the Middle Ages through the pivotal 19th Century.
ISRAELI TOURISM MINISTER ASSASSINATED TODAY - 10/17/2001
1) Palestinians claim credit. 2) Israeli Prime Minister blames Palestinian leader Arafat and threatens military action. 3) Noted Jewish author, Barry Chamish, demonstrates why he believes the assassination was an inside government action. 4) Cutting Edge believes all the above is true!
BUSH ADMINISTRATION IS ALREADY REDEFINING TERRORIST!
We predicted a week ago that the major danger posed by all these new broad "Antiterrorism" powers the government was seeking was that, after the powers have been granted, the government may simply redefine who a terrorist is and what constitutes terror. That redefinition began yesterday [10/3/01] by Governor Tom Ridge of Homeland Security! Christians who write the plain truth may suddenly be pursued as terrorists!
SECRETARY OF AGRICULTURE DECLARES A NATIONAL EMERGENCY BECAUSE OF THE "THREAT" OF MAD COW DISEASE IN THE UNITED STATES!
The plan to so panic Americans that they will beg the Federal Government to take away their liberties and suspend their government foresees the need to have multiple crises, washing over us like a flood, wave after wave after wave of different crises. Therefore, we believe it highly significant that, in the same time period in which we are going to war against global terrorism, we now are told that America is in a "National Emergency" status because of Mad Cow Disease. Is the annihilation of America's herds in the immediate future?
WAR ALERT! ISRAEL QUIETLY GOES ON WAR FOOTING LAST NIGHT EVEN AS PRESIDENT BUSH SPOKE TO CONGRESS
DEBKAfile Intelligence Review is reporting that Israel took concrete steps beginning last night that can only be viewed as a prelude to all-out war. President Bush legitimized war against the Palestinians, for they are one of the world's greatest supporters of terrorism. Is this the beginning of the planned World War III, or the prelude to a sudden "peace" that internationalizes a sector within Jerusalem? Only time will tell.
MORE OCCULT SIGNATURES TO THE ATTACK ON TWIN TOWERS AND THE PENTAGON
The number '11' that undergirds this tragedy keeps popping up, giving further credence to an Illuminati signature. Further, the times of this attack are identical to the times of attack in Oklahoma City bombing. Finally, the attacks on 9/11/01 fulfill all three requirements of a Black Magic event to move the world further into the New World Order.
ARE NATURAL DISASTERS THE NEXT PLANNED MAJOR EVENT?
Mt. Ranier in the Seattle-Tacoma area is physically bulging just like Mt. Saint Helens did before she blew up. If Ranier blows up with the same magnitude as St. Helens, the devastation could be severe, as Ranier is bounded in the north by intense population.
OUTCOME-BASED RELIGION-Chapter 1-The True Church
In order to understand the influence of Outcome-based Religion on Fundamental and Evangelical congregations, one must first have the prerequisite knowledge of the Church as a whole, and specifically the requirements for any organization that calls itself a "church". This chapter lays the groundwork that reveals the roots of true Christianity, and the knowledge necessary to grasp the issues that have threatened the Church from its inception. Unless we can truly learn from the mistakes of the past, we will be unprepared to defense Lucifer's future implementation of those same strategies.
THE GOSPEL OVER-RIDES THE BIBLE" -- EVANGELICAL LUTHERAN CHURCH OF AMERICA
For the third time, this Lutheran denomination is debating whether the "Gospel over-rides the Bible". During the debates on the first two issues, this Lutheran church did decide that the Gospel over-rode the Bible, so during this current debate on homosexuality, you just understand how they will rule. Truly, the prophesied Church Apostasy is deepening and widening, foretelling the closeness of the hour.
SALVATION ARMY IN BED WITH ROME!
Coming One World Church Headed by the Pope Claims Yet Another Victim: The Salvation Army!! Yet another huge sign the End of the Age spiritual deception and unity is upon us.
FEDERAL COURTS DECLARE FISH TO BE MORE IMPORTANT THAN PEOPLE!
Welcome to the value system of the coming New World Order, where all values will be similiarly turned upside down! This disastrous situation also demonstrates that Federal officials are secretly just as radical as the "Tree-hugging" Extreme Environmentalist.
IDF Pulls Military Forces From Yesha Communities
In a move that makes no sense to anyone, Israeli Army positions protecting small Yesha communities against Palestinian attack are suddenly removed. Has the Israeli "Right-Wing" Sharon Government decided these Jewish lives are not worth protecting? Or, is old Fox General Sharon setting a trap?
NATIONAL SOVEREIGNTY CONTINUES ITS SLIDE INTO THE ABYSS!
International courts are continuing to force their way into the life and fabric of formerly sovereign nations. Former Yugoslavian President Milosevic is on trial for war crimes and the State of Arizona is told it erred in carrying out a death sentence imposed by a state jury.
FIVE (5) STAGES TO WORLD WAR III
Israel and the Palestinians are apparently about to enter into Stage Three of the Five Stages of the established manner in which nations have historically built toward a Regional War, and then, a World War! History is being repeated! Can you hear the hoofbeats of the Four Horsemen of the Apocalypse?
CHRISTIAN CHURCHES ARE OPENING THE DOOR TO ANTICHRIST
One of THE major signs that the End of the Age is truly approaching is when you see the great majority of Christian churches falling away from the Fundamentals of the Faith. A pastor or church leader that knowingly moves away from teaching the "full counsel" of God, and begins incorporating unbiblical and human elements in his services and his teaching, is literally -- and Biblically -- opening the door to Antichrist. This NEW SECTION will contain several articles.
SPIRITUAL WARFARE -- THE EXISTENCE AND POWER OF GODLY ANGELS AND UNGODLY DEMONS
You cannot ever understand the situation facing us at these End of the Age unless you understand standard Bible teaching about spiritual warfare. Sadly, the Christian Church has not taught this reality for 100 years; yet, events today are marching according to prophecy, with spiritual warfare in the heavenlies and on earth raging mercilessly. This article will study general Bible teaching on the existence of, and warfare between, Godly angels and Satanic demons.
FOOT-AND-MOUTH DISEASE IN BRITAIN UPDATE: WEAPONS OF MASS DISTRACTION
An article written by Steven Ransom, an informed British citizen, adds new insight into the current planned agriculture crisis. We can expect this crisis all over the world, now that Britain has served as the test on a smaller scale. Remember Gorbachev's statement: "The threat of environmental crisis will be the 'international disaster key' that will unlock the New World Order."
ATTACK ON THE FOOD CHAIN: HOW SAFE IS YOUR WATER?
Working with a medical doctor, we present the facts to you about the worsening condition of our water supply, with much of the damage coming during the Clinton years, even though he verbally championed Environmental Protection.
ISRAEL BEGINS GROUND WAR AGAINST PALESTINIANS
The low-grade conflict just zoomed to a much higher level when Israeli ground forces invaded Palestinian Authority territory in Gaza. Arafat and his lieutenants have warned that any such military action by Israel will mean all-out war. Is this type war straight ahead?
BRITISH PEOPLE TURNING TO VEGETARIANISM!
Just as Cutting Edge originally predicted, British people are reacting to the total mess and carnage of the Foot-and-Mouth disease by becoming vegetarians. We shall look at this issue through the lens of the Six Step Attitudinal Change Plan.
33 33 33 = 666: SATANIC NEW WORLD ORDER THINKING
Once you understand how Satanists of all stripes literally worship Numbers, you will more clearly understand key facts of early American history, and why certain events have occurred during the 20th Century. A most fascinating understanding of the occult mind!
MIDDLE EAST LURCHES TOWARD ALL-OUT WAR!
EGYPT PUTS ARMY ON ALERT; SYRIAN ARMY IS ALREADY ON FULL ALERT; IRAQ HAS THEATER MISSILES POISED TO STRIKE ISRAEL ARMED WITH NUCLEAR, CHEMICAL, BIOLOGICAL WARHEADS; HIZBOLLAH GUERILLAS POISED TO STRIKE ISRAEL FROM LEBANON; PALESTINIAN FORCES POISED TO STRIKE ISRAEL FROM WITHIN; ARAFAT TALKS ABOUT USING NUCLEAR WEAPONS.

Please feel free to E-mail Cutting Edge Ministries if you have any questions about our outreach ministry.
If you have never accepted Jesus Christ as Savior, but have come to realize His reality and the approaching End of the Age, and want to accept His FREE Gift of Eternal Life, you can also do so now, in the privacy of your home. Once you accept Him as Savior, you are spiritually Born Again, and are as assured of Heaven as if you were already there. Then, you can rest assured that the Kingdom of Antichrist will not touch you spiritually. If you would like to become Born Again, turn to our Salvation Page now.
Sitemap