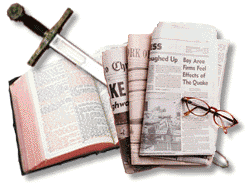 Newsletter Archives For Christians On The New World Order

Headline News - Archives 2003-2004
Welcome to the most complete source of information on Biblical prophecy and The New World Order available on the Web. Our goal is to provide you with an analysis of what's currently happening in the news and how it is impacting your life. Each week we'll be looking at a number current events and providing you with information which is unavailable through any other ministry. We hope you'll bookmark this page now and come back often.
If you are a new reader of The Cutting Edge, we highly recommend that you first review several transcripts from our radio show which convey the foundational understanding of Biblical doctrine, prophecies and the New World Order.
The complete text of the Current Weekly Newsletter Articles can be accessed and downloaded by subscribers and supporters of this ministry. Your gift to this ministry of $20.00 or more per year will make it possible for this site to remain on the Internet and will give you a subscription to our online newsletter. When we receive your donation in support of this ministry, we will email you a user name and password giving you access to the complete text of all current newsletter articles listed on this page.
We hope you'll find this continuing source of new and vital information invaluable and would like to thank you in advance for your support of our outreach ministry.
QUAKE IN IRAN ON 12/26/2003 AND THE ASIAN QUAKE ON 12/26/2004 CONTAIN OCCULT SIGNATURE: WERE THEY TRIGGERED BY EITHER HAARP OR SCALAR WAVES?

When you understand the occult numbers and characteristics of these two devastating earthquakes, you will be able to determine for yourself whether HAARP or Scalar weapons waves were used to trigger them. Possibilities are more than interesting; they are staggering.

PRESIDENT BUSH CONTINUES TO PROMOTE PAGAN RELIGIONS - CHRISTIAN LEADERS ARE FORBIDDEN BY SCRIPTURE TO PROMOTE ANOTHER RELIGION

"... what concord hath Christ with Belial? or what part hath he that believeth with an infidel? And what agreement hath the temple of God with idols?" [2 Cor 6:15-16]

God does not allow a leader of a nation to set aside Biblical principles as he conducts the affairs of state!

THE INCARNATION

The lowly path of our heavenly King.

BOTH PRESIDENT BUSH AND HIS FATHER SUPPORT "AMERICAN CLERGY LEADERSHIP CONFERENCE" (ACLC) -- A REV. MOON ORGANIZATION PUSHING FOR CHURCHES TO THROW OUT THEIR CHRISTIAN CROSSES!

In NEWS1932, we reported that a collection of our own political leadership -- both Democrat and Republican -- had crowned Moon in a Messiah-type ceremony in the Dirksen Building at the Capitol, to begin a new era of "Global Governance". As part of this report on Moon's current activities, we discovered Rev. Moon was encouraging Christian Churches to bury the Christian Cross in the ground.

Now, we discover both Presidents Bush supporting the ACLC, the group which is encouraging their American churches to throw their Christian Crosses in the trash -- literally toss it into a dumpster!

he truth lies in the opposite direction of the public rhetoric (NEWS1558).

REV. MOON DECLARED TO BE MESSIAH IN CEREMONY AT U.S. CAPITOL! MOON EMPHASIZING EFFORT TO GET CHRISTIAN CHURCHES TO "BURY THEIR CROSSES" - LITERALLY BURY THEM IN THE GROUND!

In the midst of so many signs that the appearance of Antichrist is close, Rev. Sun Myung Moon and his wife were crowned in a Messiah-type ceremony at the U.S. Senate Dirksen Building on March 23, 2004. This ceremony proclaimed the revitalization of the United Nations and the beginning of a new era of "Global Governance". Incredibly, this event was not reported in any mainline news at the time, and has only been recently revealed.


NOTE TO U.N. CONFERENCE: THIS "WAR ON TERROR" IS A ONE-HUNDRED YEARS' WAR! Guest Column by Dr. Donald Boys, Ph.D

When you examine the wrong-headed counsel, advice and direction from major world leaders concerning the "War On Terror", you can only shake your head and realize that they are deliberately misleading us so the global goal of the Illuminati can be realized. Once again, the truth lies in the opposite direction of the public rhetoric (NEWS1558).

PARALEGAL SECRETARY ARRESTED IN UPSTATE NEW YORK WITH NO CHARGES, AND IS INCARCERATED IN A PSYCHIATRIC HOSPITAL WHERE SHE WAS INJECTED WITH MEDICATIONS

Did the police act within Patriot Act I and II legislation? Was this woman arrested as a "Domestic Terrorist" according to the new definition? Did her knowledge of her Constitutional rights cause her to be singled out?

U.S. MILITARY SHOWS TRUE FACE OF OUR "LIBERATION" OF IRAQ - IMPOSING 21ST CENTURY STALINIST DICTATORSHIP USING "MARK OF THE BEAST" TECHNOLOGY

U.S. Marines have a very nasty surprise awaiting returning residents of Fallujah, Iraq. Every resident -- all 300,000 of them -- will be forced through checkpoints one by one, being given a Retina Scan, being forced to wear a badge limiting them to a certain area of the city, and may be shot dead if discovered in a part of the city where they are not authorized to go.

Illuminati Theorem: "Never do anything on a large scale before you have tested it first on a small scale" (Doc Marquis, Former Illuminist)

Today: Fallujah, Iraq -- Tomorrow: The World

"NATIONAL TREASURE" MOVIE: FREEMASONRY'S NATIONAL HERITAGE STORY OF THE UNITED STATES OF AMERICA, AS SEEN THROUGH THE EYES OF OUR FOUNDING FATHERS -- Part 3 of 3

We shall study more of the deeper real insights into Freemasonry woven into the movie, "National Treasure". While the movie is generally fiction, much of what it depicts is really what Freemasons and other occultists believe and practice. At the end of this article, you will see that the final goal to which the movie points is Antichrist.

But, bottom line is this: This movie boldly says, "in your face" that our Founding Fathers founded America so that its National Heritage, both culturally and religiously, comes straight from Egyptian Satanic Mysteries Religion.

"NATIONAL TREASURE" MOVIE: FREEMASONRY'S NATIONAL HERITAGE STORY OF THE UNITED STATES OF AMERICA, AS SEEN THROUGH THE EYES OF OUR FOUNDING FATHERS

In NEWS1982, we examined the outer facade of this movie -- the basic storyline. Now, we shall examine the deeper layers of meaning contained within this movie. You will be surprised at the depth of revelation contained by the symbolism and the storyline of "National Treasure"; because of the depth of subject matter, we shall be required to post a "Part 3".

Part 2 of 3 -- Studying The Deeper Layers - "Knowing The Rest of the Story"

AMERICA'S RICHARD ARMITAGE -- INTERNATIONAL POWER BROKER -- AND THE PAKISTANI I.S.I. (INTELLIGENCE SERVICES)

Deputy Secretary of State Richard Armitage will soon be resigning, leaving him free to complete THE Illuminati plan for all Eurasia, of which Pakistan is key. Guest column by By Dennis L. Cuddy, Ph.D.

"NATIONAL TREASURE" MOVIE: FREEMASONRY'S NATIONAL HERITAGE STORY OF THE UNITED STATES OF AMERICA, AS SEEN THROUGH THE EYES OF OUR FOUNDING FATHERS

Just as an onion has a thin outer layer, followed by many layers of the real onion, National Treasure has a thin outer facade, followed by layers of ever-deeper meaning. When you reach the final layer, the message is clear: America's national heritage was established by our Masonic Founding Fathers to extend through the Knights Templars secret societies back to Ancient Egypt! Our national cultural and religious heritage goes straight to the Egyptian Mysteries, whom Almighty God cursed and destroyed as He used Moses to deliver Israel from bondage.

Part 1 - Studying the "Onion Skin Facade"

THE WORLD IS HURTLING TOWARD THE FINAL BIRTH PANGS WAR -- WORLD WAR III -- TO WHICH ALMOST ALL EVANGELICAL LEADERS HAVE BEEN SPIRITUALLY BLINDED

"Speak to us smooth illusions" [Isaiah 30:10] is the desire of too many pastors, while Jesus is lamenting, "You did not know the time of your visitation" [Luke 19:44] Too many pastors refuse to believe that the unparalleled deception foretold in Matthew 24:24 really applies to today's events and leaders.
SKULL & BONES SYMBOL IS FINALLY UNDERSTOOD! IT IS A "MAGICAL SYMBOL" HIDING A MOST IMPORTANT INNER NUMERIC MEANING --- 666
Using the method of numeric calculation utilized by all occultists, we can now reveal that the Skull & Bones logo is a typical "Magical Symbol" whose inner meaning is "666". Once and for all, we have concrete, public evidence that Skull & Bones is the Black Magick secret society serving Satan and striving to produce Antichrist -- just as we have been saying all along.
LOCAL AGENDA 21 - The U.N. Plan for Your Community by Berit Kjos
Agenda 21, the UN blueprint for global transformation, sounds good to many well meaning people. Drafted for the purpose of creating "sustainable societies", it has been welcomed by nations around the world. Political, cultural, and media leaders have embraced its alluring visions of social justice and a healthy planet. They hide the lies behind its doomsday scenarios and fraudulent science. Relatively few consider the contrary facts and colossal costs.
FOCUS ON THE FAMILY CONTINUES TO TAKE FOLLOWERS INTO THE ABYSS AS IT URGES CHRISTIANS TO "REDEEM HALLOWEEN"! Part 1 of 3 - Updated 10/30/04
After telling parents it is all right for them to read Harry Potter to their children and after publishing a book entitled, "Finding God In Lord of the Rings", Dr. Dobson continues his free-fall into the Abyss by telling his followers they can participate in Halloween, because it was a "Christian" holiday whose roots can be traced to the "foot of the cross"! What advice does the Bible have for Dr. Dobson?
"Let no one delude and deceive you with empty excuses and groundless arguments [for these sins], for through these things the wrath of God comes upon the sons of rebellion and disobedience. So do not associate or be sharers with them." (Ephesians 5:6-7; Parallel Bible, KJV/Amplified Bible Commentary)
HAS IRAN "IGNITED MANY FIRES" TO SET OFF MIDDLE EAST REGIONAL WAR?

Jordanian official warns that World War III might have just begun!

PRESIDENT BUSH'S NUCLEAR WARS AGAINST AFGHANISTAN AND IRAQ NOW CONFIRMED!

New York Daily News has broken the D.U. story on their Sunday front page, and it confirms what Cutting Edge has been saying for almost one year about Depleted Uranium! Four of nine American soldiers recently returned from Iraq suffering "unknown illnesses" turned to New York Daily News for help. Independent lab testing revealed four of nine soldiers were contaminated with Depleted Uranium poisoning! The Army is scrambling to protect its entire backside!




BUSH ADMINISTRATION IS DEADLY SERIOUS ABOUT "SHRINKING THE GAP" -- HAS THE WORLD WAR II ERA O.S.S. BEEN RE-CREATED?

Subtitle: U.S. Special Forces are being attached to U.S. Embassies throughout the "Non-Integrating Gap" region. Expect repeated coups and attempted coups in Third World countries as the drive to bring them into the "Functioning Core" gains steam! (NEWS1833) No Third World country can feel safe, as America has clearly blurred the line of distinction between military and civilian lines of authority, with NO Congressional oversight or accountability.

"And ye shall hear of wars and rumours of wars." [Matt 24:6] Major "birth pang" to produce Antichrist!

NATIONAL DISASTER!! CONGRESS CHANGES LANGUAGE OF FEDERAL MARRIAGE AMENDMENT TO ALLOW GAY "CIVIL UNIONS"!

Subtitle: Once Liberal Congressmen and President Bush had the support for "Civil Union" language from Dr. James Dobson of Focus On The Family, they rushed to bring a perfectly worthless "Defense of Marriage" bill to the floor of Congress!

"... there shall arise false Christs and false prophets ... insomuch that, if it were possible, they shall deceive the very elect." Matt 24:24

"Ye shall know them by their fruits ... Wherefore by their fruits ye shall know them." Matt 7:16, 20

ISRAEL ASSASSINATES CLERICAL FOUNDER OF HAMAS ON 3/22 -- EXACTLY 11 DAYS AFTER MADRID -- PROVING ILLUMINATI IS STILL FOLLOWING THEIR SCHEDULE

Subtitle: When Israel used a missile to assassinate a quadriplegic, partially blind, elderly Muslim cleric, she handed enemy propagandists a tremendously rich treasure trove of material to be used to inflame the masses against Israel. Is this assassination destined to be equivalent to the assassination of the Austrian Archduke Franz Ferdinand which ignited World War I?

SPAIN SUFFERS HER OWN "9/11" ATTACK ON 3/11, 2004

Subtitle: Events continue to occur "by the numbers" -- occult numbers, that is! Number "11" prevalent in Madrid bombing - Signature of the coming Antichrist.

"THE PASSION" - EVANGELICAL LEADER'S HALL OF SHAME - MOVIE MAY BE HISTORIC DIVIDING LINE IN REVEALING SPIRITUAL TRUTH VS DECEPTION! - PART 3

Subtitle: This Roman Catholic movie should be the dividing line between Christian leaders standing for enlightened Truth and those leaders deceiving their flocks! Let us examine the falsehoods being told about "The Passion" so you can see the depth of deception in these Evangelical groups who are mis-leading their faithful followers.

PRESIDENT BUSH'S IRAQ FIASCO IS STEERING THE WORLD INTO A CONCRETE, COERCIVE UNITED NATIONS GOVERNMENT!

Subtitle: "Only the U.N. Security Council can dictate war, not individual states" - (U.N.'s Blix)

"UN Secretary General, Kofi Annan, set up a committee of 'wise men and women' "

AFTER INVADING HAITI - AGAIN - IS AN INVASION OF VENEZUELA POSSIBLE?

Subtitle: Venezuelan President Chavez abruptly warned the U.S. to not even think about invading his country after watching American Marines land in Haiti. Chavez undoubtedly knows the Illuminati considers Venezuela a "Non-Integrating State" (NEWS1833). Does Chavez fear Venezuela is next?

"THE PASSION" OF ROME: TO BRING ALL WAYWARD CATHOLICS HOME

Subtitle: Rebecca Sexton and several people of Former Catholics For Christ viewed "The Passion" twice and discovered that, not only is the movie solidly Traditional Catholic, it also seems clearly designed to call former Catholics back to the Roman Fold! This article Updated March 5, 2004

WHY IS ANTICHRIST SYMBOLISM PREVALENTLY SHOWN IN "THE PASSION" PART - 2?

Subtitle: On two occasions in "The Passion", we see Antichrist symbolism. When you understand the symbolism of "Jesus'" naked buttocks in the last scene, you will understand that the movie depicts an Illuminist "signature" in addition to another, more direct, Antichrist symbol. This Article updated 8:40 am EST on 3-3-04 - ANTICHRIST IS PROPHESIED TO HAVE RIGHT EYE DARKENED!

WARNING ABOUT "MARK OF THE BEAST": GOD WILL NEITHER FORGIVE NOR REMOVE THE "MARK" FROM ANYONE WHO HAS TAKEN IT

Subtitle: Incredibly, Tim LaHaye depicts in his "Armageddon" book of the "Left Behind" series that God removed the "Mark of the Beast" from the Christian leader, Chang! After depicting that a Christian can take the "Mark" and still be OK with God, LaHaye now depicts that a person who has taken the Mark can pray and God will remove it!

"Let no one delude and deceive you with empty excuses and groundless arguments [for these sins], for through these things the wrath of God comes upon the sons of rebellion and disobedience." [Galatians 5:6; Parallel Bible, KJV/Amplified Bible Commentary]

CUTTING EDGE INITIAL EYEWITNESS REPORT ON "THE PASSION" -- Part 1

Subtitle: "The Passion" is everything we have said about it -- and much, much more!

"A little leaven (a slight inclination to error, or a few false teachers) leavens the whole lump [it perverts the whole conception of faith or misleads the whole church]." [Galatians 5:9; Parallel Bible, KJV/Amplified Bible Commentary]

SECULAR EYEWITNESS ACCOUNT OF "THE PASSION"

Subtitle: "Relentlessly savage, 'The Passion' plays like the 'Gospel according to the Marquis de Sade' "- the French sexual deviant from whom we get the term "sadism"!

"I will set no wicked thing before mine eyes." [Psalms 101:3]

HAS "THE PASSION" ALREADY STARTED THE "PARADIGM SHIFT" OF RELIGIOUS VALUES AND ATTITUDES IN OUR CHURCHES? Part 2

Subtitle: Baptist pastor was so profoundly "shaken up" for three weeks after previewing "The Passion" that he began to completely change his church to a drastic Ecumenical basis -- including portions of Catholicism, Charismatic, New Age, and Mainline Denominations!

"Evangelical churches will be the chief instrument to bring the New World Order to birth" [New Age Author, Jeremy Rifkin, "The Emerging Order", p. x-xi]

WILL MEL GIBSON'S MOVE "THE PASSION" PRODUCE THE LONG-AWAITED PARADIGM SHIFT IN CONSCIOUSNESS WHICH WILL PRODUCE "THE CHRIST"? -- Part 1

Subtitle: Is "The Passion" movie the logical outworking of the "Spear of Longinus" Card in the Illuminati Card Game -- published in 1995?


U.N. OFFICIAL PROPOSES ALL NATIONS GIVE UP THEIR NUCLEAR WEAPONS AND OTHER WEAPONS OF MASS DESTRUCTION!

Illuminati Plan: "The Atomic bomb does not belong to the three nations who perfected it ... It belongs to the United Nations, for use or threatened use ..." ["The Externalisation of the Hierarchy", Alice Bailey, p. 548, written May 1946]


POWERFUL POLITICAL FORCES ALWAYS "AT WAR" - The Dialectic Continually At Work - Guest Column by Dr. Dennis Cuddy

The Skull & Bones and Rhodes Secret Societies team together to control the electoral process! Americans only think their vote means anything as the world gradually moves into the Globalism of the New World Order


BUSH/BLAIR JUSTIFICATION OF IRAQ INVASION: NOW PROVEN TO BE LIES, DISTORTIONS, EXAGGERATIONS! Part 2 of 2

Before Bush ordered the Iraq invasion on 3/20/2003, he received numerous warnings from people high and low telling him that the US had not proven its case against Iraq, and that Iraq probably did not possess WMD. We shall show you these articles in this treatise, each one posted as they occurred in our Daily News Updates. Once you read this material, you will understand why Tenet (CIA Director) spoke as he did last week:

"The CIA said Saddam Hussein posed 'no imminent threat' in the months before last year's invasion" [George Tenet, Director of the Central Intelligence Agency]

BUSH/BLAIR JUSTIFICATION OF IRAQ INVASION: NOW PROVEN TO BE LIES, DISTORTIONS, EXAGGERATIONS! Part 1 of 2

CIA said Saddam Hussein posed 'no imminent threat' in the months before last year's invasion [George Tenet, Director of the Central Intelligence Agency]

"What luck for rulers that men do not think" - Adolf Hitler

FROM A BARE BREAST TO BESTIALITY, SUPER BOWL REFLECTS AMERICA'S TRUE SPIRITUAL AND CULTURAL VALUES!

Sodom and Gomorrah never seemed so close as last night, when the Super Bowl half-time festivities plus commercials shocked and titillated one billion people worldwide. Our descent into a modern- day Sodom was evident for all to see! Jesus' prophecy is now coming true ---

"Even as Sodom and Gomorrha, and the cities about them in like manner, giving themselves over to fornication, and going after strange flesh, are set forth for an example, suffering the vengeance of eternal fire." [Jude 1:7]

"As it was in the days of Lot ... Even thus shall it be in the day when the Son of man is revealed." [Luke 17:28-30]

SINCE 9/11 THE WORLD HAS CONTINUALLY BEEN SUBJECTED TO GLOBAL "WARS AND RUMORS OF WARS" - PROPHECY IS BEING FULFILLED IN DAILY NEWS! HAVE YOU NOTICED?

"What shall be the sign of thy coming, and of the end of the world? Jesus answered ... ye shall hear of wars and rumours of wars ... the intolerable anguish" [Matt 24:6, 8; Parallel Bible]

Let us review the many, many instances of "rumors of wars" officially issued since 9/11, to see how thoroughly End of the Age prophecy is being daily fulfilled! We shall conclude with recent examples to demonstrate the sharp increase in rhetoric that should cause us to worry that the planned time for these threats to materialize may be getting close at hand

GLOBAL PUSH MAY BE ON TO FORCE PEOPLE TO ACCEPT THE OCCULT "SEVEN NOAHIDE LAWS" - COUNTERFEIT TO 10 COMMANDMENTS

Ever since President Bush, Sr., signed a law committing the United States to support the Noahide Laws, the Illuminati has quietly been active pushing the Biblical 10 Commandments off center stage so they can bring in the Satanic Noahide Laws. The threat to all Gentiles is huge! Do not be fooled!

You may finally understand why it was necessary to officially remove the 10 Commandments from the Alabama State Judicial Center in November, 2003!

WARNING! YOU CANNOT TAKE THE "MARK OF THE BEAST" FOR ANY REASON AND STILL GO TO HEAVEN! Part 1 of 2

Incredibly, the Left Behind series portrays the lie that a person who is "forced" to take the "Mark of the Beast" may still be in right standing with God and go to Heaven! Once you read the truth contained within this article, you will agree that, just perhaps, the Left Behind book series may be the most dangerous spiritual books in all of history.

Part 1 discusses foundational issues plus the deception that God gives believers a visible mark.

WARNING! YOU CANNOT TAKE THE "MARK OF THE BEAST" FOR ANY REASON AND STILL GO TO HEAVEN! Part 2 of 2

Incredibly, the Left Behind series portrays the lie that a person who is "forced" to take the "Mark of the Beast" may still be in right standing with God and go to Heaven! Once you read the truth contained within this article, you will agree that, just perhaps, the Left Behind book series may be the most dangerous spiritual books in all of history.

This Part 2 demonstrates that no one can take the "Mark of the Beast" and still go to Heaven!

BUSH - ASHCROFT ARGUING TO 9TH CIRCUIT COURT THAT THEIR GOVERNMENT CAN TORTURE AND SUMMARILY EXECUTE PRISONERS WITHOUT THE COURTS HAVING ANY JURISDICTION WHATSOEVER!

"This is the word of the LORD ... saying, Not by might, nor by power, but by my spirit, saith the LORD of hosts." [Zech 4:6] No truly Born Again believer would attempt to "defend" the liberties of the nation by adopting evil, corrupt methods like torture and summary execution. In NEWS1553 and NEWS1579, we reported that the Bush Administration had redefined "terrorist" so you and I could be declared "Domestic Terrorists" and/or "Enemy Combatants". The planned dictatorship draws ever closer.



"FINAL BIRTH PANGS" TO PRODUCE ANTICHRIST: THE MYSTERIOUS BLIND SPOT OF EVANGELICAL CHRISTIAN LEADERSHIP

"Speak to us smooth things, prophesy deceitful illusions". [Isaiah 30:10b] Evangelical Christians and their leaders have developed a complete blind spot as to the "Final Birth Pangs" war. When these birth pangs hit us with full force, Evangelicals will not know how they relate to prophecy because they are expecting no bad things to occur until after the Rapture. Yet, they are too comfortable with current life to hear the distressing truth.
TERROR ALERT CONFIRMS THAT ILLUMINATI PLAN TO DESTROY NEW YORK CITY WITH ATOMIC DEVICE IS STILL ACTIVE!
When DEBKAfile Intelligence reported that Al Qaeda had just issued a threat to destroy New York City with an atomic bomb, the long-standing Illuminati plan that foresaw just such an attack was confirmed as still being part of the Urban Terror plan to establish Martial Law and Constitution destruction.
BUSH - SHARON CLEVERLY LEADING AMERICAN EVANGELICAL CHRISTIANS INTO FULL SUPPORT OF CURRENT ILLUMINIST ISRAELI LEADERSHIP

Working through Evangelical leaders who are known to have taken money from the Rev. Sun Myung Moon, President Bush and Israeli Prime Minister Sharon have successfully led the great majority of Evangelical Christians into a full support of the current Illuminist leadership of Israel -- on faulty, simplistic understanding of Scripture.

"Evangelicals are are just as 'poor, undereducated, and easily led' "- Washington Post, 2001 - Illuminati Viewpoint of all Evangelical Christians

PRESIDENT BUSH IS ABOUT TO BETRAY EVANGELICAL CHRISTIANITY!

Just as President Reagan continually betrayed the Christian Right, so President Bush is preparing to betray the Evangelical Right as his re-electon campaign begins in earnest. As the campaign unfolds, remember to add his broken promises and expectations as one more example of "Bad Fruit".

"Evangelicals are are just as 'poor, undereducated, and easily led' - Washington Post, 2001 - Illuminati Viewpoint of all Evangelical Christians

"This coming year Bush will mouth repeated pieties about the sacred character of marriage, and do … nothing."

CHRISTIAN JOY IN THESE MOST DIFFICULT AND TRYING TIMES AS WE HEAD INTO THE "FINAL BIRTH PANGS" NECESSARY TO PRODUCE ANTICHRIST

Despite the terrible Daily News to which we are subjected, Christians during this End of the Age can experience even greater Peace and Joy than Christians of bygone eras. The key to this type of experience is your Daily Walk.

U.S. SUPREME COURT SEVERELY ERODES FIRST AMENDMENT RIGHT TO "FREE SPEECH" BY UPHOLDING THE CONSTITUTIONALITY OF "CAMPAIGN-FINANCE REFORM"

Attempting to solve a pretended problem of "soft-money" campaign contributions, Congress, the Supreme Court, and the President deliver a body blow against First Amendment Free Speech rights! "Congress shall make no law respecting an establishment of religion, or prohibiting the free exercise thereof; or abridging the freedom of speech, or of the press..." - First Amendment of the United States Constitution

WHILE PEOPLES OF THE WORLD WERE ENTHRALLED BY SADDAM'S CAPTURE, PRESIDENT BUSH WAS QUIETLY SIGNING INTO LAW THE MOST DICTATORIAL POWERS ACT IN AMERICAN HISTORY

Is this law signing the REAL reason Saddam was captured on the 13th of December? Too often, our leaders cause us to look in the exact opposite direction from where they are taking really serious action. While Americans were celebrating our victory by capturing Saddam, virtually no one was noticing that we had just lost our liberties and Constitutionally protected rights! Bush now has the power of Hitler, Stalin, and Mao Tse-Tung! We missed this signing because we were focussing on Saddam's capture!

U.S. SUPREME COURT SILENTLY STRIPS INDIVIDUAL CONSTITUTIONAL RIGHT TO BEAR ARMS! GUN CONTROL IS THE ISSUE AS WE ARE BEING LED INTO THE GLOBAL DICTATORSHIP - Part 2 of 2

History tells a very stark picture as to what happens when a government successfully confiscates the guns of their people. You will realize that our concerns about current efforts to make gun ownership illegal are well rooted in modern history. A check on the back of our One Dollar Bill demonstrates our government is pursuing the goal of the global dictatorship of the New World Order - Antichrist's Kingdom. Most people do not know enough history to be frightened. History tells us an average of 10 million citizens die after their government confiscates the guns!

MICHAEL JACKSON: SIX-STEPPING AMERICA INTO ANOTHER STAGE IN OUR NATIONAL MORAL COLLAPSE -- Part 4 of 4

How low will we go? Tolerance of pedophilia looms as next step in our descent into the abyss. In this article, we shall examine ways in which we are being conditioned to accept the most calamitous changes imaginable. Our country is about to be shattered according to prophecy and the Six Step Attitudinal Plan is the tool by which our nation was ruined.

U.S. SUPREME COURT SILENTLY STRIPS INDIVIDUAL CONSTITUTIONAL RIGHT TO BEAR ARMS! SECOND AMENDMENT NO LONGER APPLIES TO INDIVIDUAL CITIZENS! -- Part 1 of 2

Working very quietly, and with absolutely no Mass Media coverage, the Supreme Court allowed a an unconstitutional decision of the 9th Circuit Court to stand without review, thus possibly making their "Gun Control" decision the law of the land. Now, the Constitution no longer guarantees the right of individual citizens to own and bear arms. Gun Control is always precursor to dictatorship!
D.A.R.P.A. IS FUNDING AN IMPLANTABLE CHIP FAR MORE ADVANCED THAN"DIGITAL ANGEL"! M.M.E.A. - MULTIPLE MICRO ELECTRODE ARRAY IS SO ADVANCED IT CAN FULFILL REV 13:16-18! Part 1 of 5

Rarely does a sitting president offer such a direct, revealing look into his true, inner soul! The logo of the "Information Awareness Office", which is about to be rolled over into the Homeland Security Agency, demonstrates the true Illuminist spirit and goal of the Bush Administration. No truly Born Again president would ever allow such a obviously occult image in his administration!

JEWISH AUTHORS CONFIRM CUTTING EDGE ANALYSIS OF THE BLACK MAGICK MASONIC CONTROL OF ZIONISM, ISRAEL, AND CURRENT MIDDLE EAST EVENTS!

Accurate description of Israeli leadership in Israel: "I will make them of the synagogue of Satan, which say they are Jews, and are not, but do lie." [Rev 3:9]

Accurate description of God's ultimate plan for Israel: "In all the land ... two parts therein shall be cut off and die; but the third shall be left ... I will bring the third part through the fire, and will refine them as silver is refined, and will try them as gold is tried: they shall call on my name, and I will hear them: I will say, It is my people: and they shall say, The LORD is my God." [Zech 13:8-9]

ABC AIRS 'DOCUMENTARY' ON 11/03/03 WHICH EXPOSES TO 6.6 BILLION PEOPLE THE CRITICAL LIE WITHOUT WHICH ANTICHRIST CANNOT PROVE HIS LINEAGE TO KING DAVID! --Part 2 of 2

We explore this obscure occult doctrine without which Antichrist cannot arise, so you can fully appreciate the significance of ABC airing this 'documentary'. You will understand Christianity more clearly as well as the shocking fact that the ancient Gnosticism against which the Apostolic Church fought is not only back, but is the foundation of the Antichrist Movement.

THE DRAFT IS BACK - "Universal National Service Act of 2003"

by Berit Kjos with Virginia Birt Baker, Charlotte Iserbyt and Mary Thompson

ABC AIRS 'DOCUMENTARY' ON 11/03/03 WHICH EXPOSES TO 6.6 BILLION PEOPLE THE CRITICAL LIE WITHOUT WHICH ANTICHRIST CANNOT PROVE HIS LINEAGE TO KING DAVID! --Part 1 of 2

If Antichrist is going to prove his lineage to King David so he can deceive the Jewish people into thinking he is their long-awaited Messiah, he must "validate" his lineage. The lie that "validates" his lineage back to Jesus is the Merovingian Bloodline Genealogy that ABC News aired to billions of people the world over. This is the first huge airing of this obscure occult doctrine, and it comes at the same time as so many other events are seemingly coming to prophetic conclusion!

WHY ARE GENUINELY BORN AGAIN PASTORS SO TERRIBLY BLIND AS TO THE PROPHETIC TIMES IN WHICH WE LIVE? World War II was the only global war in which America was seemingly threatened, yet the Illuminati financed Hitler's rise to power, financed his war buildup, and poured large assets into his war chest all through the war -- Part 3 of 3

Hitler had a major role to play within the global Dialectic Struggle, and the Demonic Overlords of the Illuminati ensured that he played it perfectly. During the entire war, Hitler provided the Illuminati what they desired, fulfilled Bible prophecy that ensured Israel would be reborn - but he never ever actually physically threatened America.

WHY ARE GENUINELY BORN AGAIN PASTORS SO TERRIBLY BLIND AS TO THE PROPHETIC TIMES IN WHICH WE LIVE? CHALLENGE TO ALL PASTORS: Why can't you see that every war in the 20th Century was fought to produce Antichrist? Bible prophecy is so very clear, you should have known this truth based solely on Scripture --- Part 1 of 3

"Speak to us smooth illusions" [Isaiah 30:10] is the desire of too many pastors, while Jesus is lamenting, "You did not know the time of your visitation" [Luke 19:44] Too many pastors refuse to believe that the unparalleled deception foretold in Matthew 24:24 really applies to today's events and leaders; thus such pastors are so wide open to spiritual deception they are actually encouraging their young people to join the military that is fighting to produce Antichrist!

WHY ARE GENUINELY BORN AGAIN PASTORS SO TERRIBLY BLIND AS TO THE PROPHETIC TIMES IN WHICH WE LIVE? CHALLENGE TO ALL PASTORS: You need to learn of Satan's Devices! "Lest Satan should get an advantage of us: for we are not ignorant of his devices." [2 Cor 2:11] For all pastors who are not aware of the schemes, powers, and devices of Satan during this most occult hour in world history! -- Part 2 of 3

We shall demonstrate how occult information from Cutting Edge Ministries should make the prophetic truth of Part 1 even more clear. Even if a pastor has not properly applied Scripture to 20th Century events, he can learn the occult truth from Cutting Edge that will alert him to the very late stage of the prophetic hour.

"PLAYING GOD" WITH LIFE OF TERRI SCHIAVO: MOST OMINOUS SIGN IN A LONG TIME OF THE NAZI ATTITUDES AND VALUES PERMEATING OUR CULTURE

We have been warning since 1991 that the values underpinning the New World Order were Nazi to the core! We have been warning that the current political leadership is Nazi to the core. This case of Terri Schiavo simply shows the "Tip of the Iceberg", demonstrating how far down the path to Nazism America and Western Society have traveled.

"UNITED RELIGIONS" CONTINUES TO TAKE SHAPE!

A global meeting of top world leaders representing 18 religions has concluded a meeting in late September, 2003. A greater concentration of Ecumenical religious leaders you cannot imagine! Is this another sign that the Antichrist is close to appearing?

ROME'S VENERATION OF THE VIRGIN MARY IS SIMPLY A CONTINUATION OF THE WORSHIP OF THE VIRGIN MOTHER - DIVINE CHILD IN THE PAGAN SUN GOD TRADITION!

While Catholics believe they are venerating the Virgin Mary and Divine Child Jesus in the Biblical tradition, the evidence is overwhelming that they are really continuing the Egyptian and Babylonian pagan tradition of worshipping the Sun Goddess and her Divine Son. Once more, Roman Catholicism is shown to be counterfeit Christianity on the surface but Sun God paganism throughout underneath!

Justifying Mind Control - Part 2 by Berit Kjos

Recent history of the "prevention" side of "Mental Health"

POPE JOHN PAUL II -- 25 YEARS OF CONTINUING TRADITION OF THE PAGAN SUN GOD

Symbols tell the full truth of the shocking reality that this "Christian" leader is really just the latest in a 4,000-year line of Zoroasterian [NEWS1608] and Sun God pagan religious leaders. Once you read this article, you will understand why the Illuminati chose the Pope to be its top religious leader [NEWS1052], i.e., False Prophet of Revelation 13:11-18.

PLAYING CHURCH BY THE NUMBERS: Part 2--"The Rules of the Game"

The Church of Jesus Christ must align itself with the principles of the Word of God. This alignment dictates that the Church is to be holy and separated from the world. For the Church to become like the world in order to reach the world is not a biblical principle, but a man-made philosophy. To add error to error, when one philosophy of man invades the Church, others will follow. The current move to transition the church to become more acceptable to the postmodern culture is nothing more than a marketing scheme to inflate the numbers on the church roles. However, the methodology used to make this transition is not only an affront to the principles of the Word of God, but is also the greatest threat to true Christianity in the world today. The review of the rules of the New Paradigm Church Game will reveal aspects of the Church Growth Movement that will sound the alarm to all who are considering participation in Outcome-based Religion.

ISRAEL MAY AGREE TO GENEVA "PEACE" AGREEMENT IN WHICH COUNTRY IS EFFECTIVELY CUT INTO THREE SEPARATE SECTIONS!

Under an incredible agreement worked out between Ultra-Liberal Israeli "officials without portfolio" and Palestinians, Israel would agree to be divided on a de-facto basis into three regions, while Palestinians would receive a State, control of Temple Mount, and limited "Right of Return". If implemented, national disaster could occur!

HURRICANE ISABEL WAS STEERED DIRECTLY ONTO THE U.N. BIOSPHERES - "CAROLINIAN - SOUTH ATLANTIC" and "VIRGINIA COAST"! Action to implement Biosphere, "Re-Wilding" program is apparently under way in earnest -- Part 2

Hurricane Isabel originally showed a Masonic Pentagram in the middle of her eye for a very good reason: this storm has devastated an area targeted for "de-population" so that the land can go back to the "wild", i.e., "Re-Wilding". Using Weather Modification tools, the Illuminati is gradually establishing the precedent that certain areas of the land cannot be inhabited. When you lose your Personal Property Rights, you can thank "Re-Wilding" and the UNESCO Biosphere program.

U.N. PLAN TO DESIGNATE 'WILDERNESS' AREAS THAT WILL BE OFF LIMITS TO ANY HUMAN ACTIVITY IS GOING ON RIGHT UNDER OUR NOSES! "Re-Wilding" is the term and it shall cost you your current Private Property and all your Rights to own Private Property - Part 1

America's Map is being quietly redrawn, to create vast areas where no human activity -- especially living -- will be tolerated. This plan is called the "Rewilding" Project. Once it is fully implemented, you will be told where you can live and what occupation you will be allowed to work, if you are allowed to live at all. Weather Modification and Control are the specific tools being used, because the storms look so "natural".

"SMOKING GUN" PROOF THAT ILLUMINATI PLANNED TERRIBLE EVENTS MANY YEARS AGO TO BRING DOWN OUR CULTURE: Part 5 -- Natural Disasters Planned

Natural Disasters have the potential to re-draw or re-wild a nation in a hurry! Events foretold in the 1995 Illuminati Card Game seem poised to happen. The end goal is to stage Antichrist and his kingdom in all aspects. Remember, this card game was created from 1990-1995 so the author knew of these specific events over a decade ago.
"SMOKING GUN" PROOF THAT ILLUMINATI PLANNED TERRIBLE EVENTS MANY YEARS AGO TO BRING DOWN OUR CULTURE: Part 2

Cataclysmic Events Accurately Foretold In The 1995 Illuminati Card Game -- "Events That Have Already Occurred"

In nine pertinent playing cards of the "Illuminati New World Order" Game, how did the inventor know -- in 1995 -- the three events comprising the 9/11 attacks? How did he know also the correct plan in the near future? Why do his cards predict the appearance of Antichrist and the Rapture as the last two events of the Illuminati Plan?

PRESIDENT BUSH'S IRAQ FIASCO IS STRENGTHENING THE UNITED NATIONS!

As we stated many times before, Bush's Iraq attack cannot be allowed to succeed, for his unbridled success will strengthen National Sovereignty and destroy the U.N. Now that Bush's Iraq policy is widely seen as a disaster, some people are beginning to look to U.N. as the Savior.

U.S. ARMY ANNOUNCES IT HAS FINALLY DISCOVERED WHAT CAUSED "MYSTERIOUS ILLNESS" OF SEVERAL SOLDIERS!

Once you understand the medical "lingo" used in this article referenced above, you will realize that the Army has just announced they are stuck at Stage One in trying to discover what is killing these men! Our original analysis stands even stronger today than a month ago! Truly, truth is often found in 180°, the opposite direction from the official line!

Ban Truth - Reap Tyranny by Berit Kjos

Once again history repeats itself. Like ancient Israel, America has gradually been turning its back to God. While Christians from coast to coast were awakened by Judge Roy Moore's call for a return to religious freedom and Constitutional integrity, their minority response will hardly untangle the roots of anti-Christian socialism now imbedded in our government and civil society.

YELLOWSTONE SUPER-VOLCANO MAY BE IN "EARLY STAGES" OF ERUPTION!

As we review the signs -- especially the huge rock deformations that have occurred -- be advised that geologists have admitted that the Yellowstone Super-Volcano is 20,000 years past due for a major eruption. Rock deformation has already occurred that dwarfs that of Mt. St. Helens in 1980! Is this eruption the event that will deliver the planned 9.0 earthquake in Los Angeles?

AS GAY - LESBIAN LIFESTYLE FLOODS AMERICA AND REST OF WESTERN SOCIETY, GOD'S SWORD OF JUDGMENT DRAWS BACK READY TO STRIKE! - Part 2 --

Public Schools Teaching Acceptability of Homosexuality

Heresy in High Places

Is pagan worship more acceptable than homosexuality? By Berit Kjos

RAPTURE OF CHURCH SEEMS CLOSE!

As events in the Middle East and throughout the world seem to be streaming toward the final resolution of all things, beginning with the war to produce the "Man of Sin", Antichrist, we offer this small but very pertinent article with the prophetic assurance: the Rapture is coming!
ATTENTION ALL AOL USERS! Please take a moment to read this warning Updated 12:30pm 8-21-03

AOL right now is blocking much legitimate email. Their spam blocking program is likely to blame. But, for now, much of your legitimate email is being blocked.

17 percent of permission-based e-mail messages incorrectly were blocked or filtered by the top 12 ISPs. Of that 17 percent that was blocked, the highest 'false positive' spam identifications were traced to Mail.com and NetZero, at 38 percent and 34 percent, respectively. CompuServe followed at 31 percent and AOL at 25 percent.

PALESTINIAN "HUDNA" CEASEFIRE ENDS SEPTEMBER 29, 2003, EXACTLY 3 YEARS TO THE DAY HE STARTED THIS INTIFADA -- STAGE 2 OF THE "NEW JERUSALEM COVENANT PLAN"

All available intelligence points to the reality that the Palestinians are feverishly using the time space provided by "Hudna" to prepare for All-Out war. Arafat has been consistent on his planned Illuminati time-table in the past, so he is likely to be consistent with this upcoming date.

AS GAY - LESBIAN LIFESTYLE FLOODS AMERICA AND REST OF WESTERN SOCIETY, GOD'S SWORD OF JUDGMENT DRAWS BACK READY TO STRIKE! - Part 1 - The Apostate Church Turns Toward Gay - Lesbianism

Prophetic time has arrived for you to examine your heart ruthlessly before the Lord Jesus. God's judgment will fall just as the Ezekiel 9 judgment fell upon Israel. In that judgment, we read: "... the Lord said to him (Angel), Go through the midst of the city, through the midst of Jerusalem, and set a mark upon the foreheads of the men who sigh and groan over all the abominations that are committed in the midst of it." [Ezekiel 9:4]

Will God's angel find your heart right with Jesus so he can place a Divine "mark" upon your forehead?

SAME-SEX MARRIAGES DEFILING "THE MARRIAGE OF THE LAMB"

Satan loves to counterfeit and to blaspheme the true institutions of God. Gay - Lesbian "marriages" and the sexual lifestyle they practice, represents THE ugliest, most polluted counterfeit blasphemy against God possible. As the world explodes in acceptance of homosexuality, rest assured you are watching one of the final prophecies to be fulfilled prior to the appearance of Antichrist and the Rapture of the Church.

HAS GOVERNMENT BEEN "BUSTED" IN LYING ABOUT MISSILE STING OPERATION?

We have always had difficulty convincing Americans that their government routinely lies in order to achieve their globalist goals. This news story demonstrates this reality, and pertinent information from Dr. Dennis Cuddy shows numerous historical instances in which lying achieved the government's goals. As you read this article, bear the following Illuminati doctrine in your mind:

"In all ages the people of the world .... have accepted words for deeds, for THEY ARE CONTENT WITH A SHOW and rarely pause to note, in the public arena, whether promises are followed by performance." [Protocols of the Learned Elders of Zion, Protocol 5 -- DESPOTISM AND MODERN PROGRESS; Emphasis was in the original]

WHILE AMERICA WATCHED THE IRAQ WAR ON T.V., NO ONE WAS WATCHING OUR MOST POROUS BORDER WITH MEXICO

"The simple truth is that we've lost control of our own borders, and no nation can do that and survive. We ignore America's lost sovereignty at our peril." - President Ronald Reagan

Is our survival really at stake in our wide-open borders with Mexico?

PLAYING CHURCH BY THE NUMBERS

The manuscript of Outcome-based Religion has devoted 7 chapters to develop the history and prerequisites required for one to fully comprehend the creeping apostasy that has infiltrated many (if not most) Fundamental and Evangelical churches today. Chapter 8 begins Part 2 of the book that details the men, methods, and concepts of the threat posed by the so-called "purpose-driven" or "seeker-friendly" teachings that are running roughshod over the "Evangelical Community". Chapter 8 will begin to synthesize the attributes of the historical accounts of the first 7 chapters into a concise plan for drastic change, and as a result, will create a well-documented rebuttal to those who would transform every aspect of the "Old Time Religion" into the "New Paradigm Church".

ANTICHRIST DECEPTION: "WHITE MAGIC" BEING PRACTICED IN THE CHURCH

Satan's final deception for mankind could not have been possible were it not for his successful invasion of the Charismatic Church with actual White Magic Witchcraft, dressed up to look like Christianity, of course.

"Looking like a Christian Without Christian Theology"

TBN - TRINITY BROADCAST NETWORK -- TEMPLE OF THE GREEK GOD AND GODDESS

When you understand the unchristian doctrines being promoted by TBN, your skin will crawl with horror! You will realize that TBN is "Christian In Appearance Without Being Christian In Theology" -- When you hear Kenneth Copeland call God a Failure, you will know the truth!

Remember Warning From Apostle Paul? "Let no one deceive or beguile you in any way, for that day will not come except the apostasy comes first - unless the predicted great falling away of those who have professed to be Christians has come - and the man of lawlessness (sin) is revealed, who is the son of doom (of perdition)" [2 Thess 2:3] False Christian churches are prophesied as opening door to Antichrist!
AMERICAN SOLDIERS ARE ILL AND DYING OF "MYSTERIOUS ILLNESS" -- IS IT DEPLETED URANIUM POISONING?

The answer is a qualified "Yes!" American troops are beginning to show symptoms of Depleted Uranium poisoning, a situation being magnified by the heat in which they are operating. From Gulf War I, fully 75% of our fighting men who were on the ground are now dead, dying, or sick from Depleted Uranium.

"New Jerusalem Covenant Project" still is the governing plan by which events are unfolding in Israel. Checking with the House of Theosophy's seminar into which I was sneaked on August 18, 1991, you will see that this path leads directly to Antichrist!

Dr. Cuddy's indictment of our intelligence community generally and the FBI specifically is "right on the money". So many questions that refuse to be answered, and so many loose ends that are just begging for answers. Dr. Cuddy "connects the dots".

Rumsfeld's new policy allows regional commanders such latitude to undertake aggressive military action, they may actually commit the nation to war! Our Constitution restricts the capability of committing America to war only to the Congress, a prerogative recently assumed by the President; however, we now have the possibility with this new war plan that a unknown officer could order action that would plunge us into war with a nation that reportedly has nuclear-armed missiles and the nasty nature to use them.

Since these three senators are heading up the government team questioning the events leading up to and including the attacks on 9/11, Dr. Cuddy challenges them to answer his very well-researched and poignant questions about 9/11. To date, Dr. Cuddy has not received an answer; once you read this material, you will know why he will NEVER receive an answer!

From U.S. Sovereignty to Global Conformity - Part 1

After a series of disturbing Supreme Court briefs based, in part, on foreign court decisions, columnist John Leo raised a provocative question: "What have Zimbabwe's laws to do with ours?"

Now that the word is widely disseminated that photography of all types can be easily faked and so professionally re-printed that no expert can tell the difference, it seems time to change our Judicial System to disallow photographic "evidence" or at least allow a vigorous challenge to such "evidence".

The huge secret in this Supreme Court ruling legalizing homosexual sex acts is that our own Court placed America under the legal thumb of the World Court! Soon, more American laws deemed incompatible with the pagan world community will be struck down!

Major Development in leading America into the dictatorship of the Kingdom of Antichrist, the New World Order.

Using "war on terrorism as an excuse to declare a state of emergency, suspend civil liberties, and jail political opponents". This quote might have come from Cutting Edge, but it did not! It came from mainline commentator, Ted Rall, writing in Yahoo News! Are the blinders coming off now so people can see the juggernaut hurtling down the tracks?

"Appearance was exactly like two sharp horns of light rising out of the sea" - Pictures will shock you and bring your mind solidly back to Revelation 13:1

According to one highly-placed source, this invasion of selected countries in Africa is designed to forcibly and quickly move them into the Global Economy and Government. Globalization is a reality and is now being forced upon Africa!
The story of Harry Potter is an allegory: It is written and packaged to look like fantasy when, in truth, it is a carefully written true description of the training and work of an initiate in an occult order.... The story line aligns with real occult books written by Gavin and Yvonne Frost, who, themselves, run the foremost school of witchcraft in the British Isles. Peter, a former member of the Hermetic Order of the Golden Dawn.
DID PRESIDENT BUSH SELL ISRAEL OUT? MESSIANIC JEWISH JOURNALIST MAKES THIS CHARGE

We have always wondered why Arab nations in the Middle East sat by to allow Bush and Blair attack Iran and make threats to other nations in the region without lifting a finger to stop him. Given the fanaticism of the Muslims, this inaction made no sense; however, if Bush promised to deliver a destroyed Israel in exchange for their inaction as he attacked Iraq, this Muslim attitude makes a lot of sense.
CONFUSION REIGNS IN JERUSALEM AND THROUGHOUT ISRAEL: ARE WE TO HAVE PEACE OR WAR, OR NEITHER?

Since Palestinian State was proclaimed June 4, 2003, is the Internationalization of Jerusalem the next step? After all, when Pope John Paul II met with Arafat on 2/15/2000, they proclaimed the necessity of two events: Palestinian State and Internationalization of Jerusalem.

THE GOD ALL UNHOLY MEN CAN WORSHIP

As the world rushes toward the One World Religion of the False Prophet and Antichrist, we must stop to realize that a God is developing that all men can worship. Sadly, Apostate Christianity is leading the charge to worship this false god!

Christian in appearance without being Christian in Biblical Theology

JESUS -- "BORN AGAIN" WHILE SUFFERING UNDER SATAN'S TORTURERS IN HELL -- HERESY -- "Born Again Jesus" Video Review

Even though it sounds unbelievable , Hagin and Copeland are preaching that Jesus had to be "Born Again", took the very nature of Satan in order to effect our redemption, was torturered by Satan's torturers and was Born Again as he suffered in Hell.

"The Catholic Mystic". So proclaims Pastor Chambers, Pentecostal Fundamentalist. Once you comprehend the understanding of Part 1- that Hinn practices a combination New Age, Black Magick Shamanism - this understanding completes the circle. Since the Pope is the False Prophet of Revelation 13 [NEWS1052], we can understand why it is that Hinn is leading his followers straight into the Global Religion of Antichrist.

A trendsetter in the New Wave Charismatic Movement, Benny Hinn is not only teaching grievously hurtful religious doctrine masquerading as "christian", he is also demonizing thousands from his position as a powerful Shamanic channeler! Many who go to a Hinn gathering will become demonized. Have you fallen under the spell of his powerful lying demonic spirits? See Paul Crouch become demonized as Hinn shouted "Fire", allowing powerful demons to pass into Crouch.

"Word of Prophecy" also shown to be false and manufactured.

Hagin is shown as not being able to discern between the 'paranormal' and the 'supernatural', between that which is from Satan and that which is from God. The entire 'Word of Faith' movement fails to properly discern the difference; thus, as the world moves closer to the ultimate deception of the Antichrist, this movement has become more deluded than ever and more of a participant in Satan's 'paranormal' activity, all the while thinking they are serving Jesus.

From Paw Creek Ministries, video tape, Pastor Joe Chambers narrating.

The greatest single Satanic doctrine infecting the Christian Churches today is that God is all love! More people will go to Hell because they believe God is only Love than you can possibly imagine. A Fundamental, Biblical study of the Attributes -- the Perfections -- of God is the order of the day, for that is the first step a person must take if they ever can find their way back to the true Bible and the real God, before Whom they will stand one day in Eternity.

This article explores the reality that False Religions throughout the world believe "God is (Only) Love". Then, we shall begin our Biblical study of God's Attributes.

This article explores God's attributes of Love, Justice, and Truth. We shall also discuss the heresy of the "Left Behind" book, "Nicolae " in teaching God is only love and loves unconditionally. You will see how this false doctrine may open people up to deception in the Tribulation, as they are being forced to take the Mark of the Beast.

Pro-Life groups warn this bill is a Trojan Horse that will not save the life of even one baby! President Bush will claim this bill as a "great victory" against abortion, but it is as badly flawed as "Roe Vs Wade" 40 years ago! Bill would allow partial birth abortion to "save the life of the mother", which means this pagan practice will continue unabated and unfettered!

What Prophetic Time is this period of history in which we are living? We most definitely can know, and the signs are somber.

"They shall call its nobles to proclaim the kingdom, but nothing shall be there..." [Isaiah 34:12]. Prophecy says state will be "proclaimed", not actually established. Historic prophecy fulfilled in your Daily News!

Jesus warned us: Counterfeit Tares will grow to maturity at the End of the Age; Unparalleled spiritual deception shall arise, deceiving many; He warned us to separate ourselves from believers who are not truly believers. Too many American Christians have totally ignored these warnings, and are now spiritually blinded beyond belief. But now, we realize many Evangelical leaders are united with top ranks of the Illuminati.

Only a few astute Israelis saw this reversal coming! Many Jews are panicking over this "betrayal". But, if this Palestinian State which no one wants comes into existence, the likelihood is very great that Isaiah 34:12 prophecy will be fulfilled!

Confused by the Matrix? I was. I still don't fully understand its many-layered messages. And since the Matrix opens the door to a wide variety of personal perceptions and interpretations, you may not agree with my conclusions. But the movie's allure among Christians demands a response, and the concerns shared by troubled parents call for answers.

"Fear not .. I will strengthen you and harden you to difficulties ..." (Isaiah 41:10) Missionary Mark Burnham lived this wonderful truth in the year he was captured. He strongly witnessed the truth of the Gospel to his Muslim captors. May we all face the coming terror with this kind of Holy Spirit power!

Bible scholars have long wondered about the part "wild beasts of the earth" might play in Seal #4 of Revelation 6:8. Now that we have SARS on the scene and realize it is a "recombinant" virus containing viruses of "wild beasts of the earth", is SARS the disease that has a role in killing 25% of the world's population?

You can spot irrefutable evidence a society has embraced Satanic values by many methods, but the visible evidence of multiple body piercings and tattoos are the strongest of all. But, few people understand the use Satan makes of piercing and tattoos to control the person! You will never look at the "Mark of the Beast" the same way again!

Cutting Edge original analysis now officially confirmed to have been correct! Iraq conflict is now confirmed to be just what we said, a "trigger" conflict to start World War III. All other elements planned to constitute this global war are now in place.

Evidence that SARS is a man-made bio-weapon is fairly conclusive, while evidence that it is aimed at Orientals is inconclusive, though very interesting. "In my heart of hearts, I believe SARS is engineered to target Chinese..." [Medical Doctor]

Why crime plunged in the 17th century but is rising again in the 21st

Illuminati uses the Witchcraft in the Kabbala and Talmud as the basis of their Black Magick Witchcraft. Even Hitler's Satanism was based upon these mystic Jewish belief systems, as are all occult systems. U.S. is seen as fighting Israel's enemies for her, and we certainly are, because the New World Order will be built upon foundation of the Kabbala and Babylonian Talmud.
"Immaculate Heart Of Mary" is a Catholic doctrine that stresses the "perfections which God gave to Mary, the Blessed Virgin, and her holiness which is unique among men". Since Roman Catholicism teaches that Mary was conceived without sin Mary is Co-Redemptrix, equal with Jesus.

"... in the latter times some shall depart from the faith, giving heed to seducing spirits, and doctrines of devils. [1 Tim 4:1]

"Satan himself is transformed into an angel of light. Therefore it is no great thing if his ministers also be transformed as the ministers of righteousness." [2 Cor 11:14-15]

When you combine these two messages from Bush, you will ask yourself the question: Has the "Rite Of Mars" Satanic ritual that "gives birth" to "Messiah" Antichrist in the spiritual realm just been successfully concluded? If it has, then the physical wars to "give birth" to Antichrist in this realm may not be far away!

As with any occult undertaking, the Iraq War was conducted strictly according to occult holidays and occult numbers. Once you understand this reality, you will see that this war is likely Act I of a global war.

When you realize the kind of "Nuclear War" we have unleashed upon Iraq, you will realize that, perhaps, we are in the process of "destroying the whole land" as required by this prophecy.

You will also understand how we are "nuking" our own precious soldiers!

The march to a New World Order continues, as today U.S. delivered the "Road Map" plan for a Palestinian state to Israel. The delivery of this document was carried out by occult numbers on a most important occult day -- April 30, first day of Beltane!

>

As the United States continues to pressure Israel to divide her land to give large portions of it to the Palestinians, we should beware of God's judgment against all nations who divide His Holy Land.

The Church of Jesus Christ is under assault from without and within. The values of the New Millennium are attacking at the very fiber of the Church, and many are surrendering to the deceptions of the modern culture instead of standing to fight. Where did this attack originate and what are the enemies of God's people seeking to accomplish? Worse yet, are some who call themselves Evangelical or Fundamentalist ignorantly aiding and abetting the enemy?

American envoy refuses to show up for third day of meeting; North Korea threatens to use nukes against us; Powell says North Korea will not "intimidate us"; North Korea increases war readiness.

"A hair-raising confrontation in Korea may ... threaten man's very survival."

THE popular trend from Great Britain to Russia right now is to "sell advertising" in the middle of your forehead! With a marketable chip now in production, this may be a concerted push to condition people it is all right to take an identifying mark in the middle of the forehead.

"So also when you see these signs, all taken together, coming to pass, you may know of a surety that He is near, at the very doors." [Matthew 24:33; KJV/Amplified Bible Commentary]

Russia's Putin warns U.S. not to try to change any more regimes, as Russia will not allow it! With U.S. Special Forces operating already in Syria, and U.S. forces massing on the Syrian border, is the world about to see a U.S./Russian confrontation?

When you realize how God has caused many historic events to occur on or during High Holy Days, you can only wonder what He is going to cause to happen in the future?

"Jesus Christ the same yesterday, and to day, and for ever." Heb 13:8

What God caused to happen in yesteryear, He can cause to happen now.

Suddenly, powerful Russian naval units are "maneuvering" in close proximity to U.S. ships in the Persian Gulf. Black Sea Fleet has moved out of the Black Sea. Russian Pacific Fleet now offshore near North Korea, carrying out aggressive war games. If Russia's intent is to meddle in world affairs in these two locations, her fleet is precisely located.

"Israel will also get hurt", warns Syria.

"The burden of Damascus. Behold, Damascus is taken away from being a city, and it shall be a ruinous heap." Isaiah 17:1 -- Is this prophecy about to be fulfilled in your Daily News?

Baptist Book Stores, and the Sunday School Board of the Southern Baptist Convention, are urging its people to buy "Resurrection Eggs" to aid them in celebrating Easter! This mixes Paganism with the most beloved Christian celebration, another sign of the End of the Age being fulfilled in your Daily News.

Why would President Bush issue an Executive Order on 4/4/2003 authorizing quarantine of healthy individuals for a disease for which no test had yet been devised to even determine if that person was truly infected?

"How would you like to have a strain of the flu that spreads quick-killing cancer by sneezing?" Dr. Leonard Horowitz

"We can choose to use our growing knowledge to enslave people ... controlling them by means so carefully selected they will perhaps never be aware of their loss of personhood." (Carl Rogers, humanistic psychologist)

US forces are in control of the surface of Baghdad, even though fighting continues in the labyrinth of bunkers and tunnels honeycombing subterranean Baghdad, some four to six tiers and buried 60 to 90 ft deep.

New discovery of highly radioactive scientific site abandoned days ago, but with no bombs, raises specter that Saddam has tactically retreated from Baghdad to continue war with unconventional weapons! Is Basra really the city out of which world government would come?

Too many Christians are enthusiastically celebrating pagan holidays, thinking they are Christian. Once you understand how very pagan America and the rest of the Western world has become, you can see how God's judgment cannot be far behind.

"She has become a resort and dwelling place for demons, a dungeon haunted by every loathsome spirit, an abode for every filthy and detestable bird ... I then heard another voice from heaven saying, Come out from her, my people, so that you may not share in her sins, neither participate in her plagues." [Rev 18:2, 4]

Former Witch, now Born Again Pastor, David Meyer, confirms what we have been saying all along: events are marching to a time table based upon Satanic considerations, including numbers.

"Video games producers are getting smarter. They lead you to sites where you can be instructed by a real life occultist. You talk to hardcore people." A former member of the occult Order of the Golden Dawn
by Guest Columnist, Berit Kjos

This Iraq war must spread to Israel and beyond if it is the war to produce Antichrist. Ominously, we see signs this spreading may beginning! Syria and Iran seem very belligerent the last couple of days, as has North Korea. Mr. Fisk's warning last year seems all too ready to come to pass:

"There is a firestorm coming, and President Bush is causing it." [Independent, uk.co, article 298681]

WHY IS THE JOYOUS JEWISH HOLIDAY OF PURIM SO SIGNIFICANT IN BOTH GULF WAR I AND GULF WAR II?

Purim figures significantly, and interestingly, in both Gulf War I and Gulf War II. When you understand the significance of Purim, you will ask yourself the question, "Is the Illuminati trying to send a message to Israel's enemies?"

U.S. SAID TO BE READY TO RESORT TO "SCORCHED EARTH" TACTICS TO ACHIEVE VICTORY IN IRAQ!

"Destroy the whole land (Babylon - Iraq)" -- This is the wording of prophecy in Isaiah 13:5 describing the "Day of the Lord" desolation of Iraq. Are these war events moving toward fulfilling this prophecy?

RUSSIA ASKS RHETORICAL QUESTION: IS U.S. ABOUT TO DECLARE WAR ON HER?

As American spy planes continue to patrol close to Russia's border, and as it is becoming increasingly clear that the Russians are confronting the U.S. through the Iraqi military, the unthinkable conflict between U.S. and Russia seems to becoming thinkable!

EVENTS CONTINUE TO OCCUR "BY THE NUMBERS" -- OCCULT NUMBERS -- AS US LAUNCHES WAR AGAINST BAGHDAD

We have reported how the events of this current drive to the Middle East are occurring strictly "by the numbers". Today's official launch continues that precise march through the calendar. This detailed and precise information strengthens possibility this is the war to produce Antichrist

U.S. LED FORCES LAUNCH MILITARY DASH TO 33RD NORTHERN PARALLEL -- BAGHDAD, IRAQ!

lluminists believe that blood shed on or near 33rd parallel is ritually very powerful. This war joins the list of major historic events occurring at or near 33rd degree parallel.

"If a life is taken close to the northern 33rd Parallel, this fits with the Masons' demonic mythology in which they demonstrate their worldly power by spilling human blood at a predetermined locale." ["Masons and Mystery At The 33rd Parallel", by Day Williams]

WAR NOTES -- 3/17/2003 -- Number 2

With military action already under way, President Bush prepares to announce to the nation his next steps. Other pieces to this puzzle seem to also be falling into place.

WAR NOTES -- 3/15/2003 -- Number 1

As the aerial bombing campaign quietly began on Thursday, 3/13/03, some interesting tidbits of information have started coming out, none of which would make a full article, but all of which you need to know.

ATTACK ON IRAQ REPORTEDLY BEGAN QUIETLY ON 3/13/03!

DEBKAfile Intelligence is reporting that quietly, without fanfare, President Bush ordered the attack on Iraq to begin Thursday, 3/13/03. If this is the case, then this entire Plan continues to come down "by the numbers" -- occult numbers, that is!

TREMBLING BETWEEN TWO PROPHECIES!

Today, the world stands trembling between two prophecies in Daniel -- One already fulfilled, the other awaiting its apparently soon fulfillment. Events are going to get exciting if your trust is in the Lord Jesus Christ.

DID US INTELLIGENCE "RESURRECT" A DEAD TERRORIST SO THEY COULD CLAIM A MAJOR VICTORY IN THE TERROR WAR JUST BEFORE IRAQ WAR IS LAUNCHED? LAUNCHED?

Asia Times is adamant that al Qaeda terror mastermind, Khalid Shaikh Mohammad, was killed on September 11, 2002, in a shoot-out in Pakistan. A Cutting Edge subscriber swears he saw BBC News the next day and they were also adamant that Khalid was killed. If he was killed, then the US has "resurrected" him from the dead in order to claim a propaganda victory just before Bush begins the Iraq attack. Remember Hitler's maxim:

"Truth is not what is; truth is what people perceive it to be." Adolf Hitler, Propaganda Maxim

Subtitle: Right on cue, just as Bush is preparing to commit the US to Middle Eastern war, North Korea ratchets up her strenuous war rhetoric! Before you become senselessly scared, remember the script that has been written concerning the role Korea is to play in this coming war:

"A hair-raising confrontation in Korea may, towards the end of the period, threaten man's very survival."


When US authorities discovered a North Korean dummy warhead in Alaska, a very sobering truth hit home: American cities seem to be under the North Korean ballistic gun armed with Weapons of Mass Destruction.

New World Order Plan: "A hair-raising confrontation in Korea may, towards the end of the period, threaten man's very survival." [Peter Lemesurier, "The Armageddon Script", p. 223]

Few would deny that America faces a major crisis. But the greatest threat to freedom may be a veiled government "solution" rather than the obvious threat of terror. Yes, international terrorism and weapons of mass destruction call for a wise and strong response, but our new Department of Homeland Security brings radical changes that threaten the very foundations of our nation. by Guest Columnist, Berit Kjos

Christians are to be in much prayer always, not falling prey to special call to pray according to a framework constructed by Satanic numbers! Christian leaders weak on Bible Doctrine, seeking after a religious experience Satan can counterfeit, are always at risk of being spiritually deceived!

The only more powerful occult number than "333" is "666". The fact that a global prayer call has gone out undergirded by these occult numbers is shocking and frightening! Literally, "333" stands for the occult counterfeit of being "Born Again"

Despite the terrible Daily News to which we are subjected, Christians during this End of the Age can experience even greater Peace and Joy than Christians of bygone eras. The key to this type of experience is your Daily Walk.

"Cast your burden on the Lord [releasing the weight of it] and He will sustain you"

"Peace that passes all understanding"

More Prophetic Implications of Other Countries Having Greater Scalar Weaponry Than We Do. Lineup of nations possessing superior scalar weaponry are nations God gives a prominent role in the End Times!

Smoking Gun Proof That God's Prophecies Control World Events! As Bush leads the U.S. into war in the Middle East, the shocking reality is that our military forces do not possess the most powerful weapons on earth. The Russians do, and the Chinese, and maybe the Israelis do -- Col. Weeks was right: We do not have the weapons to back up our global bravado! This war could turn into unmitigated disaster.

Now that we have initiated hostilities, every diplomatic feint and maneuver with United Nations or Europe is rendered meaningless by the action on the ground.

Adolf Hitler claimed he was Christian! Evangelical Christian leaders supported Hitler greatly; even Baptists were split over whether Hitler was truly Born Again. Listen to Adolf's testimony:

"My feelings as a Christian points me to my Lord and Savior" - Speech, 12 April 1922


In early January, North Korea suddenly became a threat on the Korean Peninsula; now, China is turning up the heat against Taiwan. Now, all three wars planned to comprise World War III are now active hotspots in the world. Can actual commencement of hostilities be far behind?

"Arab confederacy will fall apart in feuds and wars in which desert oil-wells will be set alight." [Illuminati Plan For War To Produce Antichrist]

"Losing Freedoms Under Guise of Protecting Freedoms" - Bush/Ashcroft have prepared a new, very secret expansion of the Patriot Act so that a super-powerful, super-secret Police State can finally be erected on American soil! After lying to Congress for weeks, denying they had created such a plan, Bush may be waiting for the beginning of war and/or terrorism to send this bill to Congress.

Christian leaders are twisting this "Scripture", applying it President Bush, and telling their congregations that Bush is a Born Again, Godly man. Herein is our challenge to every pastor who believes Bush is a Godly Christian: Read the contents of this article and refute us! Wake up, American Christians -- you have been duped -- at the most critical time in world history!

Satanic Doctrine: "In all ages the people of the world have accepted words for deeds, for THEY ARE CONTENT WITH A SHOW and rarely pause to note, in the public arena, whether promises are followed by performance."


We shall examine President Bush's Anti-Christian Politics to see more Bitter, Bad Fruit. Remember the Satanic doctrine being followed here:

Satanic Doctrine: "In all ages the people of the world have accepted words for deeds, for THEY ARE CONTENT WITH A SHOW and rarely pause to note, in the public arena, whether promises are followed by performance."

"Bored with the real world and caught up in intergalactic fantasies and virtual thrills, many American youths have little time for NASA's daring feats. Since genuine science can never keep up with a soaring imagination, even the world's most amazing scientific advances can seem all too slow and repetitive for those who view space travel through the filter of fast-action movies and computer games...."
from Guest Columnist Berit Kjos

An examination of the world's greatest retailer of Deviant Sex, Satanism, New Age, Buddhism, and Hinduism. Truly, Jesus was right about this country at the End of the Age:

"She has become a resort and dwelling place for demons, a dungeon haunted by every loathsome spirit, an abode for every filthy and detestable bird. For all nations have drunk the wine of her passionate unchastity, and the rulers and leaders of the earth have joined with her in committing fornication (idolatry), and the businessmen of the earth have become rich with the wealth of her excessive luxury and wantonness." [Revelation 18:2-3]


NASA Shown To Be Lying About The Tiles! As in the 9/11 attacks, the Illuminati signature seems very strong undergirding this tragedy. The plan for the New World Order continues apace just as prophecy predicts:

"... in the last days perilous times shall come." 2 Tim 3:1